Orange is one of those high risk, high rewards colors to bring into the garden. We gardeners tend to have strong feelings about this often polarizing color. Reactions can range from groans ("anything but orange!") to zestful excitement ("where's the orange?!"), but rarely does one pass by a garden that's been juiced up with this shade without doing a double take.
It can take confidence to inject a bit of this hue into the landscape. Especially if you are a fan of misty pinks, white, and purples. What orange does, when used well, is to make everything that's around it that much more brilliant. The garden above, designed by Piet Oudolf, a true master of color weaving, is a perfect example. Greens are greener, purples are more intense, even pinks seem richer with the addition of the orange-flowering helenium.
Here are a few examples of how to incorporate orange into a landscape. This season, if you don't have orange in the garden, challenge yourself to try something new. And if this is your go-to hue, maybe add a new plant or two (here are ten we love.)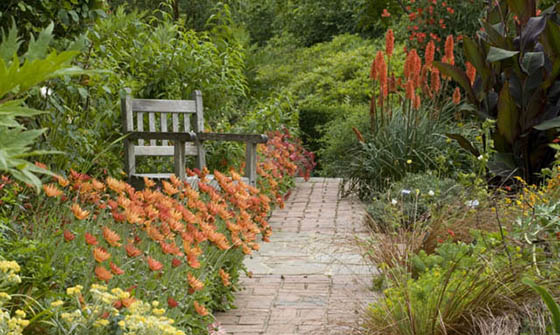 The Main Event
So often when orange is used in a landscape it's for a shock and awe impact. Orange plant seem to be typically plunked right into the middle of a multi-hued border. Here, orange (this is arctotis and aloe) is used as the main event in a field of shades of green. It takes some courage to use this much orange, but the warmth it brings is quite the payoff.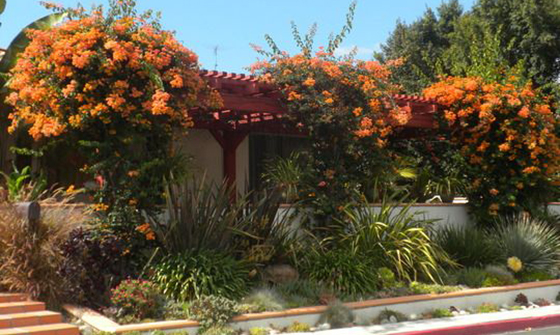 Shut the Front Door!
Orange King Bougainvillea needs nothing else to help it to be the most talked about front yard on the block. The gardeners here kept everything else neutral below and around, so that this brilliant-orange climber is the star. The genius here is the red pergola. It brings out the orange even more.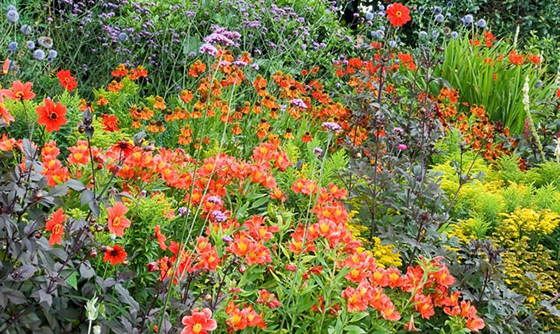 High Summer Color
It's not easy to create a garden that can stand up to the direct rays of the high-summer-into-early-autumn sun. This is where orange can be your best friend. In this garden, the sun is no match for this combo. Containing orange alstroemeria, orange crocosmia, and orange helenium (and a few dark leafed orange dahlias, too). Consider adding a section of the garden that's devoted to this color–in August, you will be so glad!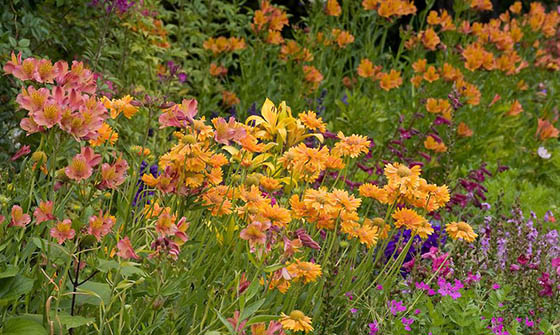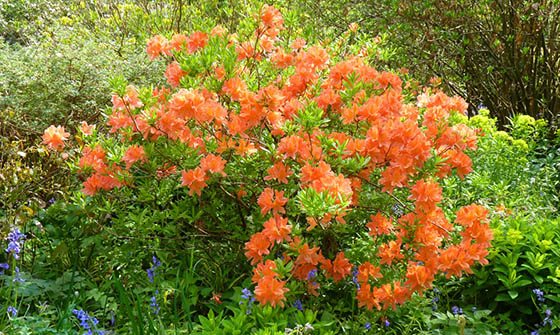 Rich Color in Shade
An orange-flowering shrub, such as this rhododendron, set in a place where it can truly be appreciated during its moment of glory, is what takes a shady spot to the next level. Before you plant that lovely pink or purple rhodie, take a step back and imagine the glow from an orange flowering version.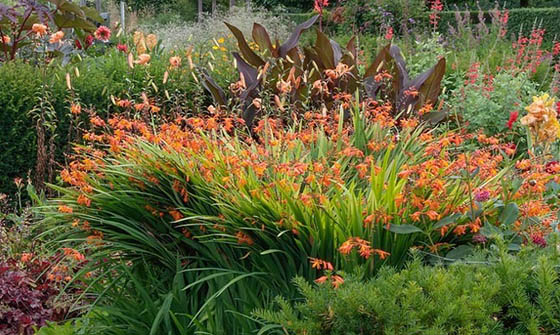 Make Darks, Darker
Here (and also below) all the dark foliage of coral bells and cannas have a sort of gothic goodness. The addition of orange crocosmia adds a playful note. This combination has a wonderfully tropical flair; we would love to see it in a large container, too.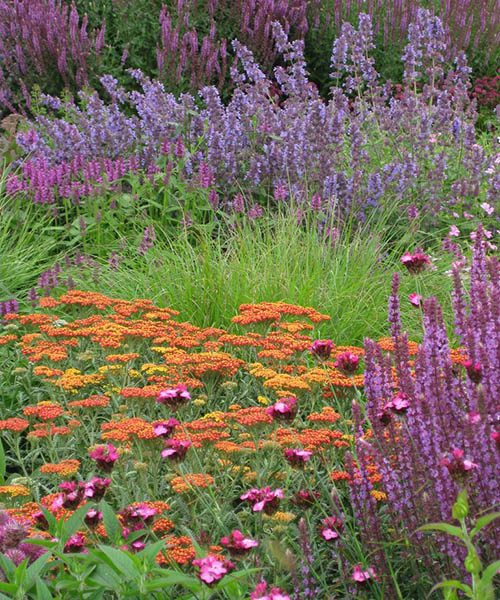 Yarrow comes in many colors including these orange shades which bring out the blue in nearby purple salvia and hyssop. Imagine if this were white or pink instead of orange. Big difference in impact, right?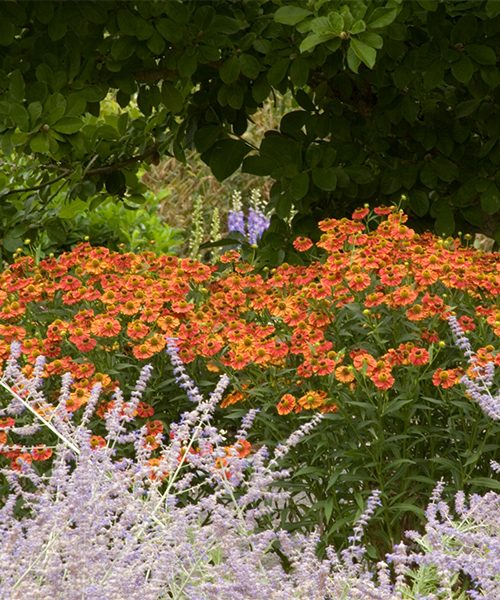 This gobsmacking combo at Longwood Gardens says just about everything we want to say. Especially about why orange should not be a color to avoid in the garden.
And, of course, no study of orange would be complete without a nod to just plain orange foliage. If you're already doing a shade border don't miss this opportunity.