Their delicate fronds might give the impression that ferns are needy customers that need pampering. However, many are hardy, tough, and pretty much carefree. As long as they get the near-constant moisture and well-draining soil they crave. Luckily, these are conditions that are easy to provide in containers. As you begin to move outside to enjoy the shade outside, think about adding graceful, airy ferns to your plantings. Here are a few ideas for designing with them.
(See how this porch from Martha Stewart Living came together.)
FROM BOXES TO HANGING PLANTERS, FERNS BRING SHADY SPACES TO LIFE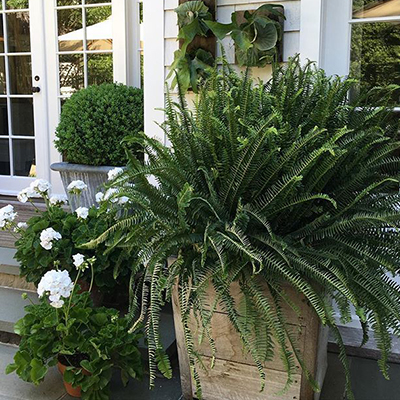 Ferns can be a main attraction if you choose a large variety and an equally large container! Try 4″ tall Robust Male Fern.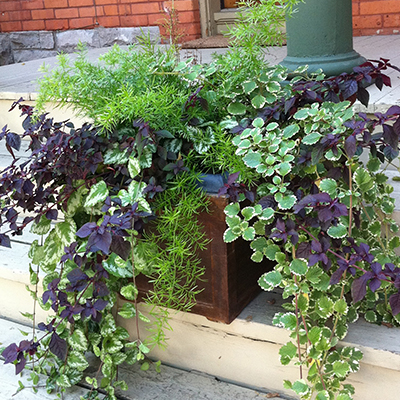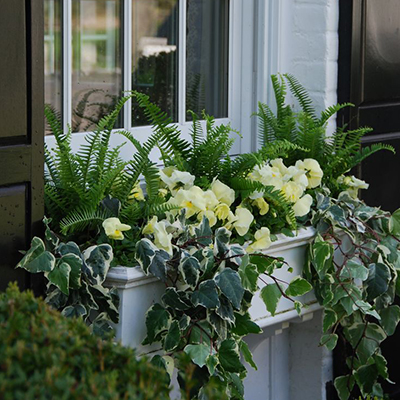 Windows under cover of a porch beg for planted boxes. Japanese Beech Fern, annuals, and ivy is always an elegant combo.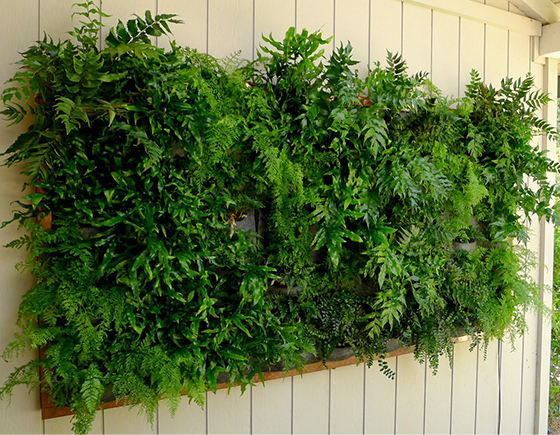 A jumble of various ferns is one of classiest (and simplest) ways to fill a vertical wall planter. Ferns appreciate constant moisture so be sure to find a unit that has an easy way to water.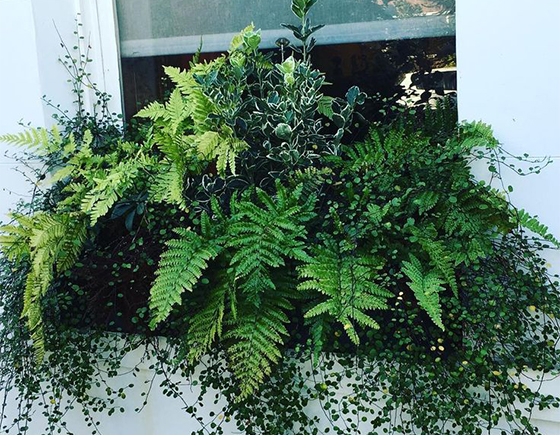 Shop every aisle of the nursery when creating dazzling fern-filled windowboxes. A wire vine and a variegated boxwood take this woodland favorite in a different direction.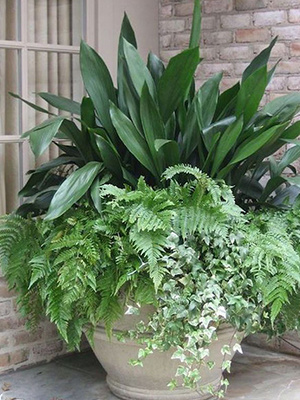 This cast iron plant gets a glam make-over with the addition of ferns and ivy. Breathe new life into your existing porch plants!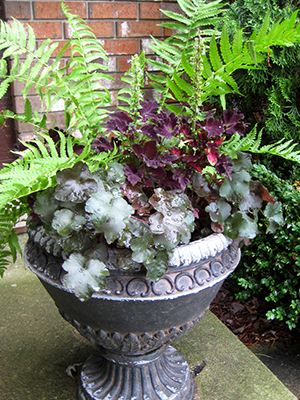 If it loves shade, it'll probably pair with ferns. Moisture-loving coral bells and annual coleus are ideal choices.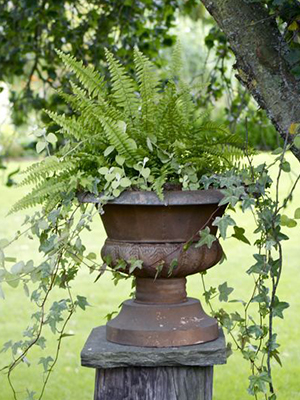 This classic duo of ferns and English ivy gets a bump-up with the addition of licorice plant. Can't go wrong with all greens.
Keeping Hardy Ferns Happy 
Full to partial shade.
Easily grown in humus-rich, well-drained soil.
Follow a regular watering schedule during the first growing season.
Do not allow ferns to dry out between waterings.
Feed regularly during growing season with a general purpose fertilizer.
Top containers with a 1-in. deep layer of mulch to help hold soil moisture.
<——–We love to play with combos. Although, there's plenty of power in the simplicity of a grouping of one plant in simple pots.
Ferns and white caladiums are such a refined combination that wows in schemes from cottage to modern.
We love this abundant hanging basket with two types of ferns plus perennials and trailing ivy. Great from spring to first frost!
9 Fabulous Ferns for Glamming-Up the Porch
American Maidenhair Fern
Zone: 3 – 8
N. American native with distinctive lacy, fan-shaped, green fronds on shiny black stems. Up to 2 ft. tall and wide.
Japanese Painted Fern
Zone: 5 – 8
Dark, blue-green central rib of frond fades to silver at the edges. Lights up a dark porch. Up to 2 ft. tall and wide.
Austral Gem™ Bird's Nest Fern
Zone: 9 – 11
Don't be discourage by the limited zones. This one's easy to bring inside to dress a sunny windowsill. Up to 2 ft. tall and wide.
Branford Beauty Fern
Zone: 4 – 8
Unique hybrid with lovely burgundy-tinged, silver foliage on upright, rosy-colored stems. Up to 2 ft. tall and wide.
Southern Wood Fern
Zone: 8 – 11
Need to fill a shady corner with a fast grower? Here you go! Provide a large pot. Up to 3 ft. tall and wide.
Deer Fern
Zone: 5 – 8
Leaves emerge upright from the center midsummer. Good sculptural type for a mixed planting. Up to 20 in. tall and wide.
Lady in Red Fern
Zone: 2 – 8
Fine foliage held on vividly-contrasting red-violet stems. Pretty paired with purple foliage plants. Up to 3 ft. tall and wide.
Tassel Fern
Zone: 6 – 8
Low, glossy-green, and slower-growing, this one is ideal for smaller situations such as windowboxes. Up to 2 ft. tall and wide.
Ghost Fern
Zone: 4 – 9
Vigorous with spectral gray-green foliage that plays well with white flowering plants. Up to 2 ft. tall and wide.