Can berries be grown in containers? Our plant experts respond to this common question with a resounding "Yes!" Growing berries in pots is easy when you select the right container, variety, and location. Plus, growing in containers gives you more control over soil conditions, moisture level, light, placement, and winter protection.  
Ready to grow some delicious berries? Follow the tips below to grow a sweet harvest of blueberries, raspberries, blackberries, or strawberries in a container this season.  
Berry Growing Tip
The following berries are self-pollinating and will produce without a neighboring pollinator. However, planting another berry plant nearby will increase their yield. More reason to try more than one!
Berry Design Inspiration
Looking for inspiration for incorporating berrying plants into your garden? Use these gorgeously rustic plants for a super-chic look. 
HOW TO GROW BLUEBERRIES IN CONTAINERS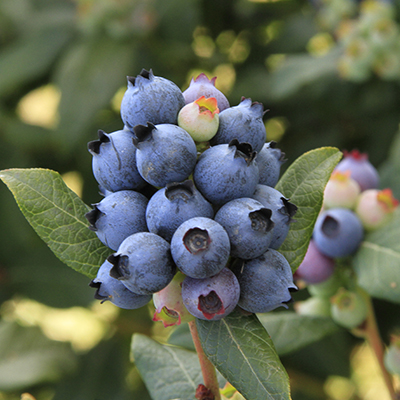 Growing blueberries in containers

makes it easy to keep the soil at the low pH blueberries (5.0 to 5.5) require. Use a potting mix for acid-loving plants or make your own blend of potting soil, peat, and well-aged steer manure.
Provide a pot that's at least 24″ wide and deep, with excellent drainage.
Top with a 2″ layer of acid mulch such as shredded pine bark.
Blueberries generally love full sun but where summers are unrelentingly hot afternoon shade is appreciated.
Provide consistent water and do not let soil dry out (but don't let soil get too boggy either–drainage is key!)
Many blueberries are self-fertile and will fruit without another blueberry plant nearby. However, all will do best with at least two bushes that bloom around the same time, for good pollination and fruit set.
Protect blueberry plants from extreme weather by

 

mulching deeply,

 

covering with burlap

 

or blankets, or bringing the container into a sheltered area, like a shed or garage. 

 

If you leave your plants outside

 

over the winter,

 

wait until early spring to assess if

 

there is any frost

 

or

 

weather damage.

 

W

eather damage can be removed by pruning. 

 
THE BEST BLUEBERRIES TO GROW IN POTS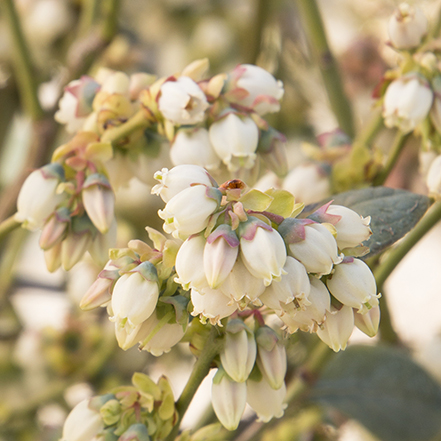 Award-winner with the bluest of foliage, and gorgeous white flowers. Plus, a big crop of large, sweet berries on a compact shrub. Needs only 150-200 winter chill hours. Full sun. Up to 4 ft. tall and wide. Zones 6 – 10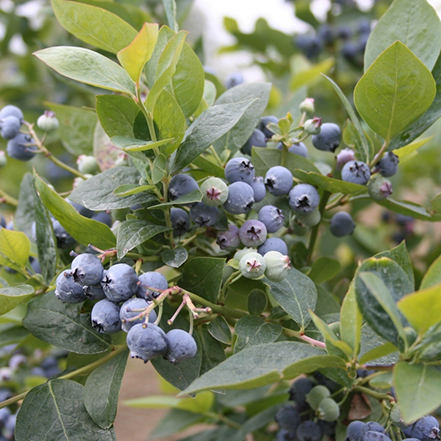 Jubilee's blue-green foliage turns red-orange in the fall for a beautiful end-of-season display. This mid-season variety yields very sweet sky-blue berries. Full sun. 4-6 ft tall and wide. Zones 5-9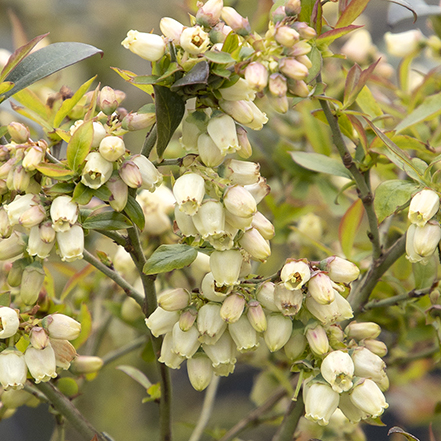 A compact, bushy variety with a low chill requirement, lovely flowers, and high heat tolerance. This high-yield beauty is perfect for warmer climes. Full sun. Up to 3 ft. tall and wide. Zones 5 – 10 
HOW TO GROW RASPBERRIES IN CONTAINERS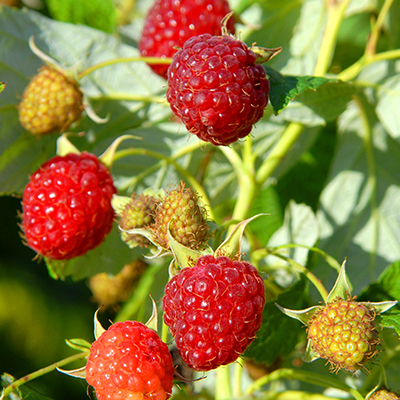 Start by choosing a variety that's been bred to be smaller and more compact (see below).
 Plant in a container that is at least 24″-36″ wide and deep.
You will get fruit with only one plant, however adding an additional raspberry bush will drastically increase crop size.
Grow in full sun—supplying afternoon shade in areas with harshly hot summers.
Raspberries need at least 1" of water per week. This likely means a daily drink during the heat of summer, depending on rainfall. However, do not waterlog the plants.
Fertilize your plants in early spring and again in midsummer with a balanced, time-release fertilizer.
Let shrubs go dormant in winter.

Protect

 

your

 

potted raspberries i

f you live in an area that gets

 

really cold

 

winters. Add a layer of compost and

 

mulch and move the container into a protected area. Cover the plant if you expect extreme temperatures. 

 
THE BEST RASPBERRIES TO GROW IN POTS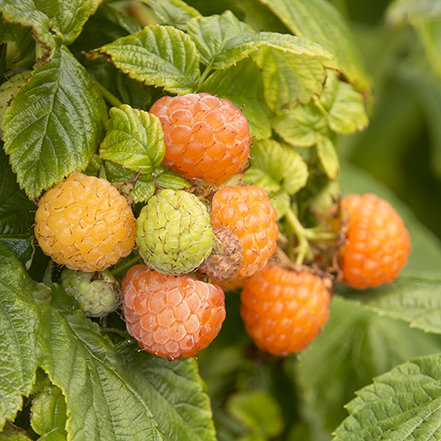 Rare self-fertile gold raspberry that produce two crops each season. Needs a larger container and room to grow. Full sun. Up to 4 ft. tall and wide. Zones 3–8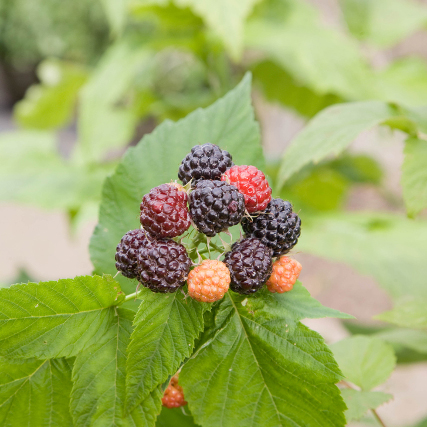 These deeply colored berries are perfect for cold-weather climates! This cold-hardy variety has a compact habit perfect for containers. Full sun. 2-3' tall and wide. Zones 3-8 
Photo by Claire Higgins / GAP Photos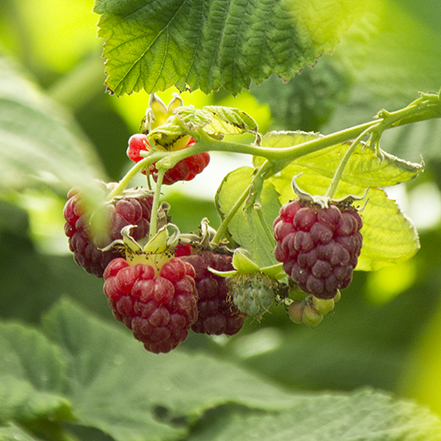 A vigorous variety with sturdy canes and a heavy summer crop. Plant in an extra-large container with support. Full sun. Up to 6' tall with support.Zones 4-8
HOW TO GROW BLACKBERRIES IN CONTAINERS
Most blackberries are wild things unsuitable for containers. However, some thornless varieties (see below) thrive in a large pot with proper care.

You know the drill–provide a large pot. A half-barrel, 24″ pot, or large zinc tub are all good options.
Even newer compact varieties can get large and might require a trellis for support.
Site in full sun and plant in quality potting soil. Provide even moisture and excellent drainage. (A few inches of gravel in the bottom of pot is never a bad idea.) Feed in early spring and again in summer.
To prune, remove second-year canes that have fruited just after the summer harvest. Leave newly emerged canes alone; they may fruit in fall and will fruit the next summer.
In colder zones, move containers to a sheltered spot or to a protected but unheated space in winter.
THE BEST BLACKBERRIES TO GROW IN POTS
Prime Ark® Freedom Thornless Blackberry  
Perfect for regions with cool summers. These are the first black berry variety that is thornless, self-pollinating, and fruits on first-year canes. Full sun. Up to 6' tall and wide. Zones 4-8 
This thornless variety produces juicy, sweet, deep blue-black berries in midsummer. Stake in an extra-large container to support the vigorous canes. Full sun. 5-6' tall and wide. Zones 5-8
A compact, container-ready variety that produces a reliable yield of large, juicy berries up to twice a year. Full sun. Up to 4' tall and wide. Zones 4-9 
HOW TO GROW STRAWBERRIES IN CONTAINERS
Any type of strawberry will produce fruits in pots. However, day-neutral, which produce berries sporadically throughout the summer is your best bet. Alternatively, try everbearing varieties, which produce fruit two times in a growing season.

P

lant in a pot that's at least 18" wide and 8" deep. Spacing plants 10" apart with the crown (where the leaves emerge) sitting just above the surface to help avoid rot.

Ensure 6–8 hours of full sun daily.
Long periods of hot, dry weather may require daily watering.

Feed with time. Release balanced fertilizer when planting and once again with a soluble fertilizer high in phosphorous after first big fruiting.

Even with the best care, strawberries are a short-lived perennials. Plants will need to be replaced about every 3 years.
If you live in a region that

 

experiences cold winters, you'll need to offer your potted strawberries some cold-weather protection.

 

Place

 

the container in a sheltered space where it won't experience the brunt of the winter wind. Provide a little extra compost and mulch to protect the roots, as well. 

 
THE BEST STRAWBERRIES TO GROW IN POTS
This high-yielding, super-sweet variety withstands high heat and humidity as well as cold winters. Everbearing and disease resistant. Full sun. 12-24" tall and wide. Zones 3-9 
Photo by Rudyanto Wijaya
An edible Strawberry jewel for patio or balcony with brilliant-pink flowers and juicy strawberries from summer until frost. Partial to full sun. Up to 12″ tall and 18″ wide. Zones 4 – 10 
Photo by Millette Garden Media
A highly productive, ever-bearing variety that yields large, flavorful berries and has great disease resistance. Full sun. Up to 12" tall by 24" wide. Zones 4-9 
More Delicious Berries to Bring Home