Emily Rosedale-Kousoulis is the granddaughter of Monrovia founder Harry Rosedale, Sr. Based in Southern California where Monrovia began, Emily has had a passion for plants ever since her first visits to the nursery as a child. As a Monrovia Ambassador, she combines her keen eye for style and design with her love of plants to suggest ways to refresh your garden this season.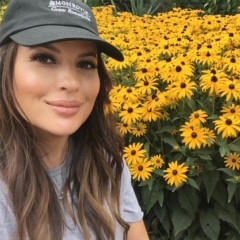 Emily's September Plant Picks
This month, Emily is getting ready for the changing seasons by turning to her favorite indoor plants to create a relaxing retreat indoors.
"Want to look like you have a green thumb all year round? It's so easy with our Lucky Dark ZZ Plant. Its gorgeous shiny green foliage makes it a no-fuss standout." Up to 3' tall and wide. 
"The look of the moment is definitely PINK! Have you seen our Triostar Stromanthe? With bright, bold pink, cream, and white stripes, Eco-leadership Barbie would be proud to add this to her home." Up to 3' tall, 2' wide.
Emily's August Plant Picks
This month, Emily is choosing her favorite plants to bring a tropical, vacation-like vibe to the garden. 
"Hibiscus flowers are a must for bringing Aloha vibes home. I'm in love with Jazzy Jewel® Amber Hibiscus. Why? This beauty thrives in full sun, has blooms on blooms on blooms, and that color!" Up to 5' tall and wide in landscape where hardy. Zones 9-11. 
"Have you seen our Variegated Shell Ginger? G-O-R-G-E-O-U-S! Large drooping clusters of white and pink shell-like flowers are sweetly fragrant to wrap you in all the wonderful sensations of being on vacation." Up to 7' tall, 4' wide. Zones 8-11.
Emily's June Plant Picks
This June, she shares her picks for a garden abundant in life, beauty, and fresh, homegrown harvests. Embracing the trend toward mixing fruiting, pollinator-friendly, and ornamental plants in a lush melding of layers that extends to overhead vines like grapes (The Zestful™ Series is one that works well in her warm-climate garden), Emily suggests these plants for your garden of abundance:
"This edible plant is easier to grow than most people think. The figs are DELICIOUS! Aside from full sun, they only require light annual pruning." Up to 25' tall and wide. Zones 7-9.
"All our black-eyed susans are really attention-getting pollinator-friendly perennials, with MASSES of golden yellow flowers that are show-stopping and pollinators LOVE!" 26" high, 24" wide. Zones 3-9. 
"I love having these right outside my kitchen door. With the number of blueberries this beauty produces, this definitely gives you a bang for your buck! My friends and I have made so many pies with these sweet and juicy berries (get the recipe in the Blueberry Care Guide)."  Up to 4' tall and wide. Zones 6-10.
Emily's May Plant Picks
For Emily's first Mother's Day, she chose plants that are perfect gifts for all the mothers out there. 
"Peonies are the perfect gift for new mothers. They're what I would want for my first Mother's Day. They look delicate but are surprisingly hardy. I call them a legacy gift because they can live up to 100 years!" Up to 20" tall and wide. Zones 4-8. 
"Give peonies as a special gift to your mom to thank her. They're so breathtakingly beautiful and special. Their blooms can grow up to 10" wide, pollinators love them, and they are truly showstoppers." Up to 2' tall, 3' wide. Zones 4-8.
"Gardenias are my nostalgic pick in honor of my own mother. They have always been her favorite. I can't walk past one without thinking of her. I love them planted in a spot you spend lots of time in or by a window, open to let in the fragrance." Up to 8' tall, 6' wide. Zones 8-11.
Emily's April Plant Picks
In April, Emily chose "small wonder" plants perfect for compact places, plus colorful, easy-care flowers. 
"As a Zone 10er, I can only DREAM of filling my landscape with these gorgeous clouds of Strawberry Shake Hydrangea. These beauties have sturdy stems, long-lasting blooms and thrive in Zones 4-8." Up to 5' tall, 4' wide.
"Incredibly flower power! A profusion of delightful double flowers with soft yellow petals and darker golden yellow centers. Bees and butterflies love and will thank you for including these in your landscape." Up to 18" tall, 22" wide. Zones 4-9.
Do you remember the rude violet in Alice in Wonderland? Well, the Halo Sky Blue Perennial Violet couldn't be more different. Sweet, tiny, yet mighty. With its heart-shaped foliage, you'll love its heat tolerance and how long-lasting it is in your garden. Up to 10" tall, 12" wide. Zones 5-9.
Photo by Ball Horticulture.