One of the many reasons we spend time in the garden is to step away from the stress of modern life and simply relax. Every trip into your outdoor space can feel like a little vacation, especially if you design it with the intention to make it feel like your own personal retreat.
Tropical gardens offer remarkable inspiration for creating tranquil and stress-free sanctuaries in our own garden designs. These oases hold a special allure since, for most of us, the tropics are a destination reserved for those cherished moments of vacation when we seek respite and relaxation.
(Above) This tropical poolside landscape designed by Davis Dalbok of Living Green Design is located in the California Bay Area, where rainfall is not always plentiful. Get more details on how Davis created this waterwise tropical retreat below. 
What if we could bring the instant serenity and exotic appeal of a tropical garden anywhere in the US, including your own backyard? With a little attention to detail, plant choices, and design techniques, you can.
Ready to transport yourself to far-off destinations by creating a tropical garden that uses lush, vibrant foliage and exotic tropical plants for both beauty and serenity? Get design tips, plant recommendations, and ideas for any climate right here.
Looking for more inspiration? Find a free tropical-inspired personal retreat landscape plan in our Ultimate Project Planning Guide. 
Top 5 Tips for Creating A Tropical Retreat in Any Climate
You don't have to live in the tropics to create a relaxing resort-like retreat that's inspired by the tropical gardens spotlighted below. Here are some tips to help you achieve that lush, exotic look no matter where you live:
1. Use containers to your advantage. Container gardening with tropical plants is one of the best ways to bring the tropics home. Not only do containers give you control over the light, moisture, soil, and space you give each plant, but they also allow you to bring the broad leaves and exotic colors of tropical plants up close— making you feel like you're fully emersed in the flora of far-off lands. 
Plus, if you're willing to put in the work of overwintering your tropical plants indoors, you'll get to enjoy them again next year!
2. Select cool-zone plants with tropical appeal. You can find exotic-looking plants in nearly any climate by looking for specific features. Opt for plants with large, broad leaves, unique foliage, and bright flowers to mimic the lushness of a tropical environment. Consider plants like hesperaloe or yucca, ferns, heuchera, aralia, climbing vines, and ornamental grasses.
3. Incorporate water features. There's nothing like being near the water to get that "I'm on vacation" stress melt. Including a pond, pool, waterfall, or small water feature like a burbling fountain can lend a tropical feel to your garden. The sound of running water and the glimmering reflection of the sun on the water creates an instant tranquil setting reminiscent of a tropical vacation.
4. Plant densely. If you've ever visited a tropical locale, you know that there are plants growing everywhere! Every nook and cranny seems to be filled with the local flora taking advantage of the year-round sun and abundance of moisture.
To re-create this lush look in your climate, you simply need to plant more plants. Your goal is to cover almost every patch of ground with plants. Bonus: this helps keeps weeds down, too!
Avoid over-planting an area by looking at the mature size of a plant and giving it room to grow. 
5. Create shady spaces. Mimic the dappled shade found in tropical rainforests by planting shade trees and using pergolas and arbors with vines to create shaded areas in your garden. These shady spaces will not only offer you a cool space to relax but also a lovely place to create a soothing tropic-inspired shade garden.
Now that we've laid the foundational design ideas for your tropical garden retreat, let's take a look at two tropical gardens designed by two designers with expertise in tropical landscapes. Can you spot elements from our five tips above in each garden space? We'll help you along the way with simple design recipes, plant choices, and ideas for your own tropical garden project. Let's dive in.
Waterwise Tropical Retreat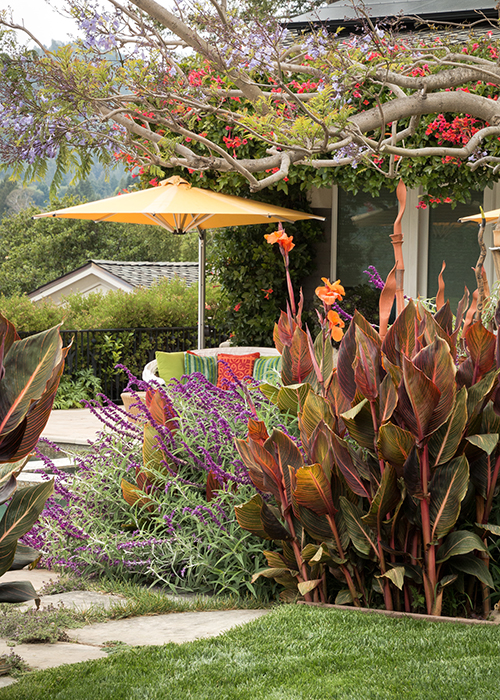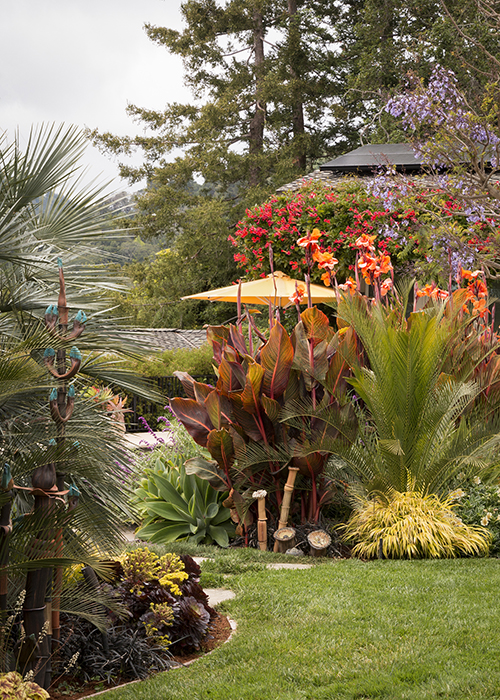 You don't need to live in the rainforest to accomplish your tropical garden dreams.
We can learn quite a bit from this design when it comes to blending lush, exotic elements with climate-appropriate plant choices to create a relaxing outdoor retreat. Designed by Davis Dalbok of Living Green Design, who has a talent for crafting tropical-feeling gardens in low-water locations like this one in the California Bay Area. 
Plants were chosen for this landscape based on the unique combination of tropical aesthetic and adaptability to the region's Mediterranean climate. Davis expertly incorporates drought-tolerant plants like palms, agave, Santa Barbara Mexican Bush Sage, canna, jacaranda, and trumpet vine to create a tropical ambiance while reducing water consumption.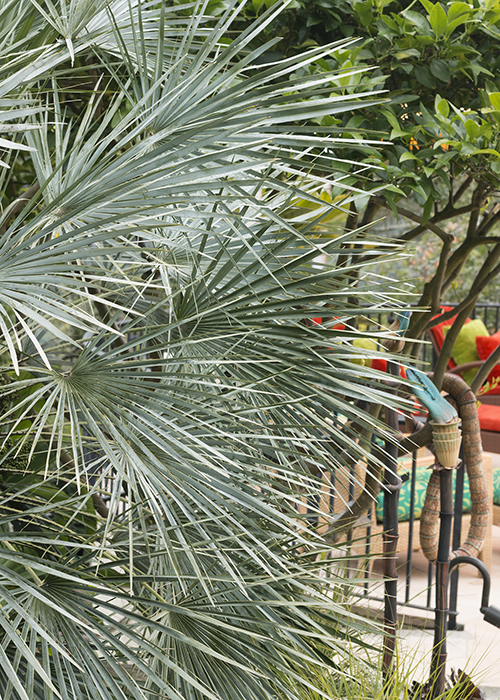 Foliage Diversity Plus Vibrant Flowers = Exotic Getaway Garden
This garden teaches us a valuable lesson for DIY tropical garden design—a diverse selection of climate-appropriate plants with varying foliage shapes, sizes, and textures creates layers of visual interest that can evoke the lushness of tropical environments.  Add in the vibrancy of pink, purple, and red flowers and you've got a recipe for a delightful home retreat that feels like a vacation in your own backyard.
Use this simple recipe for your own exotic getaway garden while keeping your regional garden requirements in mind, and you're sure to accomplish a personal tropical-feeling retreat ready for relaxation. 
A more well-behaved, compact version of the beloved Mexican bush sage. This selection retains the enchanting purple flowers and extended blooming period while offering a more space-efficient growth habit. Full sun. Up to 3' tall and wide. Zones 9-11.
A truly dwarf Jacaranda with showy, large, deep-purple, tubular flowers. An ideal small specimen tree that's useful as a large border accent or in decorative pots on a terrace or patio. Remarkably heat and drought-tolerant. Full sun. Up to 12' tall, 8' wide. Zones 9-11.
Tall stems are crowned by large, bright orange blooms. Exotic foliage adds interest, with emerging bright burgundy leaves maturing with stripes of red, pink, yellow, and green. Provides bold color and lush texture to garden beds and containers. Full sun. Up to 5' tall, 4' wide. Zones 7-11.
Bright golden yellow edges on arching, fleshy leaves create an elegant urn-like form that is a sensational focal point for the landscape or a large container. Foliage has tiny, marginal thorns. Full sun. Forms clumps up to 36" tall and wide. Zones 9-11.
Attractive, versatile palm with distinctly silver-blue foliage! Large fronds make a bold statement in the landscape. Robust and adaptable to extremes in both temperature and soil moisture. Creamy yellow blooms hang from long inflorescence in summer. Full sun. Up to 12' tall, 15' wide. Zones 8-11.
Amazing warm-season color display for fences, high walls, or arbors. Vigorous grower produces an abundance of blood-red trumpet-shaped flowers with yellow throats. Climbs by tendrils. A more cold hardy species that will survive a light freeze. Fast-growing stems up to 50' long. Zones 9-11.
Cold-Zone Choices to Get the Look
Beautiful, bold, dark-purple flower spikes start blooming early and rebloom throughout the summer. Especially effective in mass plantings, but also nice for mixed borders and containers. Loved by pollinators. Full sun. Up to 12" wide, 16" tall. Zones 4-9.

Vibrant, brake light-red blooms are a great color improvement to this species! This compact newer selection rarely sets seedpods, meaning more prolific flowering over an exceptionally long season. Full sun. Up to 2' tall and wide; blooms rise to 3' taller. Zones 5-10.
Clusters of large, tubular, deep reddish-orange flowers create a dramatic show all season long! Once established, this vigorous clinging vine thrives and blooms profusely with near neglect. Full sun. Vigorous stems quickly reach 30' or longer. Zones 4-11.
These Polynesian pathways teach us that being plant-obsessed is a power, not a downfall.
Come take a walk with us through this tropical landscape designed by Greg Boyer of Greg Boyer Landscape Corp in the rainforest of Hawaii. Hawaiian gardens offer some of the most spectacular inspiration for your resort-like retreat.
These pathways are packed full of plants like Heliconia psittacorum, Phymatosorus fern, Gardenias, Bird of Paradise, Croton, and other tropical plants you might be hard-pressed to find in garden centers across the country. However, there's a beautiful tropical garden design lesson you can use no matter where you live: Foliage, foliage, and more foliage! We'll dive further into this design lesson below, but the foundational idea is music to plant-lovers' ears—you need more plants!
Lots of Lush Foliage Plus Dappled Shade = Cool Tropical Ambiance
Creating a cool tropical feel in your garden relies on the lush foliage and dappled shade. The abundance of plants like elephant ear, banana, fern, hosta, and begonia adds a dramatic touch and recreates the lushness of a tropical oasis. Strategically planting shade-loving plants beneath taller trees or utilizing structures like pergolas and arbors provides areas of sheltered shade, mimicking the soothing effect of sunlight filtering through a dense canopy.
Incorporating flowering climbers such as climbing hydrangea, clematis, honeysuckle, or trumpet vine adds vertical interest and contributes to the creation of a natural, cool retreat within the garden.
Together, these elements transport you to a serene tropical paradise right in your own backyard.
Of course, not all of us have the pleasure of living in a tropical paradise such as Hawaii, so we offer cold-zone alternatives for creating a similar look and feel below. 
Get the Look with These Tropical Plants
A stunning, highly prized tropical plant with bold clumps of lush, long stalks held in a fountain-like formation supporting huge, blue-green leaves. As plant matures, extremely large bird-like flowers emerge, with white heads and blue tongues. Full sun. Up to 30' tall, 15' wide. Zones 9-11.
Tall stems are crowned with vivid orange-yellow flowers with dark orange speckled throats. Large exotic leaves, striped green, and gold, add dramatic interest. This outstanding selection provides lush texture and color to garden beds and containers. Up to 5' tall; flowers rise 1' above the foliage. Zones 7-11. 
Highly valued for its large, exotic, colorful blooms in a bold blend of orange, blue, and white. Lends a tropical look to any landscape. Crowns of long stalks with large grey-green leaves provide year-round interest. Very useful as a specimen planting, especially on a patio or near a pool. Partial to full sun. Up to 5' tall and wide. Zones 9-11.
Collected in Taiwan in 2012, one of the most exceptional of the Pyrossias, forming substantial evergreen mounds of leathery foliage. It will stay lush when provided with summer moisture. Ideal on a slope in partial shade, but can also be used as an easy-care container plant. Partial shade to full sun. Up to 2' tall, 3' wide. Zones 7-11.
Prolific, large, sweetly fragrant, velvety white blooms, and lustrous evergreen foliage on a rounded shrub that forms a beautiful natural hedge, screen, or container accent. Partial to full sun. Up to 5' tall, 3' wide.  Zones 8-11.
Considered the most beautiful tree available, with exceptionally long-blooming, flamboyant, deep rose-red, orchid-shaped flowers that have a touch of white. The sterile flowers produce no seedpods. Develops as a tree with a rounded crown in warmer winter regions, more shrub-like in cooler winter regions. Full sun. Up to 20' tall, 25' wide. Zones 9-11.
Cold-Zone Choices to Get The Look
Erect fronds form a strikingly vertical clump for a bold and highly textural statement in a shaded garden. Especially handsome when grouped to frame a garden element or niche in architecture. Use to add height and dimension to a low border. Full to partial shade. Up to 36" tall and wide. Zones 5-8.
Considered the most cold hardy banana! Its lush green foliage provides an outstanding tropical effect yet its roots survive much colder temperatures than other bananas. A fast grower, with huge leaves that may reach 2' wide and 6' long. Produces attractive golden cream flowers and small fruit.Full sun.  Up to 15' tall, 10' wide. Zones 5-11.
Get a dramatic tropical look on a cold-hardy herbaceous perennial with this true show-stopper! Big vibrant pink summer flowers with bold crimson centers pop against deep burgundy foliage. Full sun. Up to 3' tall, 4' wide. Zones 4-10.
Learn More About Creating Your Own Relaxing Retreat