What's the hallmark of a great landscape design? When the look is guided by the site, not the designer. It's truly enlightening to see how one landscape designer can approach two different projects. With vastly different growing conditions, challenges, aesthetics, and needs.
Recently, designer Tish Treherne of Bliss Garden Design took us on a tour of a waterwise and drought-tolerant landscape. She designed this in southern California. (If you haven't already seen that garden, we highly recommend giving it a look. Even if it's just to compare it to this one). Now, we're changing course and headed up the coast to a Bainbridge Island, WA property. Here there are very different growing conditions, design goals, and plant palette.
Join us as we discover the power of a simplified plant palette and the year-round appeal of mass grass plantings. Plus the stress-melting power of serene outdoor living spaces in our latest conversation with Tish.
Get to Know the Garden
Let's start with the basics and get better acquainted with this gorgeous waterfront property. What growing conditions does it have?
We're considered a "modified Mediterranean climate" with rainy and dry seasons. The dry season is extending longer than it used to but we typically see a May- September dry season. We have a very wet winter here in Washington. We're USDA Zone 8; we don't get a lot of really hard freezes here.
When did you design and install this landscape?
This garden was planted between 2017 and 2018 and these pictures were taken late this summer (2022), so you're seeing a garden that has had at least 4 years to grow and evolve.
This was a really special project with a fantastic client who has an incredible eye for design. She set the tone for the entire project. The house is all black, which we see more frequently now, but back then was a new thing. Everything is black, down to powder-coated black posts. It was an incredible backdrop to work with because everything popped. 
Were there any specific site challenges or client needs that you were confronting when you started this project?
Yes, definitely. As for the site, it's a moderately sloped site with very heavy clay soil. Even with the best home builder, construction is always very hard on the soil. We had to bring in a tremendous amount of soil to help amend and improve the clay soil. 
The Power of a Pared-Down Plant Palette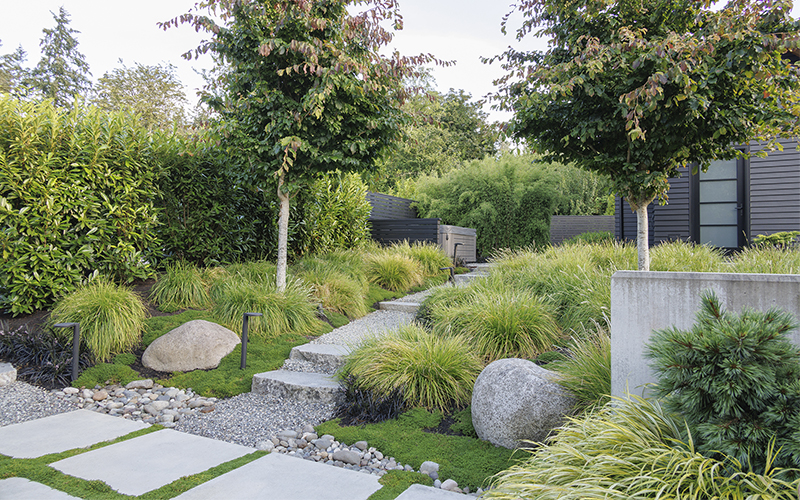 What was the overall vision for the space? 
The vision was a natural meadow look, which can require a lot of weed mitigation and control. I tried to emulate the meadow feel with something that was more manageable from a maintenance standpoint. The other part of the vision was that it was going to be monochromatic. 
Can you explain why the monochromatic palette works so well in this setting?
It's a very calming palette, it's a very natural palette. It works really well in this case with the backdrop of the black house. It's also beautiful when you look out at the garden from inside the house. There's this pop of gold everywhere you look.
It also sits on a harbor. When you look up at the house from the harbor, you see a halo of gold around this dark house.
It's certainly not something I get to do often. Most clients want lots of color in their garden, especially after our long, rainy winters.
Having clients who allow me to work in such a limited palette in such large masses have amazing results! When you limit that palette, it is powerful. 
How did you manage to create an outdoor living space that is so serene, private, and elegant?
This space was a collaboration with the architects of the home and used another natural staircase here. This leads you under Persian Ironwood 'Vanessa' trees, through the grassy Sesleria meadow, and to a spa area. With a hot tub, infrared sauna, and outdoor shower. These are tucked in a private nook with an evergreen English Laurel hedge. 
That fuzzy, funky conifer against the wall is a fantastic single specimen in this massed, monochromatic garden.
The homeowner client had that Pinus strobiformis 'Coronado' in a pot there and eventually planted it. This was because we knew it could be sculpted against that wall. There's a light shining on it at night and it looks really nice against the wall.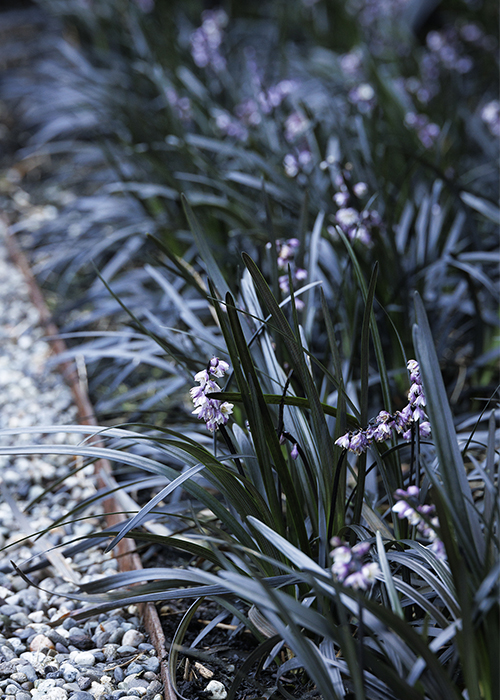 The Black Mondo Grass is another striking surprise in the monochromatic palette. What's behind that plant choice?
I love black mondo grass but initially, I didn't include it in the design. This was because the client felt it was sort of predictable with the black house. It was a later addition. The client needed a plant that could withstand foot traffic from the dogs in this side yard of the garden. Mondo grass ended up replacing some more fragile plants.
Black mondo grass and Japanese forest grass are the throw pillows of the garden. I love them and use them in almost all of my gardens. They are very reliable performers in our climate. 
Do you have any tips on maintaining massed grass plantings?
My recommendation is always to leave them standing all winter if you can. They offer year-round textural interest. In the case of Japanese forest grass and the maiden grass mass planting, they turn a shade of copper. It is really beautiful. I love winter gardens and love seeing the coppery grasses. I enjoy following the whole natural process of the plants through the seasons. 
What should new designers and gardeners keep in mind when using a limited plant palette? 
The challenge is that you are putting all your eggs in one basket. So the plants you choose have got to be workhorse plants. If you're choosing an herbaceous plant, you need to ask yourself this. If it's one that will look interesting when it's dormant in the winter.
Get the Look with These Plants
Big, showy, upright, red plumes appear in late summer and persist through winter on this easy-care ornamental grass. Terrific contrast for use in rock gardens, borders, foundation plantings, or perennial beds. Herbaceous perennial. Partial to full sun. Up to 3' tall and wide. Zones 5-9.
Stunning contrast for the front of the border with exceptional, dense, purple-black, grass-like foliage. Produces dark lavender flowers in summer and purple berries in fall. Use en masse as edging, or tuck into mixed containers. Partial to full sun. Up to 6" tall and wide. Zones 5-10.
This easy-care conifer has a dense, dwarf habit with short, blue-green needles that are soft to the touch. Adaptable to a wide range of soil conditions. Effective in rock gardens, shrub borders, or as a small garden specimen. Partial shade to full sun. Up to 4' tall and wide. Zones 3-8.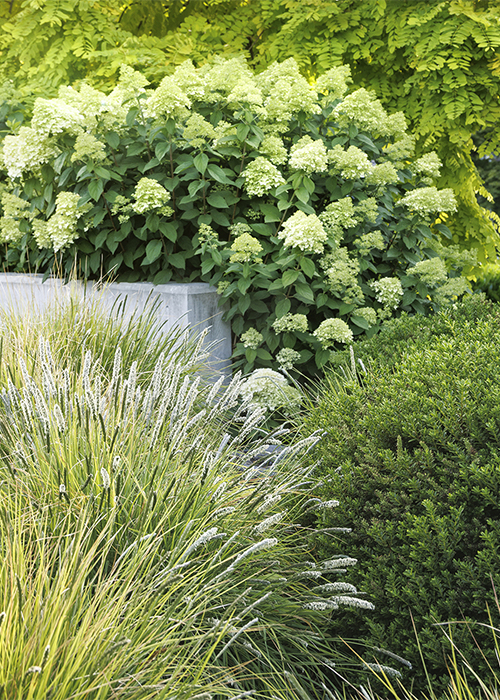 You're working with a limited palette. However, you still manage to create a kind of textural tapestry with shrubs and grasses around the concrete walls.
What plants did you use to achieve this?
We used a long row of Limelight hydrangea to create a blooming privacy hedge. I wanted this to echo at the entrance here. You can see the edge of that behind the concrete wall.
I also used a hebe  where I needed evergreen form and structure at the entrance. The Sesleria (moor grass) is used here as well as in the courtyard. The natural form looks great even in the more structured entrance planting.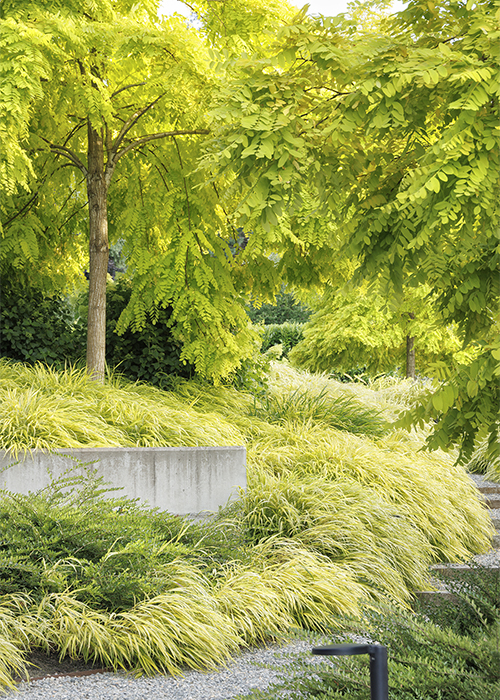 We have fallen in love with the glowing golden "halo effect" around the curving pathway here. 
This is one of my favorite angles of the garden, looking back up this stairway we created. This pathway goes off the driveway and wraps around the house. The combination of the sloped stairs and massed forest grass creates a beautiful flow.
The combination of the golden locust trees and massed Golden Japanese forest grass creates that glowing golden effect. The Japanese forest grass is my favorite. Since it turns copper in the winter, it offers a cascading visual effect year-round.
Get the Look with These Plants
An attractive grass highlighted by fluffy, buff-colored plumes that arch above the lush, green fountain of foliage. In the fall, the foliage turns a lovely golden russet color. Creates a terrific contrast when used among shrubs or as a backdrop in a perennial bed.
Full sun. Up to 3' tall, 2' wide. Zones 4-11.
A new, irresistible variety with the same show-stopping lime green flower clusters as Limelight, but a more compact form. The exquisite, long-lasting blooms on very sturdy stems. These age to nearly pure white before taking on a rosy-red tinge in fall. Partial to full sun. Up to 5' tall and wide. Zones 4-8.
Spikes of white flowers with blue anthers accent the white-green foliage of this densely branched dwarf shrub. The low spreading form is excellent for use as a groundcover, low-growing edging, or container plantings. One of the hardiest of hebes. Thrives in coastal regions. Full sun. Up to 18" tall, 26" wide. Zones 6-11.
Use a Keen Eye for Texture to Create a Living Tapestry 
Q: Here's a birds-eye shot of a border taken from the 2nd-level deck of the house. How did you achieve this graphic tapestry effect?
These are smaller planting beds next to a seating area. I wanted them to have a bit more variety than the larger massed plantings around the rest of the yard. I used the box-leaf honeysuckle shrubs and Japanese forest grass you see throughout the property. Then added the Jack Frost Brunnera for a bit of visual interest. I chose the box-leaf honeysuckle because it has a soft, natural habit that looks great with the grasses. 
Here we are in the seating area looking at the other side of the tapestry border from the ground level. Tell me more about the tall grass here. 
This is maiden grass 'Gracillimus' and wraps around the entire back lawn. It makes a great hedge that provides privacy and protection. They are left up over the winter and turn a nice coppery color which looks beautiful all winter. 
Again we see that Maiden grass but here it's paired with a soft, buff-colored grass lining a pathway. What is that?
That is Mexican feather grass, which is invasive in some parts of the country, but not here. That was used here to create that meadow effect that the client was hoping to achieve. Although in a much more modern interpretation.
Get the Look with These Plants
A graceful, colorful groundcover for shaded borders and container gardens. Slender stems holding bright-yellow leaves with thin green stripes create a tiny bamboo-like effect. Foliage becomes pink-tinged as the weather cools in autumn. Naturalizes well; clumps spread gently. 2009 Perennial Plant of the Year. Partial sun or shade. Up to 18" tall and wide. Zones 4-9.
Brilliant silver leaves with contrasting green veins are distinctive and eye-catching in shaded beds and woodland gardens. Clusters of tiny blue flowers provide additional color in the spring. Use en masse to create a shimmering groundcover or use it individually as a garden accent. Full to partial shade. Up to 12" tall, 24" wide. Zones 3-8.
Dense and compact evergreen shrub with resistance to disease and insects. Cascading matte blue-green foliage creates a layered effect. Excellent in cut flower arrangements. Reddish maroon flowers bloom late winter into early spring. Tolerates heat, drought, and varied conditions, making it a versatile choice for borders or mass plantings. Partial to full sun. Up to 4' tall and wide. USDA Zones 6-9.
Narrow, upright, grassy foliage creates a great vertical accent. Emerges blue, develops pink and burgundy hues in late summer, and turns a rich copper in fall. Slender stems rise up with purplish panicles. Tan seed heads persist into fall. Perfect for bird-friendly landscapes. Full sun. Up to 4' tall, 3' wide. Zones 3-10.
A graceful, colorful groundcover for shady areas. Slender stems that hold bright golden yellow foliage create a tiny bamboo-like effect. Naturalizes well; clumps spread gently by rhizomes. Partial shade to partial sun. Up to 18" tall and wide. Zones 4-9.
Simple Color Palettes Also Create Striking Container Plantings
The dark containers with blue-needled conifers caught our eye. 
These containers were all done by the client. We both like the look of one plant per pot. She had these containers at her previous home to create privacy. The black pots fit perfectly into the all-black exterior color scheme at this house.
The Blue Star juniper and Japanese white pine have blueish needles that pop against the black fence and containers. And that's a sempervivum in the other pot, which is always great for containers. 
Get the Look with These Plants 
A narrower, more compact, and upright form with short blue-green to gray needles. Widely used as bonsai or container plant. An easy-care evergreen that works beautifully as a landscape or container specimen. Full sun. Up to 10' tall, 5' wide. Zones 4-9.
This mounding succulent adds exotic texture and color wherever it is featured. Foliage coloration can fluctuate with green and deep purple-red tones seasonally. Clumping rosettes are well-suited to containers. Forms clumps up to 8" tall, 12" wide. Zones 4-9.
Attractive sparkling blue foliage on dense, spreading branches. Creates a colorful contrast to purple and green foliage plants. Use in a container, rock garden or as a low border plant. Ideal for mass plantings in minimal-care landscapes, too. Full sun. Up to 3' tall, 4' wide. Zones 4-8.
About the Designer
Designer Tish Treherne of Bliss Garden Design creates landscapes that are enduring. Inspired by the effortless beauty of the natural world. Tish works in both classic and modern styles blending architecture to site and composing a backdrop for life outdoors. Partnerships with a team of seasoned contractors and craftspeople ensure the attention to detail that Bliss gardens are known for.
Bliss has been featured in Sunset Magazine, the Sunset Western Garden Book. The Sunset Western Garden Book of Landscaping, The Sunset Western Garden Book of Easy-Care Plantings. West Sound Home and Garden, Northwest Home, Seattle Times Pacific Northwest Magazine. Portrait of Seattle, Luxe Interiors + Design and on both Monrovia's and Sunset Magazine's websites and Instagram feeds.
Tish lives on Bainbridge Island with her energetic Aussie shepherd, Cash.