Get inspired drought-tolerant xeriscape design ideas from this exclusive interview with landscape designer Tish Treherne of Bliss Garden Design, who walks us through her approach to this lush, meadow-inspired low-water landscape design. 
Do those conditions sound drastically different than what you're working with in your garden? Don't despair, this designer interview is a gold mine for design advice, ideas, and plant suggestions that work across the country.
(Above) A lush drought-tolerant meadow replaced a water-hungry lawn in this xeric California garden, which includes a vibrant mix of colors, textures, flowering herbaceous perennials, succulents, grasses, and shrubs.
Tish typically designs gardens in the Pacific Northwest, but she worked with her mother, an avid gardener, to design this beautiful low-water landscape as a replacement for the existing lawn and landscape. On top of saving precious water in a drought-prone region, the meadow design is meant to act as a backyard habitat for local birds, bees, and butterflies. Let's jump in!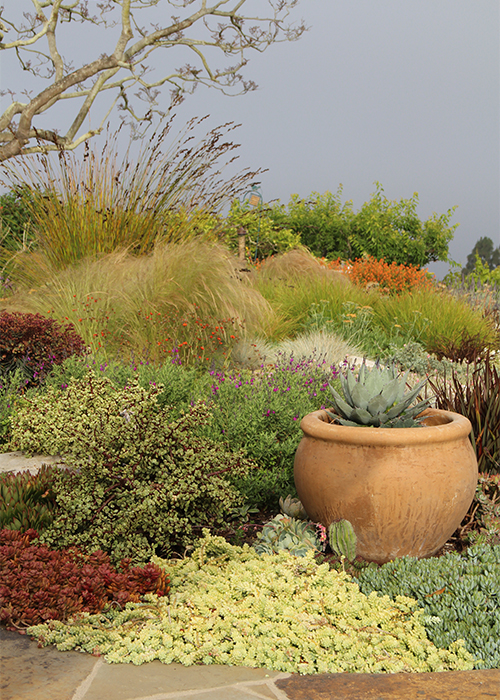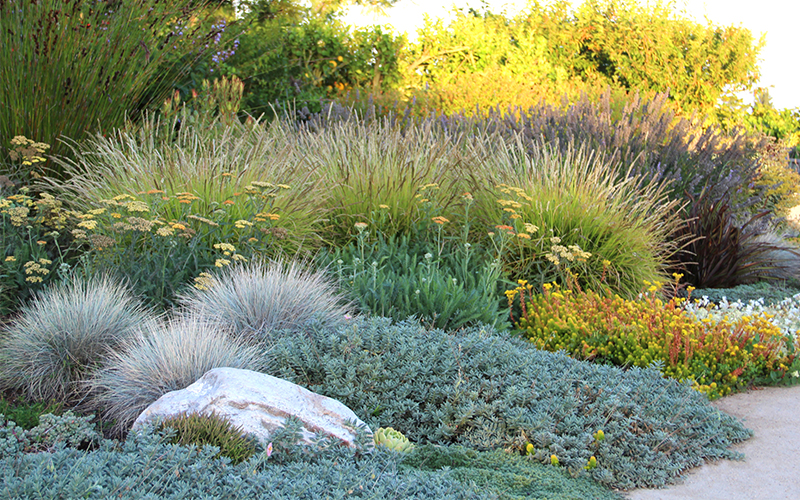 Q: Please introduce us to this beautiful garden. 
This garden is actually my parents'! It was a collaboration mainly between my mom and me. I get my love of gardening from my mom. She is a life-long gardener and she passed that to me. 
They live in Southern California and have a "coastal maritime" type climate. The climate there is getting hotter and drier, and water restrictions are getting stricter. In general, this xeriscape design, which replaced a more water-dependent lawn and garden is a huge, huge change from the one they had before. 
Q: How did the idea for a xeric meadow design evolve?
Just before we started this project, my mom came up for the Northwest Flower Garden Show. John Greenlee was speaking, and he had just written his book The American Meadow Garden. He was really enthusiastic about getting rid of lawns and my mom was all in. It was like a light bulb that went off and she was ready to get rid of her traditional lawn with the roses and perennial garden and replace it with something that required less water and made more sense in her climate. 
It started as replacing the lawn with a meadow garden. I told my mom I'd do the backyard meadow design for her, and then of course it snowballed into a design for her entire property, which covers 3/4 of an acre. From the pool to the lawn, we touched every corner of that property. 
Q: What challenges did you deal with in this landscape?
The soil caused some challenges for us because it was clay and most of these perennials prefer more freely draining soil. Some of those dry garden perennials didn't thrive in the clay. So I asked my mom, "What is doing well? Let's see what's thriving and plant more of that." And what was thriving, even in the clay, were a lot of the succulents. 
All gardens evolve. That's the joy. As a designer, I feel like I'm just setting the stage. It's like performance art. 
Get the Look with These Low-Water Plants
Icy blue foliage holds up through the heat of summer and buff-colored plumes emerge in late summer to create an eye-catching contrast. Up to 12" tall and wide. Zones 4-11.
Hundreds of showy plumes held above the foliage emerge bronze-pink, fading to white. Graceful, silvery green arching foliage becomes a whirl of orange, gold, and burgundy in fall. Up to 5' tall, 3' wide. Zones 5-9.
Outstanding foliage with dark plum centers and creamy pink outer edges. The dramatic upright leaves add unique color and texture to the landscape year-round. Use as an accent, specimen, or container plant. Up to 4' tall and wide. Zones 8-11.
A more compact selection with the same rich purple flowers and long-blooming nature. Beautiful soft, gray-green foliage is a wonderful complement to the bright blooms. Makes a stunning addition to a rock garden or mixed shrub border. Up to 3' tall and wide. Zones 9-11
This low-growing sedum has color-retentive, cherry-red foliage, and is perfect for waterwise landscapes or patios. Big clusters of deep pink flowers develop above the foliage. Eye-catching as a groundcover or accent in a rock garden or container. Evergreen except in the coldest climates. Up to 6" tall, 18" wide. Zones 4-9.
A Vibrant Low-Water Poolside Garden
Q: There's a misunderstanding that a xeric garden is a succulent or cactus garden. Your garden proves that xeriscapes can be lush and colorful. How did you achieve the classic softness of a meadow in a low-water setting?
The grasses. I love the combination of big, structural succulents with the softness of grasses. It really stands out. There are so many others that work: fountain grass, muhly grass, switchgrass, and New Zealand flax achieve that look. And then using some of the softer perennials like catmint, which is a really lovely, easy-going perennial.  If you want it to look lush, bring in those drought-tolerant plants that look lush—there are a lot of them to choose from. Because we wanted that meadow look, I started with a lot of drought-tolerant perennials that are at home in meadows, like yarrow and agastache.
Q: Did you take a different approach with the poolside garden?
It was a similar meadow-inspired approach, but there was more repetition in the poolside garden than in the meadow garden. I leaned a little more on the aeonium, along with the Icee Blue® Podocarpus, which provides the tall structure along the fencing around the pool area. I also used a lot of the grass-like large cape rush and Blonde Ambition Blue Grama Grass. 
Expert Tips for Designing and Maintaining Your Waterwise Garden
Q: Any tips for getting a drought-tolerant garden established?
Leverage the rainy or wet season as best you can, whatever that means to you. It could mean planting in fall before the snow comes, or in early spring before the heat sets in. What I've learned is that the sooner you can get it established, the better off you'll be as these hot, dry, and drought conditions persist in the years to come. 
Q: What are your garden design tips for home gardeners?
Less is more. Typically I design with a small palette of plants in terms of variety and use large sweeps of plants in mass. Also, always consider the functional use of the space first. Get your hardscape right, and then the plants will follow that. If you get your flow right, then the plants are the blessing on top of that.
Q: What are some tips you have for gardeners as they observe their evolving gardens?
Keep a list or a garden notebook over the growing season to make notes of plants that are too hard to deal with or are struggling. If I've touched a plant too much and it's a pain, it's gone. Make notes of the plants that are thriving and plant more of those. And include the new plants you'd like to try to solve other challenges you're having in the garden. 
Q: How can we use irrigation systems to adapt to dry conditions and stricter water restrictions?
They had been using sprinklers prior to this redesign and I really pushed for changing to drip. We primarily used Netafim drip irrigation lines through the property to water efficiently and within the restrictions. Now that they have switched to drip irrigation, they are seeing that it works so much better than the overhead sprinklers. 
There are a few downsides of overhead sprinklers; when plants get big, they block the water spray, the coverage isn't great, there's far more evaporation so they are less efficient than drip, and they can encourage weeds to grow. Drip irrigation delivers water directly to the roots, and when you're not wetting the top layer of the soil you have much less weed growth. If you have the appropriate kind of mulch down, you're just trapping that moisture down right by the roots where they need it. 
Get the Look with These Drought-Tolerant Plants
This rugged, cold hardy, native grass features blue-green foliage and striking, flag-like, golden summer flowers on stiff, weather-resistant stems. Tolerant of many soil types, this is a perfect choice for low-maintenance landscapes. 3' tall and wide. Zones 4-9.
The first podocarpus tree with distinctive blue foliage! New growth emerges lime-gray-blue and then matures to a cool gray-blue-green. One of the most beautiful and decorative pyramidal conifers for warm regions. An excellent specimen, lawn, or screen tree. 15-25' tall and wide. Zones 9-11.
A profusion of bright, velvety, red blooms on elongated stalks branching out of clumps of bright green, sword-like foliage. A compact gem that will provide months of dynamic, carefree color for waterwise gardens. Foliage up to 20" tall and wide; flower stems up to 24" tall. Zones 10-11.
Photo by Ramm Botanicals.
Densely packed, blue-green, narrow, succulent leaves grow in a symmetrical fashion from sprawling fleshy stems. Striking texture and color, perfect for massing in a sunny, low-water garden or succulent planting. Carefree, drought tolerant, and highly adaptable. Up to 18" tall, 36" wide. Zones 10-11.
Smooth, blue-green leaves with yellow-edged, red margins form a single, symmetrical rosette. Each leaf tip bears a short red spine. A comely choice for sunny, low water gardens in warm coastal or humid Mediterranean-like climates. Handsome in dry desert gardens as well, provided some shade and supplemental water. Up to 18" tall, 24" wide.  Zones 8-11.
Stunning pink variegation develops a brilliant red flush as the weather cools. Deep red bracts surrounding attractive cone-like flowers top the branches from late winter into spring. A great frost and drought tolerant accent for minimal-care, low-water landscapes. Plant en masse for an informal screen. Excellent foliage for floral arrangements. Up to 5' tall and wide. Zones 8-10.
A compact, early-blooming variety with lemon-yellow flowers held above ferny foliage. The perfect size for containers, or at the front of a sunny border or butterfly garden. The dried seedheads feed overwintering birds. Heat loving, waterwise, and seldom grazed by deer. Up to 18" tall and wide. Zones 4-9.
A Monrovia exclusive with long-blooming, showy, abundant spikes of large purple flowers that are a valuable source of nectar for bees, butterflies, and hummingbirds. The vigorous, bushy, compact habit makes this a great plant for perennial borders, rock gardens, and containers. Up to 22" tall, 16" wide. Zones 5-9.
Stunning six-foot-tall flower spikes with warm coral-orange, trumpet-shaped blooms that tower over the clumps of narrow, sword-shaped, gray green foliage. Use in mass plantings for a dramatic effect in xeriscape and waterwise gardens. Up to 6' tall, 4'. wide. Zones 5-9.
Using Succulents for Low-Water Container Recipes
Q: There are some beautiful containers with succulents in them. Do you have any tips for using succulents in low-water container plantings?
I prefer either one or a pair of architectural plants per pot—agave is excellent for this. Or, an "over-stuffed" container with smaller succulent rosettes or cuttings. I also like a contrasting pair —for instance, a chubby aeonium with a wispy grass.
For the over-stuffed succulent plantings, echeveria is excellent as well as some of the larger sedum, graptosedums, and smaller kalanchoe and aeonium.
Clippings work best because you can achieve that stuffed look immediately by being able to pack the plants in closely.
For me in the Pacific Northwest, that is key because my succulent pot plantings are mostly annuals, and don't have as much time to fill in. For a longer-term planting in a milder climate, leaving some room for growth would be best.
The wonderful advantage of growing succulents is you always have plants for arrangements. My mom is a ceramicist and she hand throws these cool small containers that she then fills with succulent clippings from her garden. We've found that a base layer of cactus specialty soil with a top layer of bagged pumice is great for this. The pumice is easy to put the clippings into and creates sharp drainage around their bases. Arrangements indoors can last quite a while before the plants become too leggy.
Favorite Plants for Succulent Containers
Prized for its thick, round, paddle-shaped succulent foliage, with a chalky blue-green color and red tinge that intensifies in full sun. Clusters of yellow flowers appear on mature plants. Provides dramatic color and texture in xeriscapes. Easily grown in containers, indoors or out. Up to 18" tall and wide. Zones 9-11.
This mounding succulent adds exotic texture and color wherever it is featured. Foliage coloration can fluctuate with green and deep purple-red tones seasonally. Clumping rosettes make an excellent waterwise groundcover when planted en masse. Well-suited to containers and rock gardens. Forms clumps up to 8" tall, 12" wide. Zones 4-9.
Large rosettes of fleshy, variegated leaves on thick, bare stems. The green, yellow and creamy white foliage develops coppery red tips in full sun. Pale yellow flowers appear mid-winter to early spring on mature plants. A frost-tender evergreen that thrives in sunny coastal climates. Up to 2' tall and wide. Zones 9-11.
About the Designer
Designer Tish Treherne of Bliss Garden Design creates landscapes that are enduring. Inspired by the effortless beauty of the natural world, Tish works in both classic and modern styles blending architecture to site and composing a backdrop for life outdoors. Partnerships with a team of seasoned contractors and craftspeople ensure the attention to detail that Bliss gardens are known for.
Bliss has been featured in Sunset Magazine, the Sunset Western Garden Book, the Sunset Western Garden Book of Landscaping, The Sunset Western Garden Book of Easy-Care Plantings, West Sound Home and Garden, Northwest Home, Seattle Times Pacific Northwest Magazine, Portrait of Seattle, Luxe Interiors + Design and on both Monrovia's and Sunset Magazine's websites and Instagram feeds.
Tish lives on Bainbridge Island with her energetic Aussie shepherd, Cash.
Explore More Drought-Tolerant Resources and Plants