The Grit and Polish husband-and-wife home renovation duo tackle many an indoor project at their Washington State farmhouse (Zone 6). Since one of Cathy's favorite finishing flourishes is a jug of freshly-cut flowers, a cutting garden in their family-friendly backyard was a natural fit.   
As experienced project pros but newgardeners, they began simply to keep things manageable (smart!).We suggested SunBelievable™ Sunflowers as the perfect "starter plant" for months of happy blooms. Each plant can provide a thousand flowers over the spring-to-frost bloom time.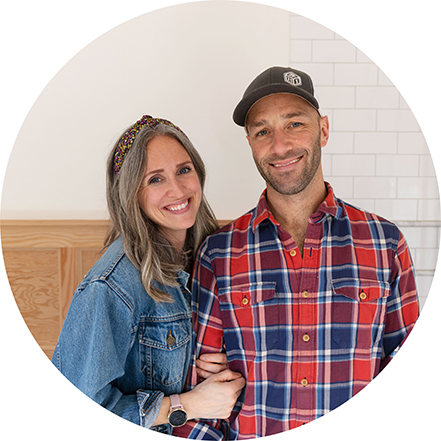 With that success under their belt, Cathy & Garrett were ready for more. This time, we provided flowering perennials and roses that work well in cut flower arrangements. Plants that come back consistently will cut back on most of the work of replanting their cutting garden next year. However, they tell us SunBelievable™ is always worth adding each spring! 
Here's what they had to say about each of the flowers we sent:

 
A rose just perfect for us! This larger shrub Is great the cutting garden with longer stems and loads of blooms throughout the summer. 
Full sun. Up to 5' tall, 4' wide. Zones 4-9.

They're back! These happy flowers bloomed from spring to fall last year, so we had to have them again. We especially loved the color with dahlias for harvest-time arrangements.   
Full sun. Up to 4' tall and wide. Annual in all zones 
The Evolution™ series has five fab colors. We love that this one has multiple colors in each flower (really!) changing from lime green, to peachy sunset, to a brilliant rose as the flower ages. We'll just need one plant to get all these colors.
Full sun. Up to 20" tall, 18" wide. Zones 4-9. 
"You know we had to have a rose with a name like this! These are low-growing, spreading varieties that work well in containers. We added Peach and White to our garden this year." 
Full sun. Up to 3' tall, 4' wide. Zones 4-9. 
Another hummingbird favorite, we will have Harlequin Beardtongue (or Penstemon) in Magenta and Red.  These are wonderfully drought resistant and come in more colors, as well.  
Full sun. Up to 22" tall, 16" wide. Zones 5-9. 
Monarda, or bee balm, is another pollinator favorite. This lovely flower is related to mint. We'll be growing Bee-You Bee Merry and Bee-You Bee Free. All these pollinator plants will be great for increasing the yield in our veggie garden, too.
Partial to full sun. Up to 18" tall, 15" wide. Zones 5-9.
This lovely series has flower spikes in colors including Red, Gold, and Coral. The hummingbirds love these!
Full sun. 20" tall, 16" wide. Zones 5-10. 
We love the cheery yellow flowers (and the bees do, too). Although, we're most excited about the gorgeous sprays of berries that form in late summer to early fall.
We have FloralBerry® Champagne, with light yellow to cream berries. FloralBerry® Sangria with rich wine-colored berries against darker foliage. Lastly, FloralBerry® Rosé, shown above. Can't wait! 
Partial shade to full sun. Up to 3' tall and wide. Zones 5-9. 
Get More Inspiration for Getting Creative in the Garden Here