It's the dream, right? The view from every window of your house looks out onto some part of a garden. It's rich in purples, coppers, blues, and lots of green. Walk out the back door to pick from your own edible garden. Laden with a farmer's market of organic fruits and vegetables. Plenty of room for the dogs to run. Sustainable, resilient, low-water, and overall fuss-free. The gardens at this contemporary home in the Seattle, WA area (zone 8B) check off all the boxes. 
Live in a colder zone? Don't worry! We offer several cold-hardy alternatives to the warm-zone plants below.
We asked landscape designer Robin Parsons of Spring Greenworks to walk us through the space. She shared her inspirations and favorite plants and advice for where to begin when creating your own garden. Because every dream garden starts somewhere.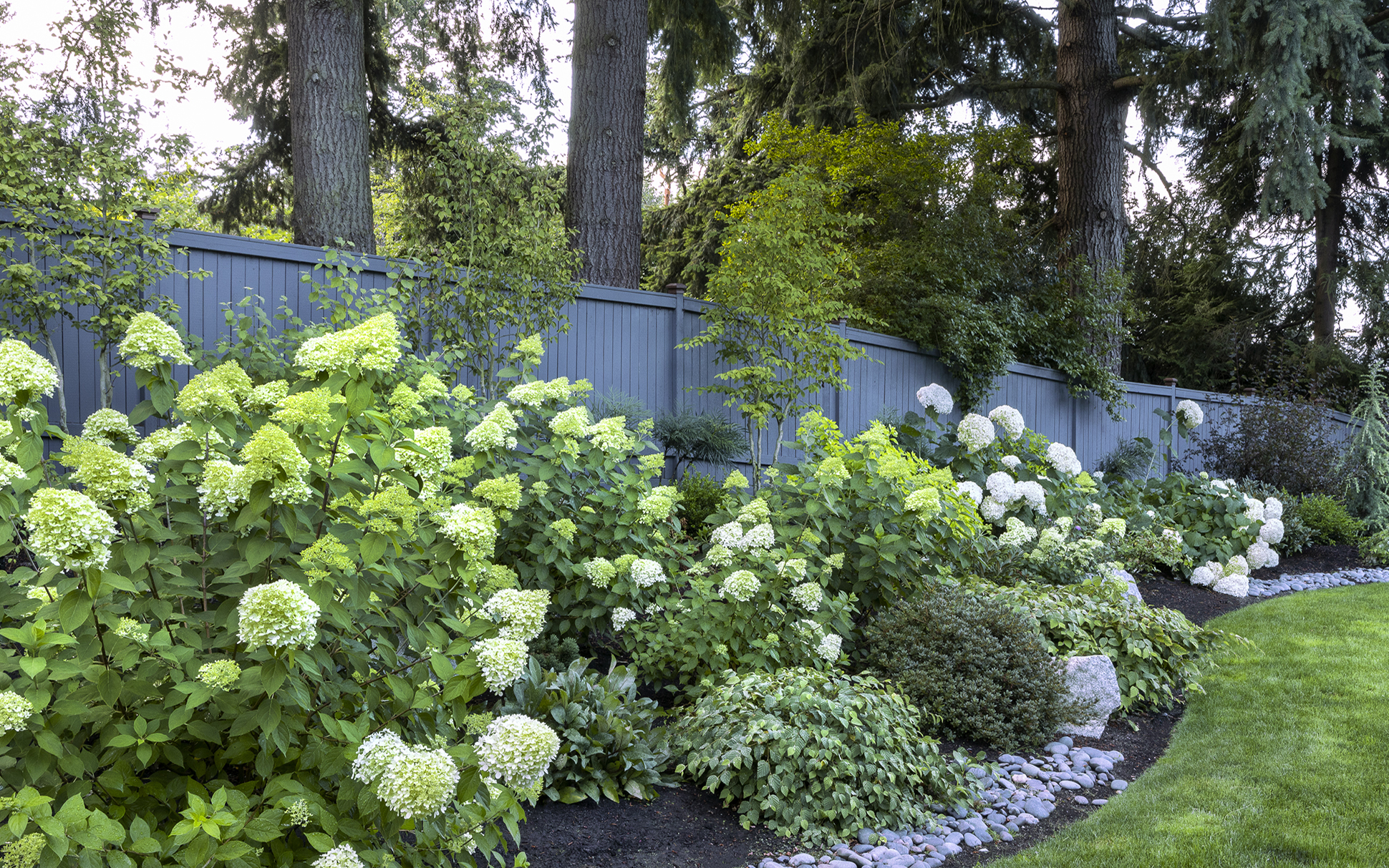 Your background, before you became one of Seattle's most sought-after landscape designers, was in graphic design. How does that discipline influence how you approach garden design?
I grew up gardening with my great aunt who loved caring for her magnolias. I remember smelling the wonderful fragrance of my grandfathers' peony garden when I was very little. These memories stayed with me as I grew up and after many years of being a graphic designer, I utilized my sense of color and spatial design sensibility to create gardens and living outdoor spaces. My goal with every project is to create a space that combines timeless and thoughtful solutions. 
We love how this garden is made up of several distinct "rooms" that transition from one to the next using plants in complementary colors to visually connect them. We saw a tableau of green, leafy shrubs at the front of the garden and see that same aesthetic repeated here at the back of the place in the long, curving border along the fenceline planted to overflow with shade-loving hydrangeas. Tell us about this border.
The owners of the property wanted a "farmhouse modern" landscape that worked with their modern-vintage house. That meant using cottage classics such as hydrangeas but without the traditional cottage garden "mad-mix to the max" look. I used a limited color palette, hewing to shades of green with color as the accent, not the story. In this border, I chose two different shade-loving hydrangeas because the property butts up against another that is filled with old, large trees that cast a fair amount of shade. Adding the grey river rocks and other stones draws the color of the fence into the garden. This section of the garden looks really beautiful in fall when the hydrangeas turn pink against the coppery color of the ninebark.
In landscape design, there is a concept called 'borrowed views'. Tell us how you employed that here and throughout the entire garden.
Borrowed views (or borrowed scenery) is the idea of incorporating background landscape into the composition of a garden creating the feeling of greater space. Literally, expand your horizons without adding to your property. This can be done on a large scale such as ocean views or more intimately like adding a few rocks to connect your yard to the one next door. Here, we "borrowed" the mature trees on the other side of the fence, allowing them to spill over onto the site and further the illusion but adding new trees to the homeowner's side of the fence. Once filled in, this will look like a forest that goes on and on without transition. It's an ancient "trick" that almost always works.
3 Key Plants for this Shady Border
Flower-power in shade with unique chartreuse blooms in mid-summer changing to pink in fall. Partial sun. Up to 8' tall and wide. Zones 3-9.
Masses of big, white flower heads put on a spectacular show throughout summer. Full sun, Partial sun. Up to 4' tall and wide. Zones 3-8.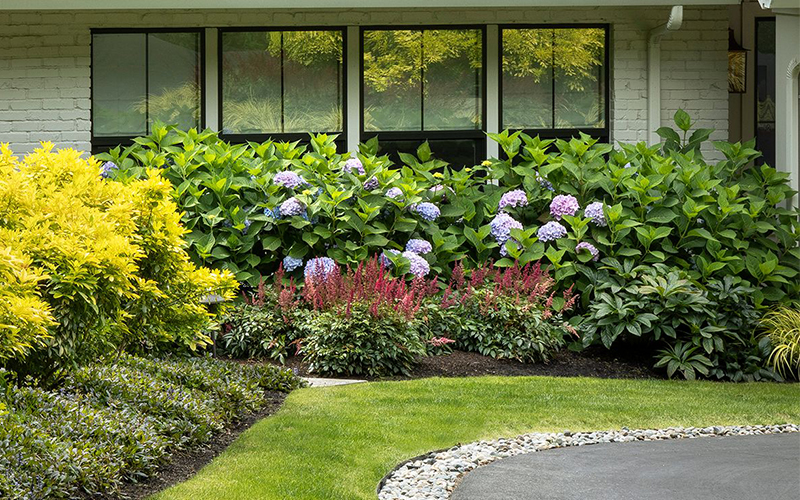 Here is another view of the border at the front of the house. It's the first time we see a shade of blue that will be ribboned throughout the garden. 
I chose a blue-flowering hydrangea here (this is 'Nikko Blue' but I also like Seaside Serenade® Cape Cod Hydrangea which tends to stay more compact) to cool down the brilliant yellows of the surrounding shrubs and to create a focal point at the front door. Hydrangeas, which require more regular water, were used sparingly in this landscape, clustered into areas where they could be irrigated without impacting the more drought-resistant plants. 
This garden, while playful and full of "I want that" moments, has a timeless elegance to it. How old is this garden and what was here when you started the project? 
We began this design and installation about five years ago. Our brief from the homeowners was to make it fun, modern, fruitful, and provide spaces for entertaining. This led us to design the series of rooms you see here. At that time, however, there wasn't much here and we were faced with some issues that will be familiar to many homeowners: a steeply sloped site, compacted acidic soil, and drainage issues. The driveway centerpiece (see below) didn't exist and none of the hedges were in place. We started by addressing the site issues first, then added the hardscape, building patios to serve the main house, and the small guest house also on the property. 
Creating a Showstopping Moment
Many of the other plantings that make up this wonderful garden are found behind the house. Or, on the edges of the place. This is in addition to the layered border at the front of the house. With this in mind, Robin set out to design a big moment at the driveway, hinting at what was beyond.
This Bracken's Brown Beauty Magnolia, so unexpected with the two-tone leaves and Southern vibe, does the trick. It's a hardier magnolia that exhibits better cold tolerance than others and then, of course, those 6" creamy-white fragrant flowers!
Paired with Sundance Mexican Orange Blossom (which puts out that striking chartreuse new foliage) and All Gold Japanese Forest Grass. (Bonus here is how this grass tinges pink when it turns cold). Further amped up with the red blooms of Fanal Astilbe, it's a standalone statement. And that's just the driveway!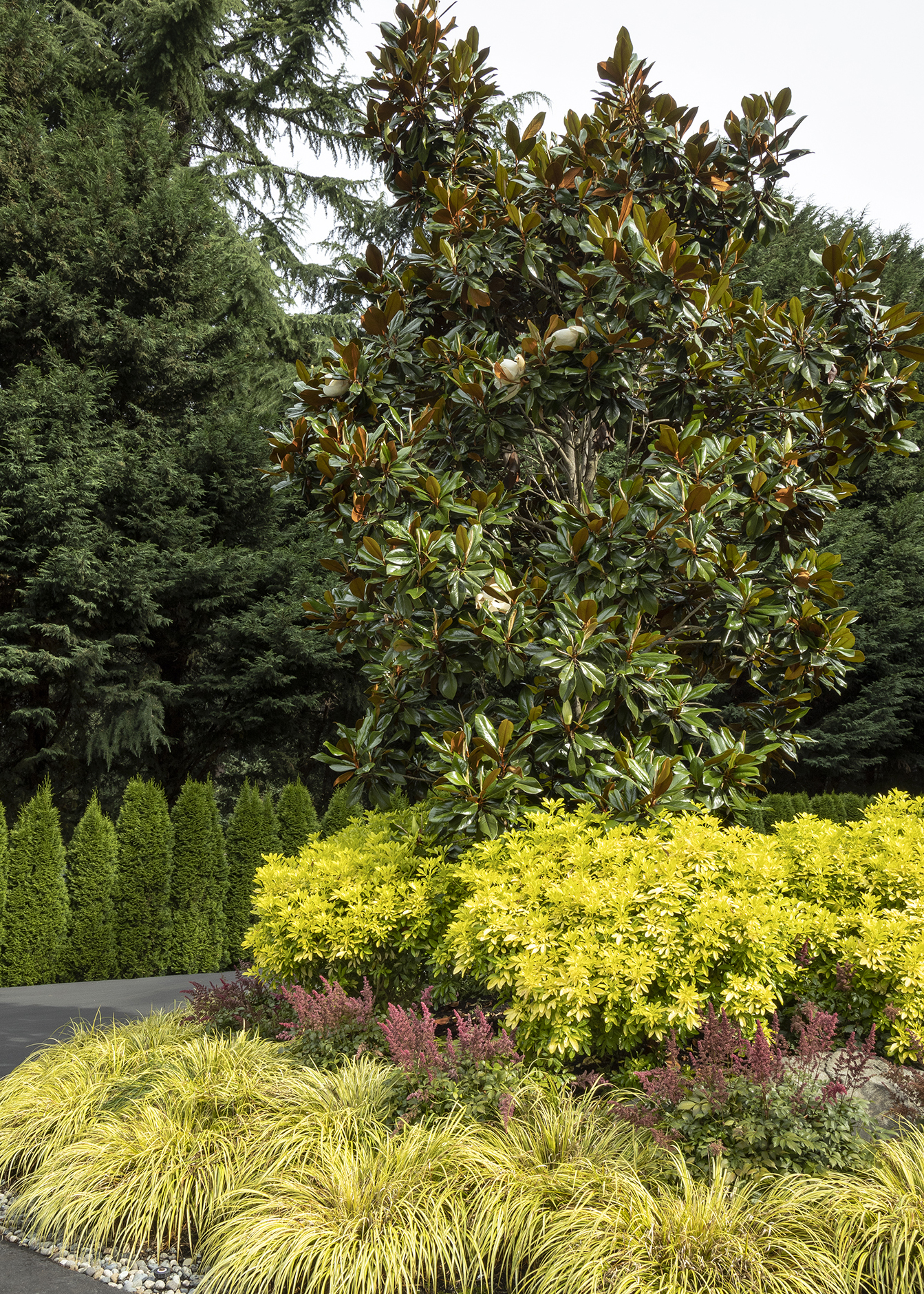 3 Key Plants in These Textured Layers
Bright chartreuse to golden yellow foliage. Sweetly fragrant white flowers are a delightful bonus. Full sun. Up to 6' tall and wide. Zones 7-10.
Slender stems hold bright golden-yellow foliage having the effect of a tiny, delicate bamboo. Filtered sun, Partial shade, Partial sun. Zones 4-9.
Okay, so let's move further into the property and talk about the glamorous collection of waterwise plants that make up this mesmerizing tiered border. What's was your inspiration? 
One of the challenges of this property was a steep slope on which very little was going to thrive. The water just ran down the slope and the compacted clay soil was not plant-friendly. We solved the problem by designing and installing a series of curved rolled steel walls to retain soil and direct rainwater through the property and added plantings to absorb story water. The walls are not symmetrical but rather curve and wind across the slope, and the grey metal color works back to the grey of the surrounding fencing. Below the tiered plantings we installed a patio made from stock pavers found at a home improvement store and Mexican pebbles. Rather than splurge on custom pavers, we butted two smaller ones up against each other to create the impact of larger ones that would have cost more. 
These plantings nearly throb with energetic color. What's happening here?
When you are standing on the patio looking up at the hillside, I wanted you to be met with the full garden experience, not a "hillside with plants." Varieties here were chosen for their color but also for their shape--some are soft and round, others are spiky and showy. Heights are staggered to create movement. At the very top of the slope begins the transition from this more densely planted area to the raised vegetable beds and the leveled-out lawns. I wanted this part of the garden to not only be a solution to a problem, but bring the modern farmhouse sensibility to life. 
6 Key Plants in This Colorful Waterwise Border
Low-growing rosette of large glossy leaves with stalks of small magenta flowers in early to late spring. Partial shade. Up to 3' tall and wide. Zones 3-9.
Deep rose-red foliage is mottled with white and green in spring, bringing wonderful, warm color into the landscape. Full sun. Up to 5' tall and wide. Zones 4-8.
One of the earliest to bloom. Shorter, compact variety with upright stems that resist flopping. Full sun. Up to 3' tall and wide. Zones 4-9.
A columnar sport of 'Bloodgood' maple boasts the same burgundy foliage in a smaller, more narrow form. Full to partial sun. Up to 15' tall by 8' wide. Zones 5-8.
Icy-blue coloration to this clumping ornamental grass holds up even through the heat of summer. Buff-colored flowers later add contrast. Full sun. Up to 12" tall and wide. Zones 4-11.
Compact with proven strong disease resistance; dense, mounding habit, and spring white flowers. Full sun. Up to 6' tall and wide. Zones 7-10.
Live in a Colder or Warmer Zone? Get the Look!
Where barberry is an issue, this provides the same brilliant burgundy foliage (with the bonus of flowers). Full sun. Up to 5' tall and wide. Zones 3-9.
While larger with age and with color only in fall, this columnar is a lovely swap for the maple. Full sun. Slow to 40' x 20'. Zones 3-9.
Low, spreading branches on a beautifully mounded, weeping dwarf form. Thrives in full sun of cooler regions. Full sun. Slow to 3' tall, 5 wide. Zones 4-9.
Compact, tightly branched evergreen shrub with glossy foliage that turns bright red in fall. Full sun. Up to 4' tall and wide. Zones 8-10.
Nice swap for bergenia, this clumping, leafy low-growing evergreen sports spikes of purple flowers. Full sun. Up to 2' tall and wide. Zones 8-11.
New, slender, and carefree upright shrub covered with classic bottlebrush spring and early summer. Full sun. Up to 10' tall, 4' wide. Zones 8-11.
How to Begin a New Garden Design
Clearly this is a dream (and dreamy) garden spun from the magic of your eye for and skills in combining colors and using space. If a homeowner is just starting out, facing a blank (or worse) space in their own yard, where do you suggest they begin to design their garden? 
I suggest doing a site analysis first to see what your primary goals are and what needs to be addressed around the site. From there, organize your goals and look for inspiration by viewing the amazing variety of gardens in publications and online. Incorporate the best of what you already have where possible including borrowed views. Create a sketch to understand the ideal flow of your garden.  Find focal points to create interest where the eye can rest. Last, select your palette of plant groupings based on the various needs of your garden (i.e. sun exposure, soil content and your specific hardiness zone) layering plants from high to low; trees, shrubs, perennials, ground covers. Planting in groups creates more impact than random planting.
At the end of the day, what makes a garden "successful?"
In the end the only thing that really matters is that the garden is well-loved and well-used, and that through the design and choice of plants it contributes to the health of our planet. 
What She Knows:
"The family that lives here spends time in the garden every day. No matter how busy, they always find time to walk the paths, tend the vegetables and run with the dogs. It is part of the rhythm of their day. Gardening provides a sense of well-being to those who experience it. It provides habitat and food for wildlife, filters our air, contributes to the well-being of our fragile planet, and brings neighbors together. And, it's fun."
Robin's Current Plant Passions
"Generally speaking, I love plants that perform for multiple seasons. Stewartia pseudocamellia has four seasons of interest- fall foliage, form, unique bark, and fragrant blooms. Shrubs with unique foliage like Hebe blue mist, Rhododendron 'Elizabeth' and Corylopsis pauciflora. Also, bold grasses and perennials including Carex testacea, Pennisetum ssp., Molinia and Agapanthus. Plants with architecture, interesting foliage and then unique color."  Here are a few more:
Rugged native grass with blue-green foliage and flag-like, golden summer flowers on stiff stems. Full sun. Up to 3' tall and wide. Zones 3-9.
Sparkling white, formal, double blooms contrast well with the glossy, dark green foliage. Mid-season bloomer for milder zones. Filtered sun. Up to 8' tall and wide. Zones 8-10.
Narrow, columnar form with dark green foliage that stays neat year-round. Elegant in containers. Full sun. Up to 8' tall, 3' wide. Zones 5-9.
Dwarf and compact with large trusses of purple spring flowers to contrast green foliage. Perfect for small gardens in cool, damp climates. Partial sun. 3 ft. tall, 4 ft. wide. Zones 4-8.
Breathtaking clusters of huge, deep violet-blue flowers appear atop tall, deep green stems in the summer. Full sun. Flower stalks up to 5' tall over 2' tall foliage. Zones 7-10.
Distinctive spring flowers, blue-green summer leaves, and super-colorful fall foliage on this useful compact shrub. Full sun, Partial sun. Up to 4' tall and wide. Zones 4-9.
5 Top Garden Design Takeaways
1. Choose a limited plant palette. Try and resist the urge to plant a little of everything in every color of the rainbow. Instead, choose 3 colors that you love and that work with the color of your home's exterior. Stick to that colorway throughout the exterior space. Disciplined use of color promotes a sense of harmony. 
2. Borrow from the neighbors. Robin used the very large trees in the neighboring yard that were up against the property lines as a reference point for the garden. She added more trees inside the property line to create a seamless transition. In some spots it's hard to know where one property ends and the other begins. 
3. Leave space for happy surprises. The vegetable gardens on the property not only provide wonderful foods but an impactful presence, too. The extraordinary impact of plants such as the tall, quirky artichokes that tower over the front yard. This is something that was not planned but makes everyone smile.
4. Play with stock hardscaping materials. Custom is not always in the budget. Therefore, Robin suggests you look at the basic hardscaping materials found at home improvement centers with a fresh eye. She took basic pavers, butted them together to give the illusion of a larger, custom paver. Then separated with river rocks. It does NOT look off-the-shelf at all. 
5. Plant (and plan) for sustainability. The Pacific Northwest is blessed with plenty of rain...until it isn't. Hotter summers and sometimes drier winters are influencing plant and design choices. Robin uses the pitch of the property here to help funnel water and consciously opts for waterwise plants. This can take some not-so-temperate seasons.
"My aspiration is to create modern gardens that inspire clients to enjoy more time outdoors!"
Robin Parsons is an APLD professional landscape designer based in the Seattle, Washington area. Her company Spring Greenworks provides custom landscape design services for homeowners looking for beautiful, functional gardens and outdoor spaces. See more of her work here and here.