A garden is often a place where we are able to tap into our inner artist. It's a place where we can playfully experiment with texture, color, form, and even scent. Plants have a way of allowing our creativity to shine in this way. Cutting flowers and making floral arrangements is a fantastic way to use the garden to get creative. Also, to enjoy the artistry that is inspired by nature.
Growing a perennial cutting garden allows us to bring more creativity and artistry to our lives year after year. We'll help you do it with tips, plant recommendations, and inspiration from the experts. Below, you'll find tips for planning, cutting, and arranging your perennial cut flowers. Plus a variety of our favorite perennials, shrubs, and grasses for cutting gardens and cut-flower arrangements. 
10 Tips for Planning Your Perennial Cut Flower Garden
Your existing garden is likely already a great start. You can use just about any plant in your cut flower arrangements. Try including annuals, perennials, woody plants, vines, grasses, seedheads, and greens. 
Site plants with similar water, light, soil, and drainage needs together.
Mass six or more plants together for visual impact, space efficiency, and tons of blooms.
Plant your perennial cut flower garden in spring or fall. 
If you'd like even more variety, plant annuals like zinnia, sunflower, cosmos, marigold, or snapdragons.
Choose plants with stems of 18" or taller.
Look for plants with abundant, long-lasting flowers. Sturdy stems are a big benefit, as well, and will stand up better in the garden and the vase.
Remember greenery and textures. Shrubs and trees are perfect for adding these to arrangements.
If regular irrigation or drought is a concern, choose drought-tolerant plants for your cut flower garden. They require less irrigation and will continue to produce flowers through dry periods (although they require irrigation to get established). 
Most importantly, you're the artist here. Choose colors and flowers that inspire your creativity!
10 Tips for Cutting and Arranging Flowers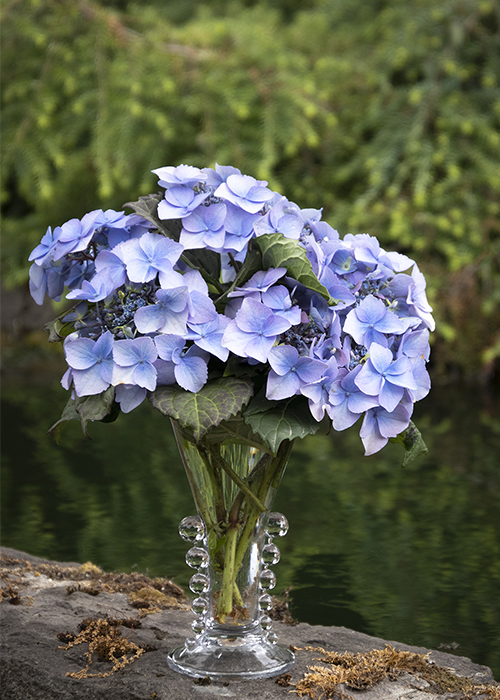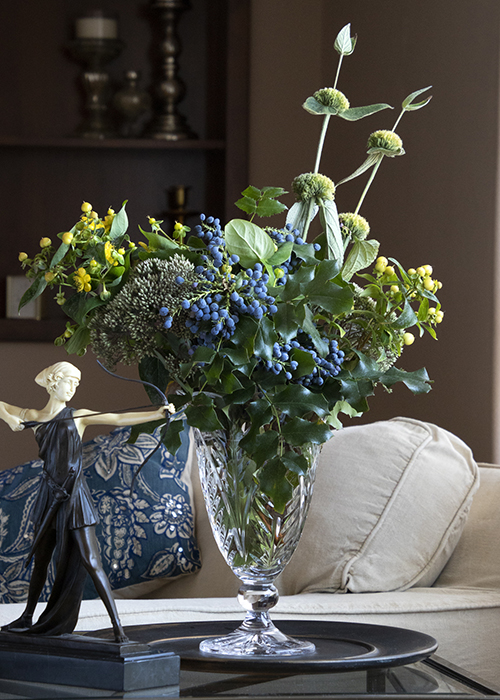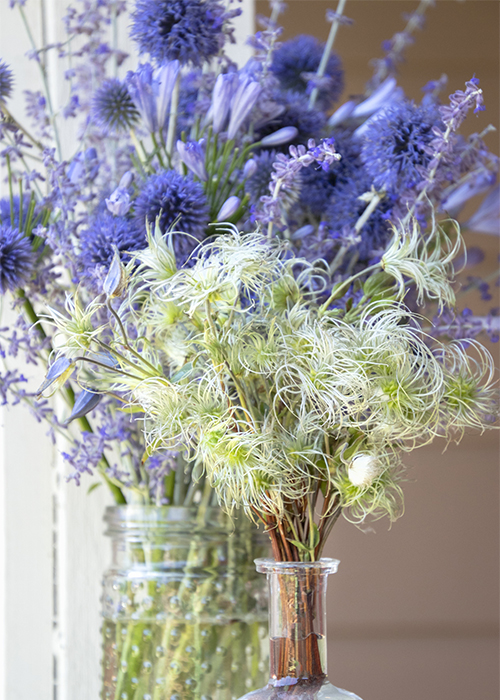 Carry a bucket with a few inches of water with you to place your flowers immediately after they've been cut.
Use a sharp, clean knife or shears. 
Cut flowers in the cooler temperature of the morning or evening.
Strip thorns and any leaves that will be in the water.
Replace water in the vase periodically. Adding flower preservative to the water can extend the life of your arrangement.
Cut flowers at various lengths to achieve a layered look in height and depth.
When arranging the flowers, consider where the arrangement will be placed and how it is viewed.
Create an arrangement that is around 2x the height of the container or vase it is in. 
Remember to use foliage as a filler.
Flower arranging is a practice of creativity, which requires experimentation and curiosity. If you like what you've made, then you've accomplished the goal!
Best Easy-Care Perennial Cut Flowers
The abundant showy blooms of this long-blooming and vigorous variety are perfect. They'll add a vertical, colorful element to cut flower arrangements. Plus, this hardy, drought-tolerant perennial is a valuable source of nectar to pollinators. Up to 22" tall, 16" wide. Zones 5-9. 
Long, wide flower spikes of a deep violet-blue are held atop upright stems with scented foliage. This showy, drought-tolerant, low-maintenance, and pollinator-friendly perennial is also gorgeous as a cut flower. Blooms reach up to 32" tall, foliage up to 18" wide.  Zones 5-9. 
An exceptional intersectional hybrid that offers the best of both woody tree peonies and herbaceous peonies. The huge and lightly fragrant flowers, strong stems, and prolific bloom make them superior cut flowers. Up to 30" tall and wide. Zones 4-8.
Sturdy, upright stems hold up long-lasting, colorful flowers on this hardy perennial. The bright green center cone and palette of pink hues add an enchanting visual dimension to arrangements. Up to 20" tall, 18" wide. Zones 4-9.
Add the deep chocolate-purple foliage and dark-rose flowers of this dramatic sedum to your vase to make bright blooms pop. This exclusive variety is bred for its strong basal branching and compact stems, which also make it a great cut flower. Up to 15" tall and wide. Zones 4-9.
Fragrant, colorful, and unique! Deep maroon buds that cover the lush, minty-basil-scented, dark green foliage open to show-stopping, electric violet-purple blooms. Plus, this carefree plant is truly mildew free. Up to 18" tall, 15" wide. Zones 5-9.
An easy-care perennial that is heat- and drought-tolerant. Big, flat clusters of small, deep rusty orange flowers add color and texture to cut flower arrangements, fresh or dried. Up to 20" tall, 24" wide. Zones 4-9.
Another great option for areas with hot, dry summers. It's a charming addition to your perennial cut flower garden thanks to prolific blush-pink blooms and upright red stems. Up to 18" tall, 20" wide.  Zones 5-10. 
The tall, feathery flowers and graceful foliage make Astilbe a great cut perennial flower for shadier gardens. This variety is particularly showy with deep garnet-red blooms. Up to 2' tall, 1' wide. Zones 4-9. 
An evergreen perennial that steals the show in borders and bouquets. This is thanks to its unique deep-violet color held aloft on sturdy stems. Blooms up to 26" tall, foliage to 20" wide. Zones 7-10.
A must-have cutting garden perennial for warm zones, with continuous dramatic blooms that outlast many others in the vase. The attractive variegated foliage is also a favorite in arrangements. Up to 12" tall, 24" wide. Zones 8-11. 
An easy-to-grow and impressive cut flower that adds an exotic, tropical flair to arrangements. Bright flowers and sword-like foliage look impeccable from late spring through midsummer. Up to 12" tall and wide. Zones 8-11. Grow as an annual in all zones.
Notable humidity-, heat- and drought-tolerant, this petite sage explodes with vibrant purple flowers throughout summer. Add to your perennial cutting garden. You'll have a source of vivid color and fine foliage for your vase all summer long. Up to 24" tall and wide. Zones 7-11.
A dwarf selection of a cottage garden classic, with dense clusters of lavender flowers on delicate stems. The airy elegance makes it a wonderful cut flower, fresh or dried.  Up to 36" tall and wide. Zones 7-11.
Photo: Visions Pictures
A rounded, dense, compact variety with better heat resistance than others. The glossy dark-green leaves with thin crimson midribs and margins. The long-lasting flower spikes with a pink blush make it a fantastic cut flower. Up to 18" tall, 24" wide. Zones 7-11.
Best Shrubs to Grow for Cut-Flower Arrangements
Roses offer a classically elegant option for cut flower gardens. Take a look at the exclusive Nitty Gritty™ groundcover rose and Grace N' Grit™ shrub rose. These varieties offer low-maintenance, durable, and colorful options with abundant blooms. One of our favorites is this Nitty Gritty™ Peach, with double blooms that provide exquisite color. Up to 3' tall, 4' wide. Zones 4-9.
Add lavender to your arrangements to add fragrance as well as delicate color and a slender, vertical element. This is a highly fragrant variety with abundant purple flower spikes. Up to 2' tall and wide. Zones 5-9.
A fragrant lilac that blooms twice a year. It has large clusters of dark purple buds that open to classic lilac-hued flowers. It's perfect for adding fragrance to spring (and fall) bouquets. The compact, rounded shape also makes this a unique selection. Up to 4' tall and wide. Zones 4-8. 
Originally bred for the cut-flower industry, with a well-branched habit, and rust-resistant dark-green foliage that has deep-red undersides. Dark stems and red berries make brilliant accents in flower arrangements. Up to 3' tall and wide Zones 5-9.
Sturdy stems and long-lasting blooms make all Seaside Serenade® hydrangeas superior cut flowers. Newport is a showy rebloomer with profuse, full mophead flower clusters. These mature to a deep pink or purple (depending on soil pH). Up to 4' tall and wide. Zones 4-9.
Happy in a wide range of zones. Add the finely textured foliage, ornamental fall berries, and white spring blooms to arrangements. Like Oregon Grape, it's lovely in a wildlife garden, too. Up to 2 ft. tall and 6 ft. wide. Zones 5-10.
Deep purple-red foliage is an exceptional addition to arrangements as well as gardens. Versatile, durable, and evergreen to semi-evergreen. Up to 5' tall and 3' wide.  Zones 6-11.
Glossy, mint-green leaves have creamy white edges that accent bouquets as well as colorful shrubs and perennials in the garden. New spring growth glows green-gold. Fuss-free, compact evergreen. Up to 30" tall and wide. Zones 8-11.
A dwarf, non-fruiting evergreen with a graceful, multi-branching habit. This is excellent in topiary form, as a hedge, specimen, or in a cut-flower arrangement. Up to 6' tall and wide. Zones 8-11.
Add Texture to Cut Arrangements with These Grasses
The super-frothy rose-purple plumes and deeply arching foliage make soft, showy accents in arrangements. Forms a mound of deep green, arching foliage. Up to 5' tall. Zones 5-10.
An abundance of showy plumes emerge bronze pink and fade to white. The graceful, silver-green arching foliage turns orange, gold, and burgundy in fall. Spectacular in the landscape and the vase. Up to 5' tall and 3' wide. Zones 5-9.
Fluffy, buff-colored plumes arch over a fountain of foliage, which turns a lovely golden russet in fall. The plumes and foliage create a terrific backdrop or contrast among shrubs, perennials, and bouquets. Up to 3' tall, 2' wide. Zones 4-11.
More Plant Care Tips and Inspiration for Getting Creative in the Garden