Join us on this inside look at creating breathtaking edible landscapes with award-winning designer Christian Douglas. In our conversation, we discuss how to create a unified, lush, whimsical, and edible landscape. Using one of his gorgeous designs as a template.
Christian created this whimsical, edible landscape on the property around a former manor house in Northern California. Transforming it into a rambling farmhouse with edible plants and a shady creekside nook (our personal favorite). Plus a fire pit lounge, a flat lawn, and a terrace for viewing sunsets behind the nearby Mt. Tamalpais. Lastly a kitchen garden, a beehive, and a chicken coop. 
The fact that these jaw-dropping spaces were created on a half-acre property without the slightest sense of overcrowding. This is nearly as impressive as the beauty of the space itself. Come with us on this enchanting tour of a breathtaking property. Leave with ample inspiration and practical tips for creating your own garden of abundance.
Christian's Tips for Designing a Beautiful Edible Landscape
Q: One of the things we love about all of your designs is how you seamlessly integrate edible plants and herbs into the perennial plantings. Do you have any design tips to help our readers accomplish this feeling of abundance in their gardens?
Designing an edible landscape is like designing any other kind of landscape. You're thinking about your foundational plants, trees, groundcovers, and you're thinking more broadly about the virtues of a lot of fruiting species that achieve the same goals. So think about strawberries as groundcovers, blueberries as bold foundational shrubs, artichokes as statement plants. Tree species like avocados can be used instead of magnolia or dogwood, for instance, when you need a strong structural tree.
It's a case of stopping and thinking if there is an edible plant that could achieve the same thing in your landscape, and normally the answer is absolutely there is. So it's a matter of choice and changing perspective, and having a go at it— which is so much of design, anyway. 
Also, consider your landscape as a source for both human food, and animal food and habitat. There are so many plants that provide nectar, seeds, berries, and habitat for pollinators and wildlife that can be used in the landscape to achieve beauty.
Q: We've seen another property design of yours with a kitchen garden near the pool. Tell us more about why the pool area lends itself well to a kitchen garden.
Edible plants, just like many other plants, are vying for that full-sun, open-sky spot. Most designers put that main open-dining, recreation space next to the pool and place the kitchen garden at the back of the house because there's a misconception that they are messy and unsightly, and we keep debunking that.
We make it work by making sure the boxes are far enough away from the pool that they don't get splashed too much. The pool is an area where people are spending the majority of their time, especially during peak growing season. Putting the kitchen garden near the pool makes more sense to me because the closer in proximity to your food, the more accomplished you become at growing it, and the more you tend to harvest it because you are seeing it every day. This is the thoroughfare of the property, so it makes sense to put the kitchen garden here. 
A Whimsical, Functional, and Edible Landscape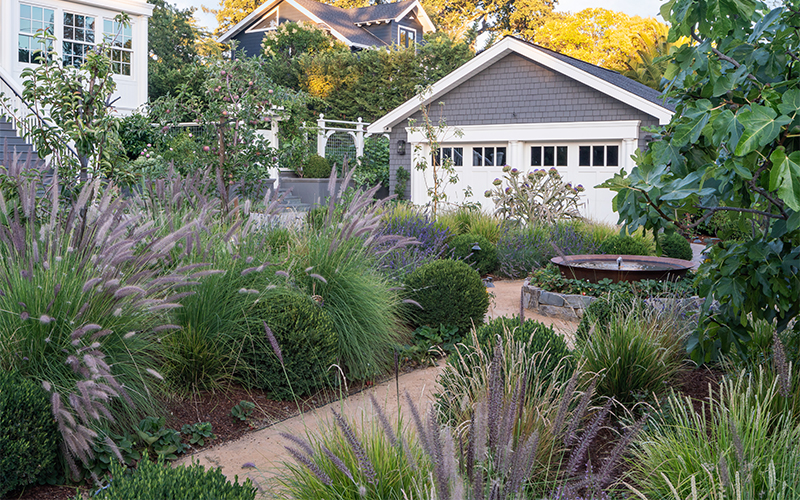 Q: This is a turn-of-the-century Nantucket shingled home in Northern California. The house was built to reflect the sophisticated coastal style of the Northeast, yet with your landscape design, it has a deep sense of place. How did you so successfully meld the two different coastal aesthetics?
How I treated architecture and landscape in this instance is referencing some of the formality of an east coast property by using boxwood and a lot of the bold, architectural foundation plantings. Then, we soften that foundation with more informal flowered species and grasses to add a bit more of a whimsical, "less precious" feel to the house. 
I was really trying to evoke some sort of magic with the plantings, but we needed to anchor that airy feel with a strong foundation of boxwoods and big magnolias. I was given full license by the owner to turn it into that sort of storied, romantic property where things can run riot and don't take themselves too seriously.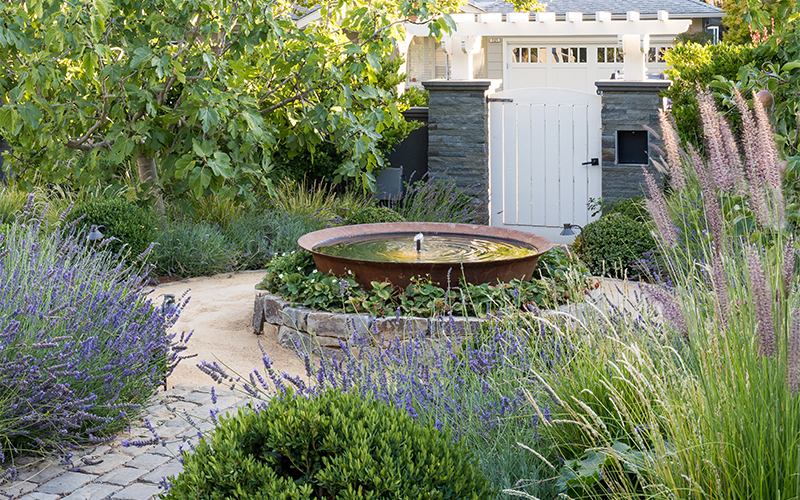 Q: What plants did you choose to accomplish this welcoming entry through the gate?
We have this serene bubbling fountain with strawberries as you walk in. We added two huge mission figs to the front of the property. I often put fruiting trees near the street edge as a kind of "street food." We also added grapes here, so the neighbors could come out and enjoy the grapes and the figs. 
Q: Can you give us some advice on accomplishing a magical feel in any garden?
Anytime you mix the feathery texture of grasses with the strong architectural form of a plant or rocks and boulders like we did in the creek, it instantly adds this kind of softness and whimsical feel.
I love to use plants like the single-form rosa ballerina and agastache (which are great tea species) poking up through the grasses to accomplish a meadow feel. Anytime you can plug an architectural element into a fabric of grasses, it's a win-win. You get the backlit grass, movement in the wind, and then you have pops of seasonal color that peek through. That's a really simple palette that we can use a lot. 
Q: This property has a few separate spaces and outdoor rooms. How did you decide on an overall plant palette that was cohesive yet worked to define the different spaces?
The overall plant palette consists of those foundational plants like the boxwoods, seen throughout most of the property, and then the softening plants like the grasses and lavender. There are also areas with different microclimates where we can have fun with different plant palettes (more on that below).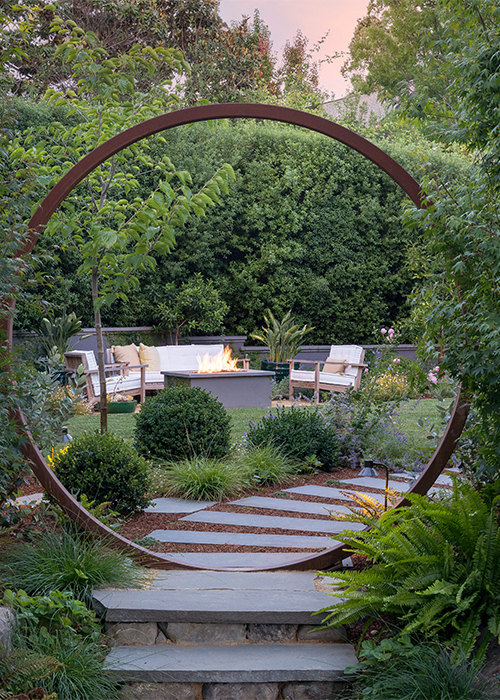 Q: The fire pit lounge at the back of the property looks like a relatively flat, open space, how did you make it feel soft, lush, and dynamic?
The moon gate and lawn here connect the shade garden with the pool area. We've filled it with cutting roses, fuyu persimmons, potted kumquats, espalier quince, and a Pakistan mulberry to create shade and texture.  
It also follows through with the overall plant palette of architectural boxwoods, grasses, lavender, and ferns. 
Get the Look with These Plants
Big, tender flower buds form at the tops of stalks and can be cut for eating. If not cut for the kitchen, they open into spectacular purple flowers. Textural grey-green foliage adds season-long interest to the landscape. Up to 5' tall and wide. Zones 6-11. 
A highly fragrant evergreen shrub with gray-green foliage and abundant purple flower spikes. A gorgeous choice for dry, sunny borders and gardens. Dried flowers are perfect for using for aroma in sachets. Up to 2' tall and wide. Zones 5-9.
The showy, super-frothy plumes and deeply arching foliage make it perfect for adding softness, movement, and texture to a landscape. Up to 5' tall. Zones 5-10.
A beautiful, low-maintenance tree with tasty edible fruit. The brown-purple fruit ripens in late spring and again in late summer. This adaptable variety can be hardy down to zone 5 if given winter shelter. Up to 25' tall and wide. Zones 7-9
Boxwoods are the perfect specimen for adding evergreen structure and foundational interest to the garden. They offer a classic elegance to informal and formal gardens alike. This variety is more heat, humidity, and drought tolerant than others. Up to 6" tall. Zones 5-9.
Strawberries make a great, low-growing edible groundcover. This is a highly productive variety with large, delicious berries. Disease resistant and adaptable to a wide range of climates. Will remain evergreen in frost-free areas. Up to 12" tall, 24" wide. Zones 4-9.
Microclimates Expand the Plant Palette and Create Magic Moments
Q: We love this cool, shady nook. How did you accomplish this magical moment on the property?
We used this area to create a magical, shady exploration place for the young boys who live here. The water feature is designed to look like a natural stream that appears from under the hedge and winds through a boulder-lined creek bed. The boys, birds, and bees all love this space; the boys love lifting up rocks to see what creatures they can find, and of course, foraging for hidden berry treasures that appear throughout the year. 
This was meant to be a place for the kids to explore, and it worked. With the strawberries and huckleberries added to the landscape, they've learned to become skillful foragers, too. These are experiences they'll always remember. 
We use microclimates of each space to grow different things like ferns, and edible choices like huckleberries, alpine strawberries, rhubarb, and ginger in this shade garden. It's fun to use (or even create) different microclimates around the property to allow yourself variety with the plant palette, too. 
Get the Look with These Plants
A beautiful tree with brilliant red-coral bark on young branches and deeply cut, pale-green leaves with red margins. Thrives in dappled shade in warmer regions, or full sun in cooler zones. Up to 25' tall and 20' wide. Zones 5-8.
Upright fronds that range in color from dark to light green form a striking vertical clump. This makes a bold and textural statement in the shaded garden. Up to 36" tall and wide. Zones 5-8.
Perfect for adding textural interest to shady beds and borders. This unique species was brought to Monrovia from Taiwan by plantsman Dan Hinkley. It slowly spreads to form a small, dense patch of fine-textured light green foliage. Up to 6" tall, 3' wide. Zones 7-9.
Christian Douglas is an award-winning landscape designer based in Marin County, California. Combining his formal training in classical design and his experience with regenerative agriculture, Christian has created innovative landscapes. With food at the heart in his native England, Jordan, Australia, and the United States.
He is also the founder of The Backyard Farm Company, an urban gardening company. Here they teach families to grow food and flowers at home through personal visits and online classes with professional farmers. 
With a depth of experience in high-end residential design in varying climates, Christian continues a lifelong journey. One to explore, develop, and model environments where high-style, food, and habitat can live seamlessly.