(Zones 4 - 7) Nine Problem-Solving Small Trees for Small Spaces
Trees make the landscape. They just do. And while it's said that the best time to plant a tree was 20 years ago, that old saw also goes on to say that the second best time is right now. These days property lots are smaller, houses are closer together and front yards are often very shallow. Don't let that stop you from planting a tree or two. We've given you seven spectacular specimens that top out at no taller than 25 ft. when fully mature.
For zones 7 – 11, click here.
Questions or need specific problem solving recommendations? Ask in the comments section below!
Oklahoma Redbud

 

(above)
Cercis canadensis var. texensis
 

'Oklahoma'

Beautiful garden tree valued for its timing; petite purple-red flowers on bare branches bridge the gap between winter and spring! Reaches up to 15 ft. tall and wide. Zone: 6 – 9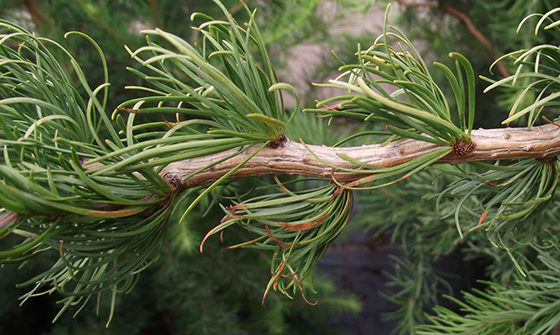 Soft, twirled blue-green needles turn golden yellow in the fall before dropping, leaving a bare, twisted corkscrew-like form. Makes a wonderful focal point. Deciduous. Reaches up to 20 ft. tall and 7 ft. wide. Zone: 4 – 8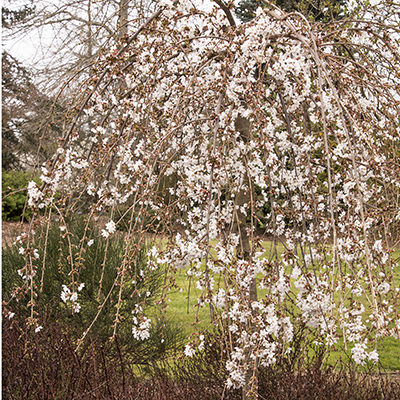 Naturally weeping branches are covered with showy, snow-white spring flowers followed by red berries in summer. Very disease and insect resistant. A beautiful, compact, small yard tree. Deciduous. Reaches up to 15 ft. tall and 8 ft. wide. Zone: 4 – 8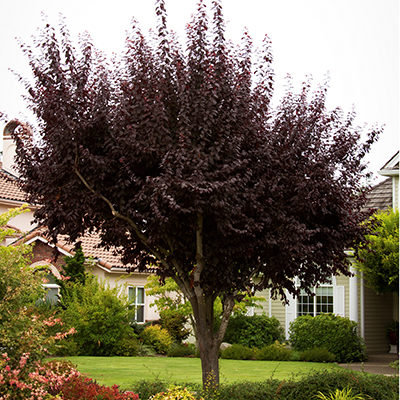 Terrific landscape tree with unusual coppery-purple foliage backing pale pink to white blooms. Bears small red fruit. Useful as a showy lawn, patio, and terrace accent tree. Deciduous. Moderate grower to 20 ft. tall and wide. Zone: 4 – 9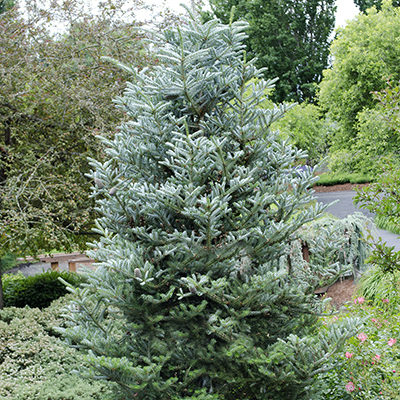 Conifers, with their needle-covered branches, add a welcome texture to the landscape. This one has deep green needles with a bright silver-white underside and lots of showy cones. Evergreen. Slow growing; reaches up to 20 ft. tall. Zone: 5 – 7
This dense pointed conifer is a perfect front yard Christmas tree for holiday lighting at small city homes. Dense growth means it's also a great screen plant that won't overgrow tight spaces. Slow; reaches up to 8 ft. tall and 5 ft. wide. Zone: 2 – 8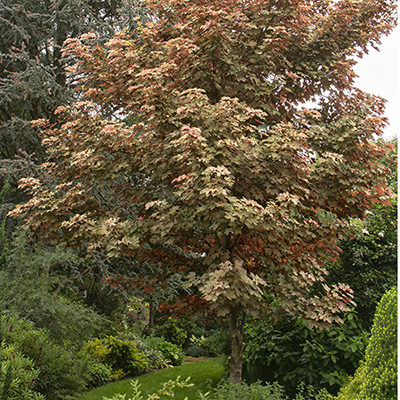 One of the showiest of maples. New spring leaves emerge orange-pink, maturing to shades of deep green, splashed with cream, tan and pink, with rich purple undersides. Excellent fall foliage. Deciduous. Slow; reaches up to 25 ft. tall with age. Zone: 5 – 8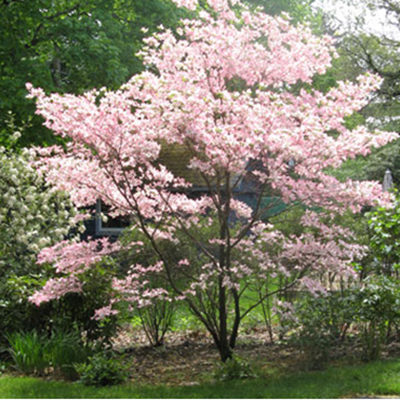 An elegant accent tree for high profile front yard or as a stellar focal point in backyard landscape. Align with picture windows or glass doors to enjoy its seasonal changes from indoors. Deciduous. Vigorous growth to 25 ft. tall and wide. Zone: 5 – 8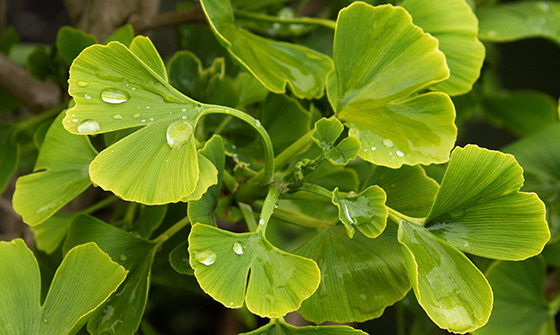 A dwarf, vase-shaped male (fruitless) ginkgo with bright green leaves and lovely gold fall color. Greenish-yellow flowers appear in mid-spring. Slow growing, dense habit. Deciduous. Reaches up to 15 ft. tall and 10 ft. wide. Zone: 4 – 9
Good to Know
How far from a house's foundation should you plant a 25 ft. at maturity tree?
A good rule of thumb is to plant a tree away from the house at a distance equal to one-third to one-half the maximum tree height.
Let us do the math here: no less than twelve feet from the house. Tree roots can grow beyond the canopy of a tree, so a bit of wiggle room is a very good idea.