5 Small Trees for Fall Color
So maybe your cold zone yard can't quite fit a fall-calendar-perfect sugar maple or white birch tree or other heritage tree  grows very large. You can still enjoy the brilliant colors of fall with trees that are right-sized for a smaller space.
From a tight-fit back yard or condo courtyard or even a really large rooftop container, here are just 5 of the trees that should work for you. Please consult with a local garden center for more options. Oh, small or not, you'll still have to rake!
Soft, twirled blue-green needles turn golden yellow in the fall before dropping, leaving a bare, twisted corkscrew-like form. Living garden sculpture! Up to 20′ tall, 7′ wide. Partial to full sun. Zone: 4 – 8
While there's rarely a moment with this outstanding small tree doesn't look great, fall is when it hits its zenith with foliage in varying shades of gold to red. Partial to full sun. Up to 12′ tall, 8′ wide. Deciduous. Zone: 5 – 7
Brilliant red fall foliage, wonderful bare-stemmed winter silhouette, and fragrant spring flowers are highlights of this versatile tree. Excellent cold tolerance. Partial to full sun. Up to 20′ tall and wide. Deciduous. Zone: 2 – 7
There's a whole lot to love here. Glossy, emerald green foliage that provides brilliant maroon-red fall color and showy panicles of yellow flower spikes in spring. Partial to full sun. Up to 25′ tall and wide. Deciduous. Zone: 4 – 8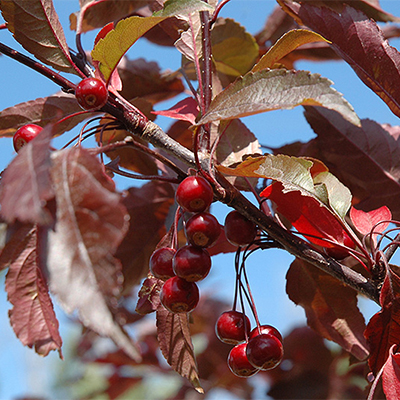 Unique, cut-leaf foliage emerges wine red in color, maturing with burgundy overtones in summer before turning bright orange-red in the fall. And flowers, too! Full sun. 20′ tall, 15′ wide. Deciduous. Zone: 4 – 8