In the garden's typically quiet time as summer's flowers fade, part-shade loving anemones come into bloom. With masses of refined and elegant pink or white flowers, these burst open atop the plant's willowy stems.
While there are lots of anemones from which to select, we chose these four. Each offers something unique that fulfills various gardening needs. From bigger blooms to super hardy to flowering groundcover, anemones are a fuss-free late season bloomer. (Late July to October depending on the cultivar.) These have romance to spare.
Blooms in early fall
Deer and rabbit resistant
Attracts butterflies
Thrive in part-shade
Fuss-free and easy to grow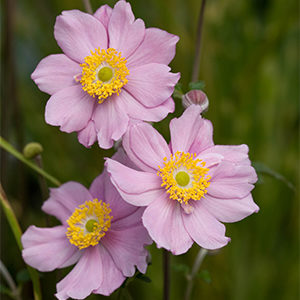 Mass where you can gush over the double, deep-pink blooms that can reach up to 2 ft. tall! The "they only look delicate" blooms add a painterly effect to shady flowering borders and woodland gardens. Zone: 4 – 8 (See lead image for more.)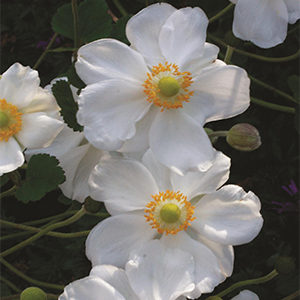 A famous Japanese anemone cultivars and for a good reason. A late summer blizzard of pure white flowers that come on over a longer period. Plant them where you can appreciate their illuminating effect at dusk. Zone: 4 – 8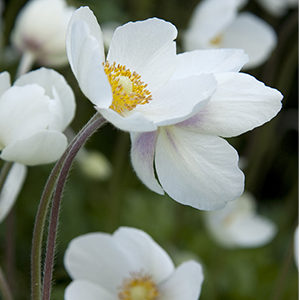 Cold zones, rejoice!  Warmer zones, this one's for you, too. This one starts blooming in spring and continues right through to early fall. Lower growing, makes a lovely flowery groundcover in shady spaces. Zone 2 – 9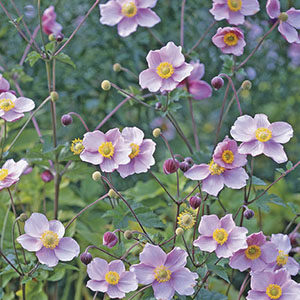 This slightly more compact anemone is ideal for smaller gardens or for tighter spaces. The cool, clear-pink hue of this one is especially lovely with ornamental grasses for a untamed-yet-refined garden look.  Zone: 4 – 9
Keep Anemones Happy:
Partial to full sun
Humus-rich, well-drained soils with constant moisture during growing season.
Shelter from harsh sun and wind.
Follow a regular watering schedule during the first growing season to establish a deep, extensive root system.
Remove spent flowers to prolong flowering.
Cut back to ground at the end of season.