'Brother Stefan', takes center stage this year and with its striking foliage, its easy to see why. Imagine a maple leaf pattern in gold surrounded by chartreuse and edged in dark blue-green and you have the look. The effect is like adding illumination to the shady space. Medium sized with large leaves, it thrives in zones 3 – 7.
If you're a hostaholic (or a collector–you know who you are) you need to add this one to your garden. If you're just looking for a way add some snap to the shade garden, this one is pretty unforgettable. Use this to also up the impact when lining a shady path. Plus, amplify a bed of mixed perennials and shrubs with super cool texture.
More? No problem. Here are five reasons why 'Brother Stefan' is so cool, he's hot.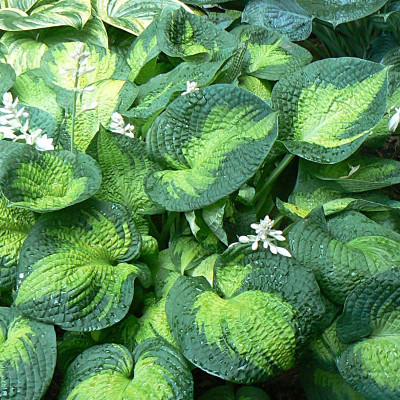 The wonderfully textured foliage is definitely the main attraction. Large, leathery leaves are heavily pebbled or corrugated, giving the plant a dramatic look in the garden. (Hosta lovers refer to this as "seersucker".)
Because of those distinctive leaves, this hosta is tolerant of more sun, becoming brighter during the day. (Of course, morning sun is ideal, but good to know, right?)
Also on the topic of the leaves which are more chewy, 'Brother Stefan' is reportedly not on deer's main menu. Therefore, it's less likely to be impacted by slugs (you tell us if this is true!)
Fragrant? Yes.

The very long flower stems (up to 2 feet tall on a mature plants) can be used as cut flowers.
'Brother Stefan's' near-white flowers are a magnet for bees and hummingbirds!
What Goes with Hosta? Here you go!