You have to love an evergreen shrub that has showy cascading white, pink or red flowers. The colorful new growth varies by variety, from bronze, brilliant pink to scarlet and thrives in sunny or shady situations. And, is not on the preferred menu of deer.
Newer varieties have a more compact growth habit that's ideal for low borders and containers. Other, taller types boost foundation plantings or add romance to a woodland setting. (Add them to rhododendrons or azaleas for a serious spring flower display.)
One of the most underutilized plants in the landscape, which is just not right. If you yearn for easy, fuss-free early spring color, this one's for you.
What: Bright, bell-shaped flowers, glossy new brick red foliage and deep red stems.
When: Late winter
Best Feature: Purple-pink buds that provide superb winter color.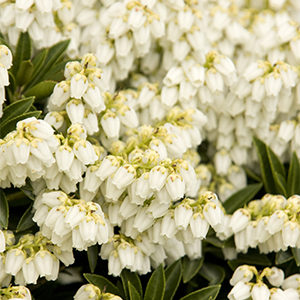 What: Clusters of pure white flowers shine against rich, dark green leaves. Zone: 5 – 8
When: Late spring
Best Feature:  Late-flowering dwarf selection.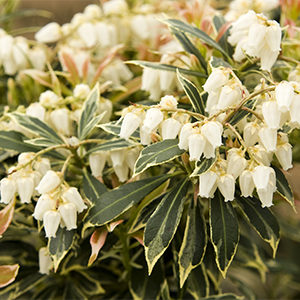 What: Excellent foundation plant with beautiful clusters of white flowers. Zone: 6 – 9
When: Spring
Best Feature: Distinctive leaves with white margins.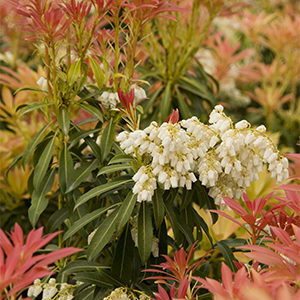 What: Vivid source of fiery foliage color in partially shaded gardens. Zone: 5 – 9
When: Spring
Best Feature: Multi-season colorful foliage.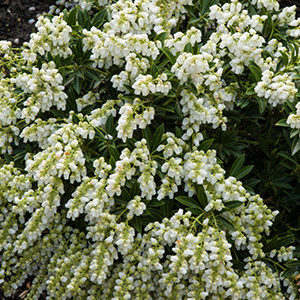 What: Green buds open to white bell-shaped flowers in early spring. Zone: 5 – 8
When: Spring
Best Feature: Dwarf size is ideal in front of shrub borders or in pots.
Keeping Pieris Happy
Follow a regular watering schedule during the first growing season to establish a deep, extensive root system.
Provide well drained soil, rich in organic matter.
Pieris shrubs grow and flower best when

 

planted in full sun or partial shade.

They will grow in deep shade, but generally do not flower as well. The new foliage growth is usually not as brilliant.

Feed with an acid fertilizer after bloom.
Keep roots cool with a thick layer of mulch.
Pruning time: spring after flowering.