Half the fun of growing hydrangeas is cutting buckets of blooms and using them in tabletop arrangements. So, we went looking and found lots of great ideas for bouquets that showcase this summer classic. Each are pretty simple to make and have something unexpected happening. (Though there's nothing wrong with a few cottage-y stems in a pitcher or upscaled in a crystal vase!)
Here are a few we love. Which is your favorite? Message me in the comments section.
So Easy, So Chic
Hydrangeas are such team players! Here they are in an arrangement with cut stems of agapanthus (blue flower), mock orange (variegated leaf) and freesia. Crazy good.
Gathered from all corners of the garden!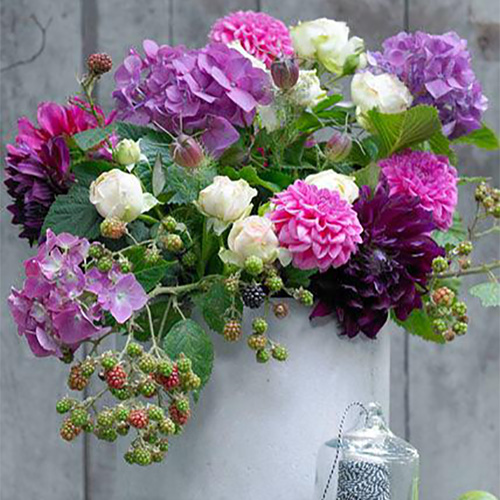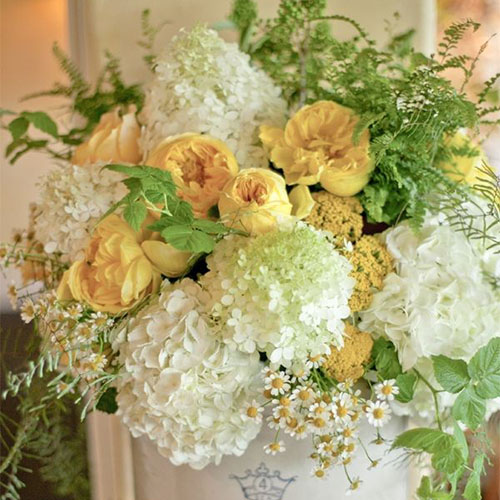 Rich and Ripe
A crock overflows with blue hydrangeas, dahlias, and pink roses. The kicker here is the blackberries tumbling out the sides. (Blue Enchantress® Hydrangea in very acid soil would yield this purple!)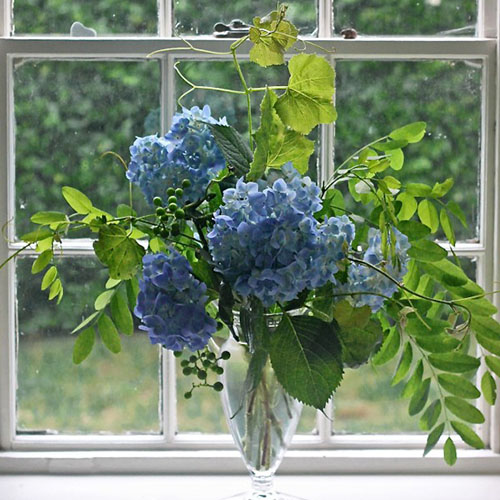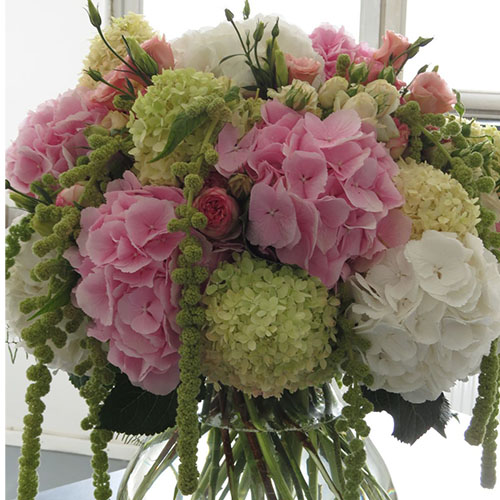 On the Wild Side
Loose and just a bit messy, this romantic display is just Nikko Blue Hydrangea with cut grapevines and locust boughs. All those shapes of different leaves make the blue mops really pop. You can do this!
Just a Touch of Whimsy
What's more fanciful than amaranthus dripping from a bouquet? For that you need structure, which comes from masses of hydrangeas and a few pink roses. (Including Little Lime® and Merritt's Beauty).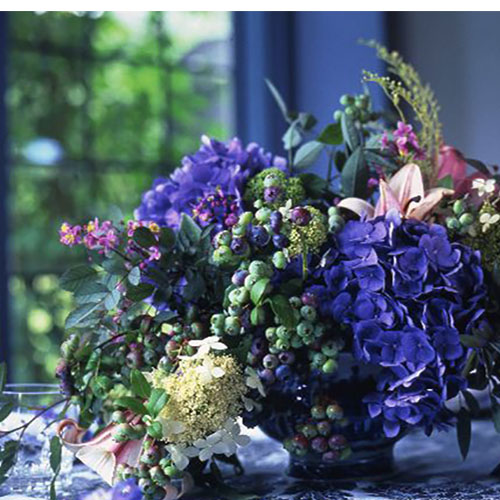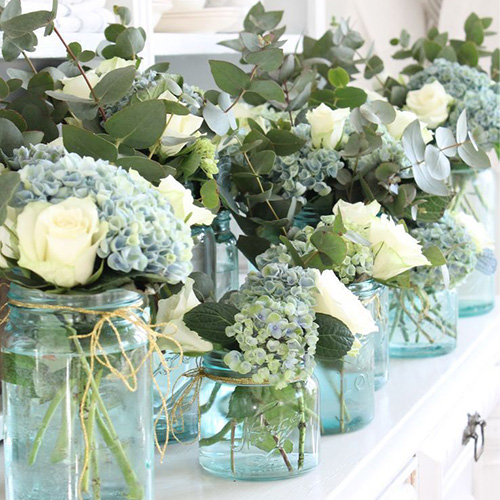 Bit of Everything (and what's that?)
THAT is bunches of blueberries in various stages of ripeness. Hues of the berries are mirrored in the hydrangeas and lilies. (Love this? It's Snow Queen Oakleaf and Seaside Serenade® Cape Cod.)
Blue-on-Blue
Upcycle those blue mason jars you have in the pantry by filling with hydrangeas. This is Wedding Ring in acid soil). Then add a few white roses. Add texture (and fragrance) with sprigs of eucalyptus.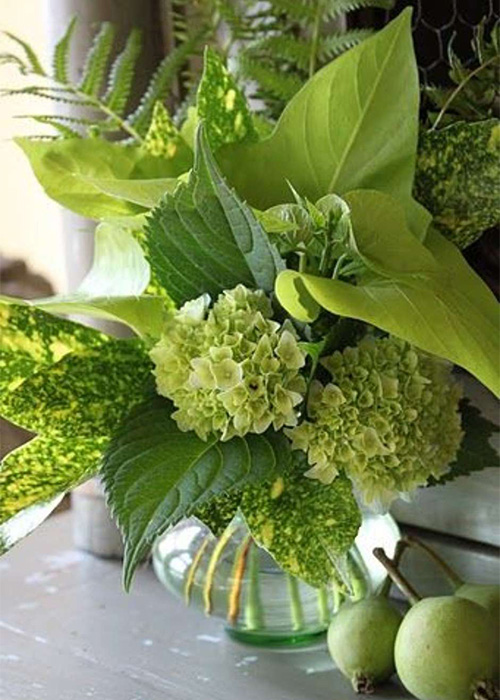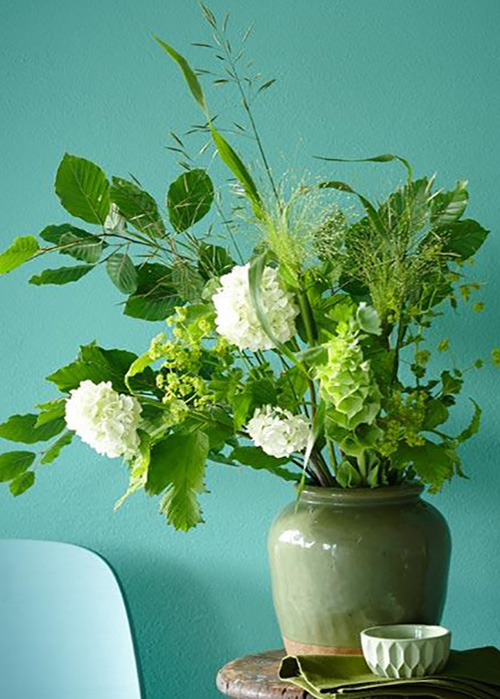 Plucked from Shade
How unexpected and fabulous is this? Raid the shade border for leaves from hosta and acuba and a few fern fronds. Add to an ombre of greens to Candy Apple™ hydrangeas.
Meadow-y Magic
Is there anything in the garden not made better with the addition of grasses? Plumes add froth to a loose clutch of hydrangeas (Madame Emile Mouillere). Plus, Bells of Ireland and a few soft tree leaves.
Quick, Easy, and Instagram-Worthy 
We love all the mix and match plays of color and texture seen here in many of these arrangements. Although there's something so soigné about one color, one flower, one idea done well.
Metal vases in pure white are filled with dozens of panicle hydrangeas (this is Strawberry Shake™ ). These flowers start out white before aging to pink and finally a creamy-green. A must-have for glammy arrangements.
(You're going to ask so here it is–that's Toki Clematis in the far right corner.)
Three Vases
And three blooms. That's all this is. Purchase vases in three different heights (these range from 4-in. to 8-in.) then clip three stems to create levels. (This is Seaside Serenade® Hamptons hydrangea.)
Dressed to Thrill
Who'd have thought wrapping an old jar with twine would yield something so refined and easy-elegant! Add Mini Penny™ Royal Majestics® hydrangeas and line down the center of the dinner table.
No-Fail Fabulous
Perfect for an end table, nightstand, or outdoor dining table, a huge handful of the biggest, bluest hydrangeas. (Let's Dance® Rhythmic Blue™ Hydrangea). Place in a cylindrical glass vase and it will be everything.
Iron and Ice
The mix of metallic and white hydrangeas never fails to work. This planter is filled with florist foam into which cutting of lacecap hydrangeas are inserted. Modern, sleek, but warm, too.
Excellent Hydrangeas for Cutting Flowers