July is the month to keep on keepin' on.
There is so much to do and so much daylight in which to do it. (And so much of what you do now will help ensure a great fall garden).

Plants are zooming, things are blooming, and weeds are high and mighty, but look at what you did! The garden is happening.
Fill a few vases, cook with some fresh herbs, listen to some birds, and pull a few weeds. Take a moment to take in the wonder of nature doing it's thing in full view. Here's how to make the most of the month.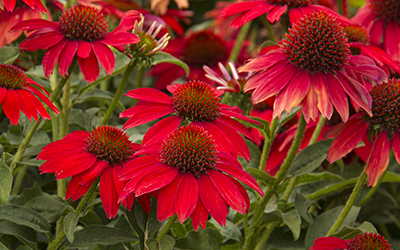 Roots, not shoots: Pull back on application of fertilizer to perennials. No sense in making new foliage that will not make it through fall's frosts. Let your plants instead work harder to set larger, deeper roots. (<—–this is Sombrero® Salsa Red Coneflower)

One born every minute: A sucker, that is. Suckers are vertical shoots that push up around the perimeter of a shrub. Keep an eye on shrubs like grafted roses, lilacs, and yellow twig dogwood and remove suckers by yanking downward.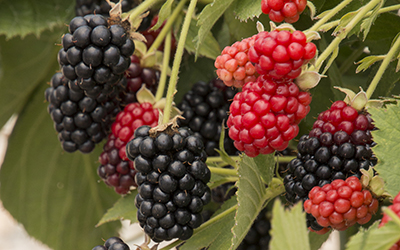 Goodness grapes!: Your grapevines probably grew a foot overnight last time you checked but rampant spring growth is slowing down. While you can, before they're heavy with fruits, take a bit of time to make sure canes are well supported. This will prevent damage later.
Blackberry Blitz: Staying on the topic of homegrown heaven, blackberries (including thornless varieties such as <—–Baby Cakes™ Blackberry) appreciate a mid-summer feeding. Might even lead to a second harvest!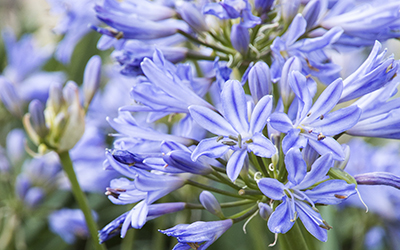 Tropical Heatwave: Sub-tropicals including bougainvillea and agapanthus are at their happiest now and its a good time to plant them. Just remember to fertilize with a general-purpose organic fertilizer as these work especially well as soil temperatures warm. (<——-this is Baby Pete™ Lily of the Nile)
Rosy Outlook: The big rose parade of spring has passed. It's time to start planning for a fall flush (roses in fall!). Stay on top of foliage health to avoid powdery mildew which can reduce overall vigor, and water deeply. You'll be feeding soon, but not now.
Annuals, no matter where you live, are working hard for you right now, growing fast and flowering heavy. They need a bit more love and that means fertilizing more often and deadheading with a vengeance. Feed weekly with a diluted organic liquid fertilizer and when we say deadhead, we mean it. Grab them by the scruff and cut back by about 1/3 – 1/2 of the total stem length. They love it.

And, finally insects. They're just so grateful for the buffet you've laid before them. It's not too late to introduce beneficial insects to your garden. Additionally, it's never too late to find ways to invite birds and other wildlife that love insects into your space. If all else fails, handpick or try insecticidal soap sprays. Consult with your local garden center for the best, most balance approached to things that bug you.