Here's expert advice from guest bloggers Megan Nichols and Jessie Jacobson of
Tonkadale Greenhouse
. Located in Minnetonka, MN, they talk about plants that tolerate road salt.
Here in Minnesota and in the Upper Midwest, we're coming off of the longest growing season on record. It is early November and we have not yet experienced a good hard frost. But, it can't last and that's fine–we have a love for winter and all that comes with it. Except for one thing – road salt on our gardens.
If you garden near the sea or near the road, then salt tolerant plants are an important issue to consider. Be successful, rather than stubborn, and install specimens that can handle a salty bath. These hardy plants are often referred to as boulevard or "hellstrip" plants. As the name implies, the hellstrip is a tough place for plants to grow. (This is the narrow, generally unloved stretch of land between the sidewalk and the street.) It is the place where soil is compacted, lean, and yes, subject to regular drenches of road salt.
Any garden in the salt splash zone, whether from the roadside or a treated walkway requires special consideration when planting. There is no need to let road salt dictate your entire landscape plan. Just site salt tolerant plants where you need to. Then, begin to add other favorite perennials further back from the roads and walkways.
When the snow flies and the plows are out, sit by the fire with a cup of salted caramel cocoa. Know these plants can handle a little attitude (and road salt). Here are just a few of our favorites.
Why is salt a problem?
Salt is moisture-wicking and pulls water away from roots, leaves and flower surfaces. This causes plants to look as though they've been burned. When salt dissolves in water, it is easily taken up by plant roots and transported to the leaves. It can accumulate there at toxic levels. Salt damage happens through salt spray from the road or from the ocean.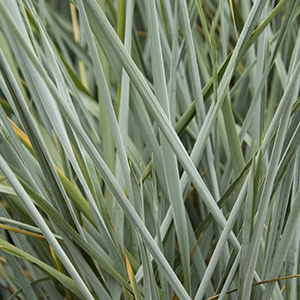 Blue Dune Lyme Grass
Zone: 4 – 9
Stunning, frosty blue foliage on this vigorous spreader. Mass as a groundcover with added value of erosion control, or plant solo for a contemporary look.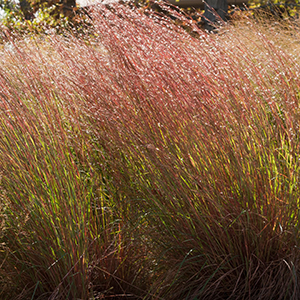 Blue Heaven Little Bluestem
Zone: 3 – 10
Striking bluish foliage that turns coppery-maroon and delicate seed heads beloved by birds. Plant in a prairie setting, in groups or just line 'em up.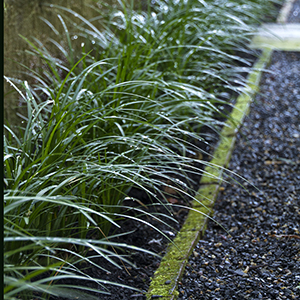 Lilyturf
Zone: 4 – 10
Tough but showy evergreen groundcover with purplish bell-shaped summer followed by dark berry-like fruits. Edge pathways or low border accent.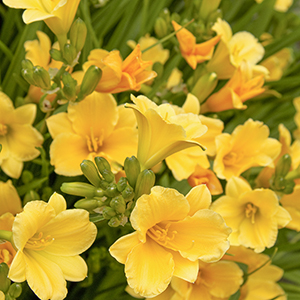 Stella De Oro Dwarf Daylily
Zone: 4 – 11
Ubiquitous, yes, but this is a super-useful dwarf variety that can handle salt, drought, crummy soil and reblooms. Layer these to add interest and garden glee!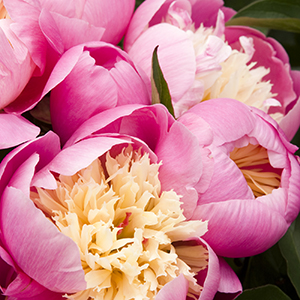 Bowl Of Beauty Herbaceous Peony
Zone: 4 – 8
Believe it!  Seemingly delicate, they can handle salt making them perfect for a boulevard garden. Early bloomer, intoxicating scent, and little phases them.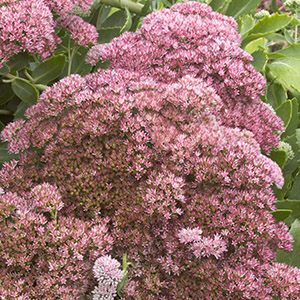 Autumn Joy Stonecrop
Zone: 4 – 11
Salt tolerant, drought tolerant, deer resistant, late season bloomer, beautiful seed heads, cut flower, pollinator-magnet, unfussy, plays well with others. Exhale!!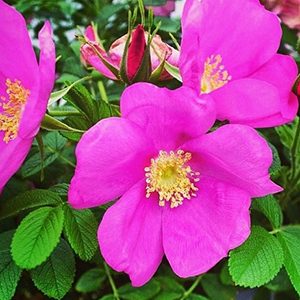 Rugostar® Raspberry Groundcover Rose
Zone: 4 – 9
Rugosa roses aren't so fussy, and are prolific re-bloomers that put on quite a show. Very salt-tolerant and as a bonus they produce those highly attractive hips!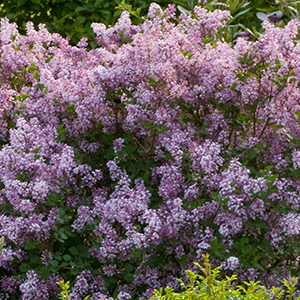 Dwarf Korean Lilac
Zone: 3 – 7
Early blooming, fragrant, perfect for small landscapes, great cut flower AND salt tolerant! Is there anything this mighty shrub in a small package doesn't do?
Chicago Lustre® Arrowwood Viburnum
Zone: 3 – 9
Tough, hardy, impervious to road salt! Produces clusters of tiny white flowers followed by blue-black fruit that provides forage for songbirds.
Tips and Tricks for Road Salt
• Use sand or kitty litter (non-clumping!) instead of salt to combat ice.
• When salt is a necessity, use as little as possible.
• Pre-apply salt and de-icing chemicals prior to ice or snow events. More effective, and you can use less.
• Don't apply salt on top of snow. Shovel to clear, then apply.
• Late season applications of salt are most detrimental and should be avoided if possible. Plants coming out of dormancy are most susceptible to injury.
• Salt and snow should not be piled around plants. It also shouldn't be in places where the resulting salt water will drain into plants when the snow melts.
• Construct a shallow trench between walks or drives and plants or lawns. This helps channel salt runoff away from desirable garden areas.
• If weather permits, flush the area around roots exposed to salt with fresh water as soon as the snow melts.
• Erect barriers, such as temporary plastic fencing, to protect salt-sensitive plants.
• Potect vulnerable trees and shrubs by wrapping with burlap.
More Salt Tolerant Plants To Love