Something about this time of year makes us want to get out into the garden. Then, clip, snip, glean and gather piles of autumn's natural gifts. Leaves, fruits, berries, dried blooms, succulents–it's all right there for the taking. We've rounded up nine easy ways to bring the outdoors in. Whether it's company coming or just feathering your nest with pretty seasonal color before the holiday glitz.
This bronzed urn overflows with branches of petite-but-perfect crabapples. Plus, clusters of brilliant orange hips from roses such as wild beach rugosas, the dark, inky berries of hawthorn shrubs. Lastly, it contains bunches of cherry-red dogwood berries. Don't have these exact elements at hand? Any berries will do; the idea here is one of abundance. In fact, abundance is what fall is all about. Enjoy!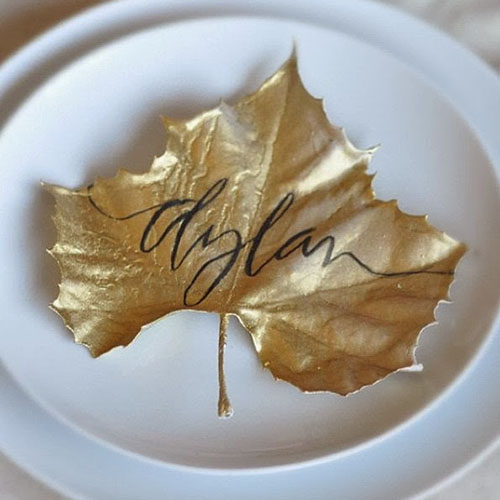 Midas Touch
It doesn't get much simpler than this. Find a perfect leaf and spray on both sides (don't forget the stem) with gilded paint. Let dry, and write the name of your guest with a Sharpie. If we were the guest, we would so be taking this home! How-to here.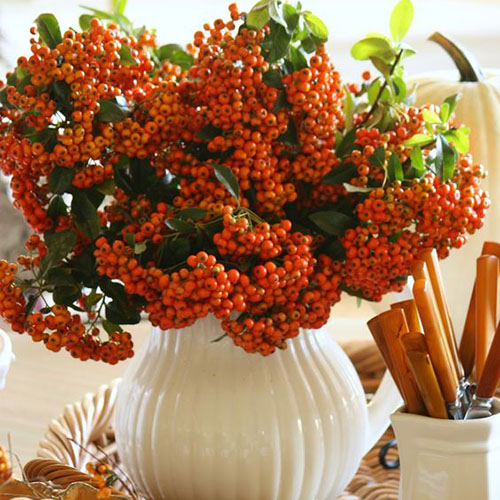 Berry Nice
All year long pyracantha is hard at work as a tall, dense hedge in zones 6 – 9, but come fall…wow. Huge masses of bright red-orange berries cloak the shrub from head-to-toe creating a spectacle. Just clip branches and tuck into a simple cream vase.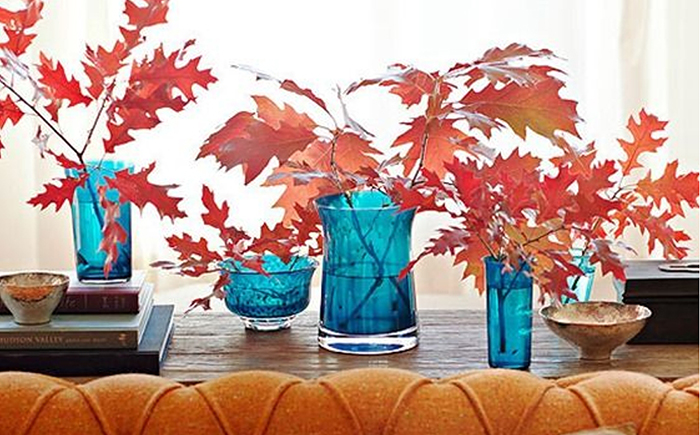 As Above, So Below
Is there any blue quite like the brilliant azure autumn sky? This idea takes inspiration from a sunny fall day. Branches of colorful leaves are slipped into a variety of glassware all in the same shade of blue. (These are oak, but any foliage in your yard with harvest hues will do. In warmest climates try sweet gum or pistache.) Such a simple way to dress-up a console or sideboard. Hit the thrift store!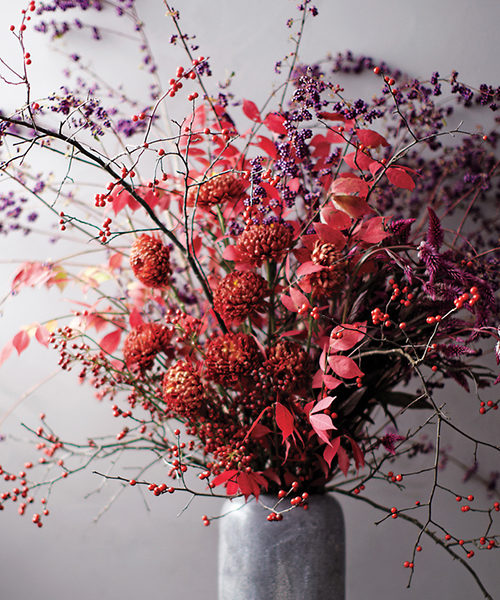 Rich With Drama
Gather armfuls of red winterberry, burning bush, and purple beauty-berry. Plus a few stems of chrysanthemums tucked-in for a fountain of color that's dramatic and unexpected. We'd love to see this in an all-white room or against brick or aged wood.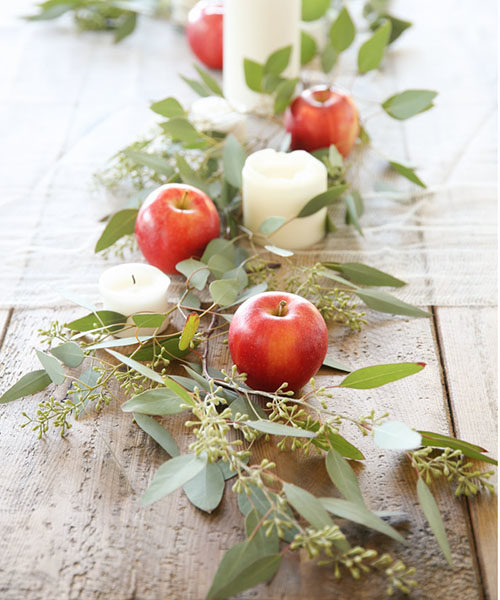 Shaker Simplicity
Branches of seeded eucalyptus with alternating red apples and pillar candles. These are tucked in top a runner of cheesecloth wends its way down the length of a dining table. It's a moment that's at once rustic, but also elegant. Easy step by step how-to here.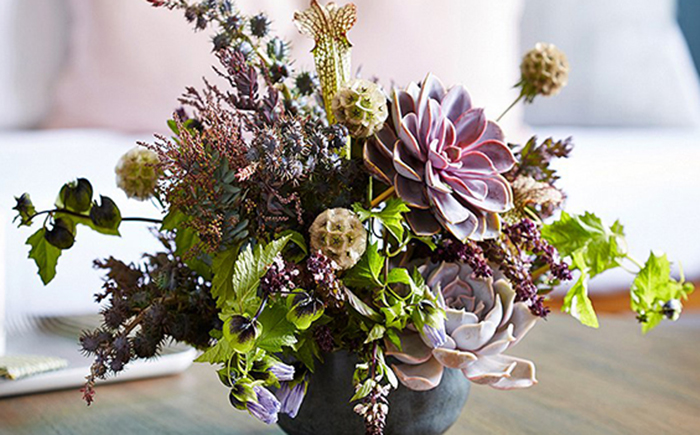 Modern Mix 
Not your Nana's Thanksgiving centerpiece! Succulents skewered on sticks. Then inserted into a pot filled with pods, pitcher plant blooms, and stems of purple basil. This makes a display that's both long-lasting and just plain cool. Once the less sturdy blooms in the bouquet wilt, just pull out the succulents. Then put them in a pot to keep growing.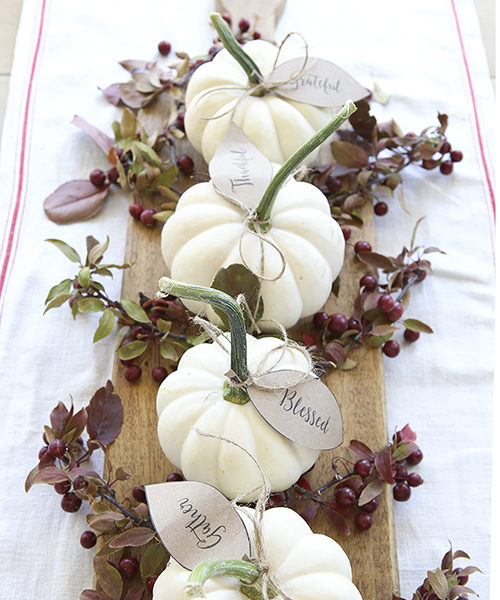 Say the Word
Leaf-shaped tags with inspirational words are tied with twine to the stems of white mini pumpkins. Line them up on an antique breadboard decorated with branches of berried shrubs. Download the free printable tags HERE.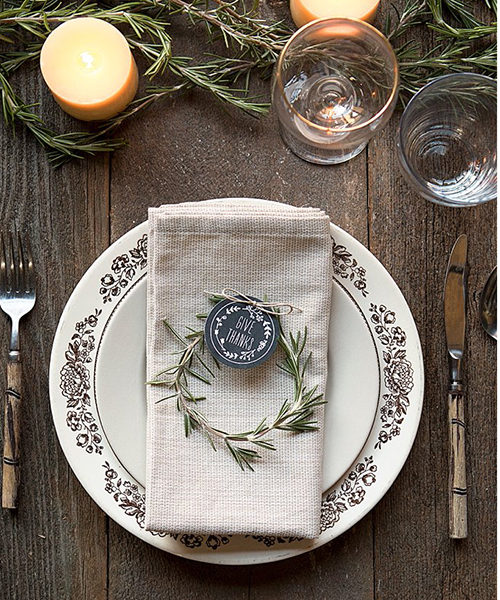 Earthy Delights
This herbal place setting idea is a small touch that makes a big impression. Pretty and aromatic, assemble using rosemary from the garden or store-bought. Make your own tags or (so much easier!) order custom ones here.