After months of supplying spectacular flowers, fruits, and foliage, by August, things are slowing down a bit in the garden. However, Mother Nature thought ahead to just this moment and gave us some shrubs that hit their zenith this month. (And, with fall planting just around the corner, now's the time to take stock of the garden. Keep an eye toward spots that need a bit of late summer interest.)
To get you started we asked Monrovia craftsman Tracy Harrison (who's based in our Cairo, GA nursery). She gave us her picks for 5 shrubs are look great in August in the Southeast. Here's what she told us!
(Plants overlap zones, so you might want to check out these other regions for more ideas:
This new, compact loropetalum has the reddest blooms of all cultivars. Waves of frilly, vivid-deep-red flowers from spring onward with lustrous, dark-burgundy foliage that retains its color throughout the year. Up to 6 ft. tall and wide. Zone: 7 – 9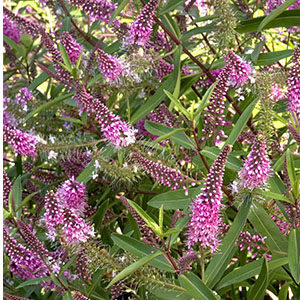 When you need a compact shrub to use in front of taller ones that bloom early, this is great choice. The flowers bloom for month and have a spiky form that looks so good with grasses and roses. Great for borders and in pots. Up to 4 ft. tall and wide. Zone: 7 – 11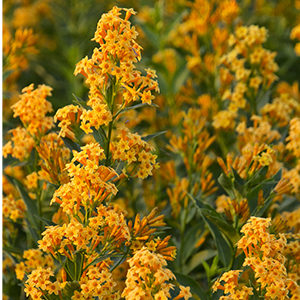 A living bouquet of pure orange colored blossoms that, in warmer climates, last from early spring through first frost. The tubular flowers offer a sweet scent upon sunset. Up to 6 ft. tall and wide. Zone: 7 – 10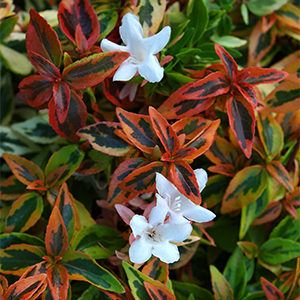 Plant it for the trippy multi-colored foliage and get pretty white flowers as a bonus! A low, compact selection that works well as a foundation plant, low hedge, or for use in patio containers. Blooms well into fall. Up to 3 ft. tall and wide. Zone: 6 – 9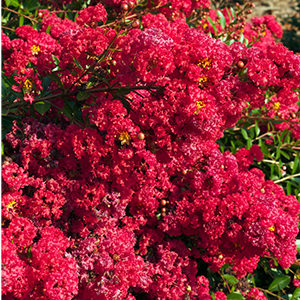 You knew there would be a crape myrtle!  This one's compact size and multi-season show makes it special. Bronze new leaves, maturing dark green, brilliant red flowers and red-purple fall foliage. Up to 5 ft. tall and wide. Zone: 6 – 10
Tips to Keep the Garden Looking Happy
Keep watering. Especially all those shrubs and perennials which need a deep soaking of about 1-inch of water each and every week.
Keep weeding. Yes, you're over it at this point, but yank them before they go to seed. Not doing so will only buy you problems next spring!
Keep dead heading. Snip spent flowers on annuals, roses, and perennials now and many will reward you with more blooms well into fall.
Keep mulching.

Because it helps with both numbers one and two on this list. Plus is keeps the garden looking clean and fresh even as the show begins to wind down.