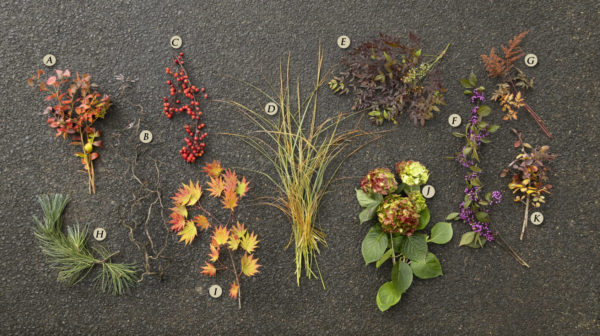 Grab some basic craft store supplies (glue gun, burlap, craft paper, ribbons, waxed paper, etc.) and whatever looks good in the garden to create natural gift package decorations. Detailed instructions and links to key supplies are below.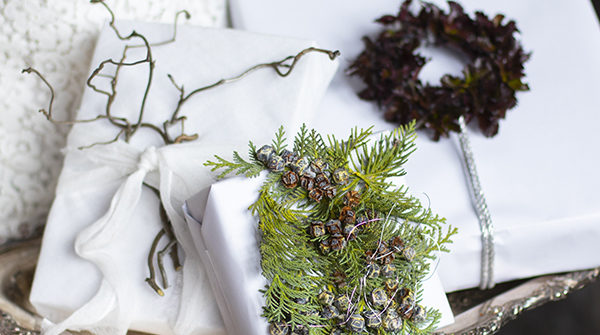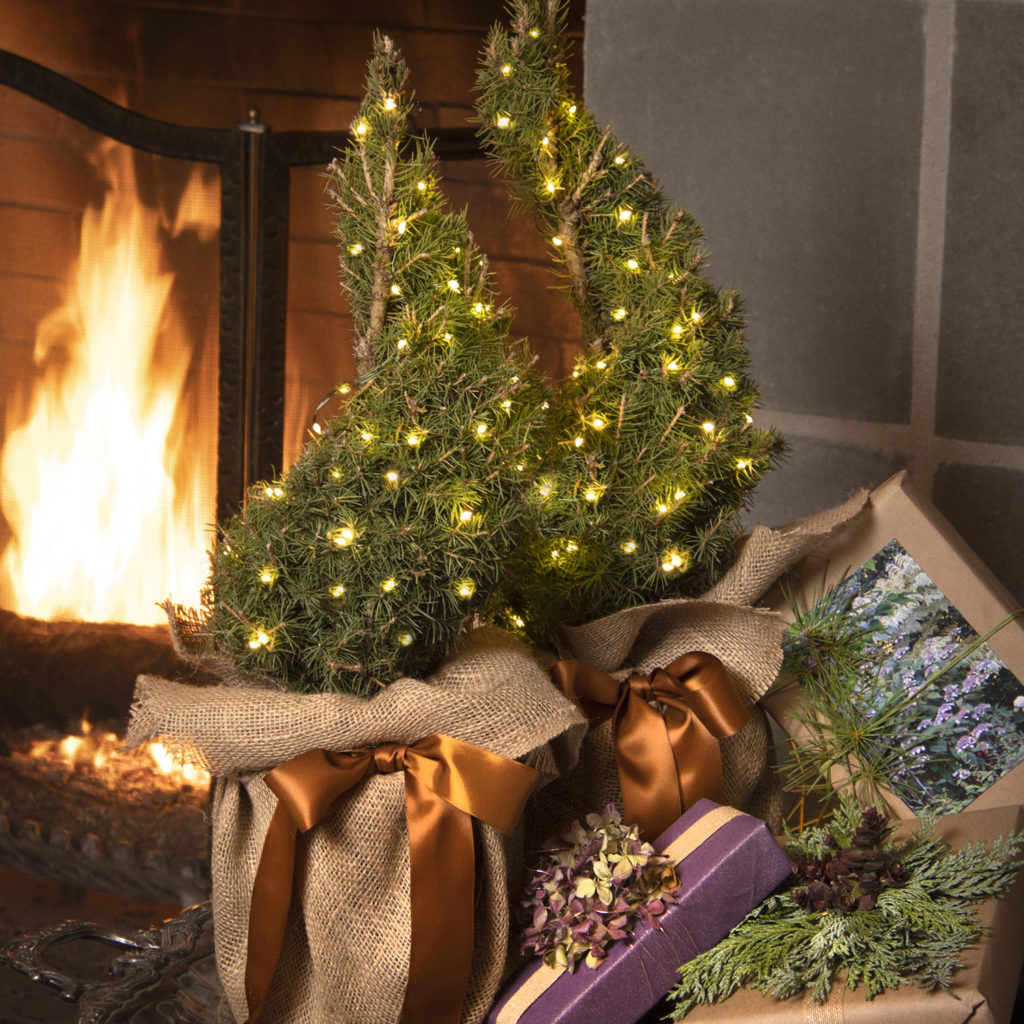 Look no further than the patio or local garden center for pretty conifers or other evergreen potted plants you can give as gifts with a bit of festive wrapping. These topiary are one-gallon spiral Dwarf Alberta Spruce (zones 2 – 8; find at garden centers or, depending on your zone, online at shop.monrovia.com).
We wrapped the nursery container in burlap and tied it with a copper-hued satin ribbon. Of course we added a string of battery-powered mini lights. These can be kept inside for a day or two, then they need to go outside where they'll be happiest.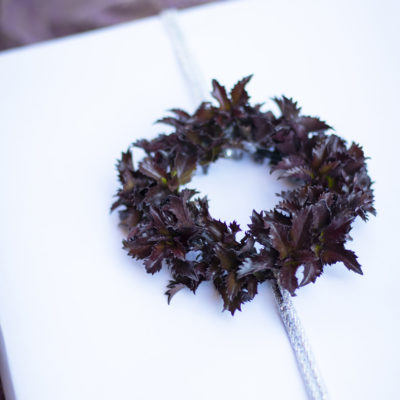 Scallywag™ Holly's (male variety, zones 5 – 9) foliage changes to purplish tones when cold sets in. To make a wreath use black 14 gauge craft wire. Make a circle (ours is wrapped twice around a spray paint can) then twist ends.
Clip holly shrub branch tips and hot glue pieces onto the wire form until you have a lush wreath. Use immediately or store In a cool location (porch, garage, fridge).
Tie onto the package by looping a length of ribbon around the top and bottom of the wreath. Pull both sides to the back, and knot.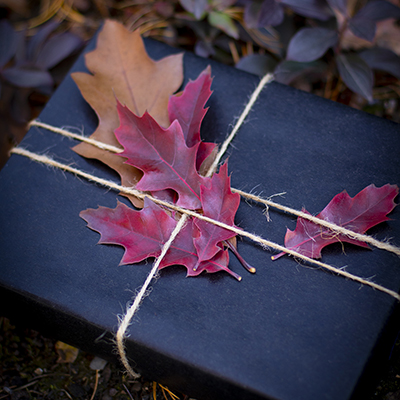 We had Thanksgiving hostess gifts in mind. With a package wrapped in black craft paper decorated with colorful autumn leaves (these are Pin Oak, zones 4 – 8). These are preserved in wax and tucked into twine. It's an easy project.
Press still-pliable leaves (not crispy dry) between two sheets of waxed paper. Do this with a hot iron over a towel or piece of newspaper. It takes a few minutes to melt the wax.
Let cool, peel away the paper, and use a dab of hot glue to place. Leaves will retain color for several days.
Capture the magical simplicity of bare branches in the snow with this very easy, last-minute wrapping idea. We used cascading Lavender Twist Redbud (zones 5–9) but any showy branches or even stems of dried garden plants will do! Lightly coat bare branches with shimmer frost spray and allow to dry.
Wrap package in a double layer of snowy-white gauze and create a ribbon with another length of gauze. Secure branches by tying tightly in a knot of gauze ribbon.
Do a few hydrangea blooms still linger? There are lots of ways to preserve them–we used silica gel which can be found at craft stores. Pour a few inches of silica gel into a plastic container. Hold cut stem so flowers are pointing down making sure no petals are touching sides of the container. Gently pour in more silica until flowers are covered. Add a lid and leave for a few days; remove when petals become papery.
We tied this dried cluster of Seaside Serenade® Newport Hydrangea to glittery jute ribbon. Then added a strand of 24 gauge copper wire for shimmer.
Succulent Surprise
A cluster of berries is nice, but let's try something different to top a nest of fresh cut greens. We snipped a few stems of Bronze Carpet Stonecrop which turns brilliant red in winter. Then we fixed to greens with a dab of hot glue. They lasted for days!
Remember when…
Mine your image folders for garden photos that spark joy and print onto photo paper. (We used matte paper which paired best with our craft paper). Secure with twine and add a sprig of something plucked fresh like this pine snippet. Wait for the smile.
Did you find this story useful and interesting? Please share it with others and help us spread the joy of nature this holiday season. You can also find us using nature as inspiration for the holidays on social media @MonroviaPlants.
We invite you to join us for more design inspiration, plant ideas, and digital guides. Plus, see how-tos by subscribing to our Grow Beautifully newsletter. 
Looking for more fun and unexpected ideas for your holidays? Get some great alternative Christmas tree ideas here.