Filling your home with fresh, fragrant, colorful greenery is never easier than when you can head out to the yard and clip what you need.
Why not think ahead and plant shrubs such as cedar, holly, pine, rosemary, and spruce whose foliage adds an organic sensibility and often a natural scent to the home? Greenery gathered from your own garden will be far fresher than any you can buy, and the variety will likely exceed what you can find at a market.
FYI: Pines, firs, boxwoods, and cedars are good for indoor decoration as they dry out more slowly; Hemlocks, spruces, and most broadleaf evergreens will last longer if used outdoors.
From cedar to spruce, fragrant rosemary to showy holly, find our favorite varieties to use in holiday decorating below.
CRAFTSMEN'S TIP:
When gathering live greenery from your shrubs and trees, remember that you are actually pruning the plants. Consider carefully which branches to cut and which ones to leave. You don't want to end up with bald spots! Distribute the cuts evenly around the plant in order to preserve its natural form.
Best Conifers for Holiday Garlands and Centerpieces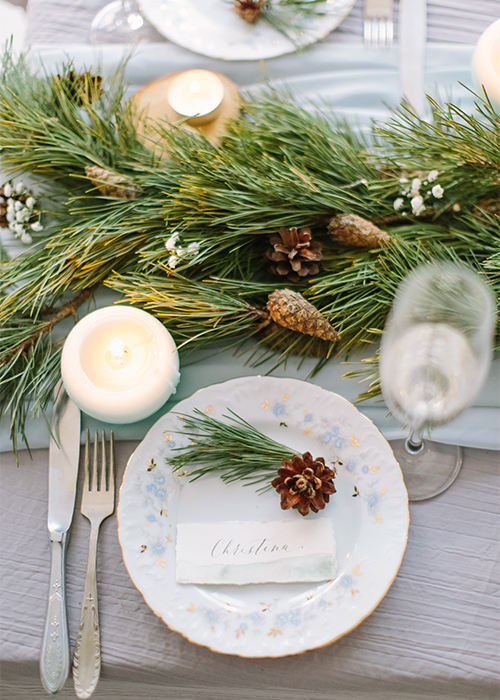 There's nothing like fresh greenery from your conifers to make it feel "a lot like Christmas." Colorado blue spruce, aromatic fir, and cedar are all well-suited for creating sweeps of holiday greenery around doors, banisters, hearths, and tables. 
We love the look of colorful conifers used for holiday decorating. Our favorites are below, and all of them offer a fresh take on traditional holiday greenery. Plus, there's something for everyone here, with options from Zone 2-11!
A dense, multi-stemmed evergreen shrub with finely textured, green foliage and gracefully arching branches. Foliage turns bronze in winter. Excellent for use as a specimen plant or in group plantings for added appeal in the landscape. Partial to full sun. Up to 5' tall and wide in natural form. Zones 5-7.
The intriguing weeping branches and blue-green foliage are beautiful in wreaths, garlands, centerpieces, and swags. The lowest of the dwarf cedars, with a unique spreading form that rarely develops a leader. Full sun. Up to 5' tall, 10' wide. Zones 6-9.
A stunning selection with bright, golden-yellow foliage that adds a pop of natural color to your holiday decor. This unique dwarf cedar beautifully contrasts darker green-leaved trees or shrubs. Partial to full sun. Up to 12' tall, 8' wide. Zones 7-9.
With no two plants alike, the strongly weeping branches and irregularly spreading and drooping top create a unique, bright silver-blue specimen that remains dramatic when used indoors. A striking focal point when combined with complementing deep yellows, reds, and greens. Full sun. Up to 6' tall and wide. Zones 2-8.
Rigid tiered branches densely covered with stiff gray-blue needles. Good for wreaths, really good just in a vase. A handsome pyramidal form with a denser growth habit and brighter blue needles than a typical Colorado Blue Spruce. Partial to full sun. Up to 15' tall, 8' wide. Zones 2-8.
A slower-growing, more compact Austrian Pine with showy yellow new growth that ages to light green. Tolerates poor soils, and harsh, drying winds. A showy conifer for windbreaks or for use as an eye-catching landscape specimen. Full sun. Up to 20' tall, 15' wide. Zones 4-8.
Perfect for holiday decorating in warm climates! The first podocarpus tree with distinctive blue foliage! New growth emerges lime-gray-blue and then matures to a cool gray-blue-green. Partial to full sun. 15-25' tall and wide. Zones 9-11.
This easy-care conifer has a dense, dwarf habit with short, blue-green needles that are soft to the touch and therefore great for table-top decor. Partial shade to full sun. Up to 4' tall and wide. Zones 3-8.
Weeping branches trail outward, densely blanketed with rich green needles, making this the ideal spruce for holiday decor.  Pinecones make great accents, too! Partial to full sun. Up to 12' tall. Zone 2-8.
Best Plants for Holiday Greenery with Berries
Sprigs of holly have become synonymous with holiday decor for good reason. The glossy, evergreen leaves and bright-red berries are a natural bounty of beauty mid-winter and look fantastic when used in anything from gift wrapping to centerpiece trimmings. 
But if you don't have holly nearby, don't worry, there are other options for beautiful berries in your home-grown holiday decor. We're partial to the berries of FloralBerry® St. John's Wort and Symphony™ Snowberry. Our favorite options are outlined below.
Clusters of golden, cup-shaped flowers on well-branched, rust-resistant plants with handsome dark green foliage accented by deep red undersides. Stems of beautiful red berries are a wonderful accent in holiday arrangements. A fuss-free deciduous shrub ideal for borders and containers.  Partial shade to full sun. Up to 3' tall and wide. Zones 5-9.
The holiday classic, but better. A profusion of bright red berries is assured because a male pollenizer is planted in the same container as the fruiting female. The x meserveae species is the hardiest of the hollies with glossy, blue-green leaves and purple stems. Partial to full sun. Up to 8' tall, 6' wide. Zones 5-9.
Full, leafy branches produce an abundance of white berries, becoming especially showy on the bare stems in winter, making them excellent in arrangements. The perfect plant in front of evergreen shrubs to spice up northern native plant landscapes and wild garden woodlands. Partial to full sun. Up to 4' tall and wide. Zones 3-7.
Best Fragrant Herbs for Cooking and Table Décor
The fragrance and taste of rosemary is a holiday mainstay. The pliable stems make it perfect for everything from wreaths, garlands, centerpieces, and a simple way to upgrade your place settings, as seen here.
If you're ready to try something new, we have some other favorites that offer a full sensory experience. Sweet bay and mountain pepper are at the top of our list, and evergreen lavender and culinary sage are also fantastic options in cooler climates.
In warmer zones, rosemary is looking (and smelling) fabulous this time of year. Pliable stems just beg to be turned into little wreaths. This rosemary selection with foliage that has an especially remarkable flavor and aroma for cooking. Full sun. Up to 6' tall, 3' wide Zones 8-10.
Picture by Richard Shiell. 
This refined evergreen shrub is a great specimen or formal hedge plant for mild-climate gardens. Deep green leaves, red stems, white flowers, and foliage adds a spicy, peppery flavor to foods. Ideal for tucking into ready-made wreaths or centerpieces for instant color. Partial shade to full sun. Up to 12' tall, 8' wide. Zones 7-10.
A compact sweet bay with highly aromatic, deep-green foliage that emerges on unique red-tinged stems. Tuck fresh greens into aromatic centerpieces or wreaths. Use dried leaves to add a classic Mediterranean flavor to soups and sauces. Partial to full sun. Up to 8' tall and wide. Zone 8-11.
Beautiful Evergreens for Holiday Greenery
From boxwoods to magnolias, broadleaf evergreens offer timeless beauty that looks elegant all winter long, even when the holiday season is in the review mirror.
Try a simple magnolia wreath like the one pictured here, or use non-fruiting holly, olive, pittosporum, euonymus, or boxwood from the garden to create a long-lived wreath or wintertime centerpiece. 
This dwarf, non-fruiting evergreen has a graceful, multi-branching habit that makes for great holiday greenery. Deep green leaves have silvery green undersides that shimmer in arrangements. Full sun. Up to 6' tall and wide. Zones 8-11.
The glossy, dark-green and large leaves with rusty-brown undersides make an elegant garland. Smaller in scale than other Southern magnolias but with the same fragrant blooms. Full sun. Up to 25' tall, 15' wide. Zones 7-9.
With its dark green foliage and naturally dense, rounded form, this disease-tolerant evergreen shrub has foliage that's perfect for wreaths, trimming packages, and napkin rings. This male selection does not set berries. Partial to full sun. Up to 2' tall and wide. Zones 6-9.
More Plant-Inspired Ideas for the Holidays