Design School: Adding Structure With Hollies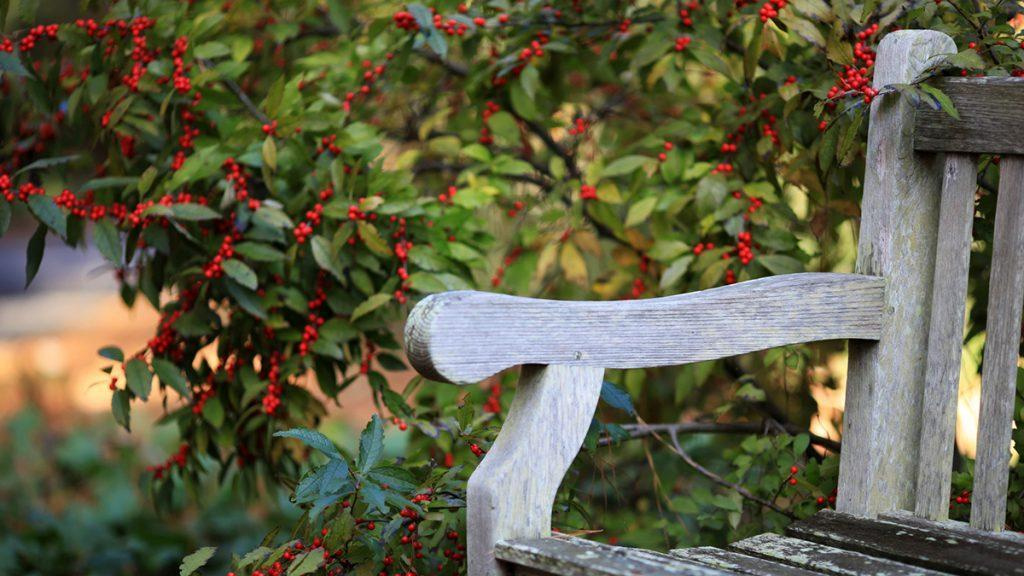 Who wants to look out the window at a barren and boring backyard all winter? (No one, that's who!) Right now, in fall, is an ideal time to get ahead of the problem by planting a few hollies that sizzle all season.

While most often thought of when decking the halls (Those shapely leaves! Those brilliant berries!), hollies shine in the garden all year long. Sometimes the star, other times playing a supporting role, but always useful, hardy, fuss-free, wildlife magnets that adds color, form, and interest to the landscape. Ranging in size from a compact dwarf to a towering giant, there's one for just about every garden. Here are some ideas for how to use hollies to help banish the winter garden blues.
Design Math:
Hollies are either male or female. Male hollies will not bear fruit and female hollies require at least one male variety nearby in order to set berries. Unless indicated use the following ratio to insure bountiful berries: 1 male for every 10 female holly plants planted within 30 feet of the females.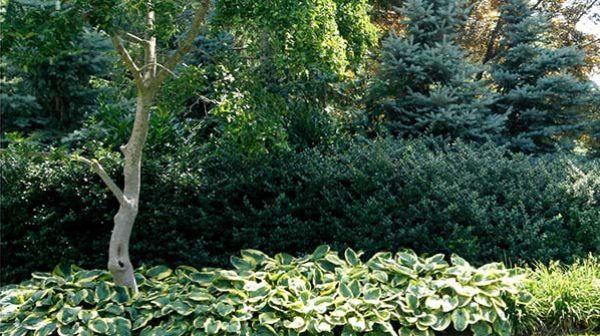 Because of their year-round foliage, ease of pruning, and generally quick growth rate, taller evergreen hollies are perfect plants for screens and hedges. Tight growers such as Chinese and Meserve hollies (also known as "blue" hollies, Meserves are hybrids that do well in cold climates) make good hedges, as do English hollies whose spiny leaves provide a useful barrier. For a thick, dense hedge, prune regularly.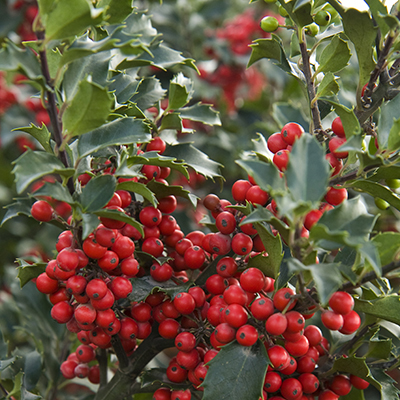 Profuse, bright-red berries are assured because both male and female plants are provided in the same container. Genius! Shear for a dense hedge. Partial to full sun. Up to 10′ tall, 8′ wide.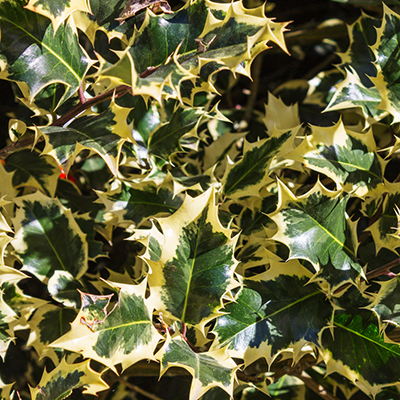 Pyramidal grower brightens winter gardens with showy red berries. Plant a male English holly nearby (here's one) as a pollenizer for berry set. Partial to full sun. Up to 20′ tall, 12′ wide.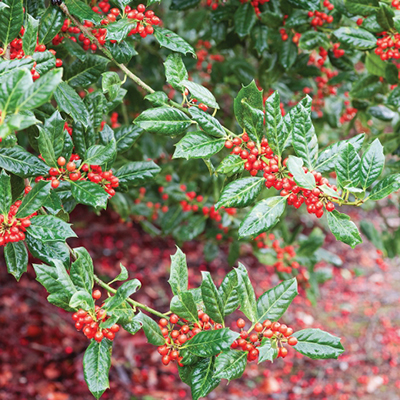 Vigorous grower with dense branches that makes an excellent tall screen. Add a male nearby for an even larger crop of large bright orange-red berries. Partial shade to full sun. Up to 25′ tall, 15′ wide.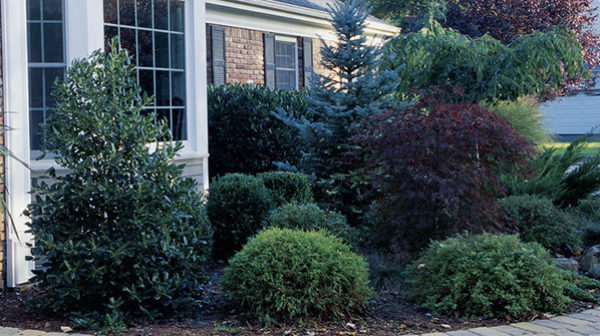 Here's the thing about hollies as foundation plants—while stately and elegant, fact is they can use a bit of oomph when it comes to fronting the house. The dense, lushly green foliage looks even better year round when paired with flowering deciduous shrubs such as hydrangeas and viburnums, and in winter with other evergreens such as conifers and rhododendrons. Use them as the "little black dress" and accessorize around them.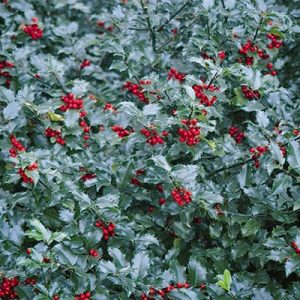 Exceptionally hardy and vigorous with snag-free, purple-green holly foliage (perfect for foundations and walkways, too). Add Blue Prince to ensure plenty of berries. Partial to full sun. Up to 10′ tall, 8′ wide.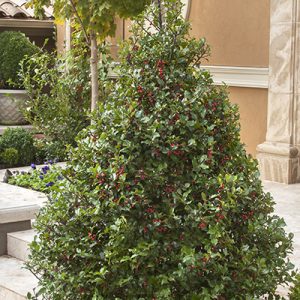 Both male and female plants grown in same container so berries are a sure thing. Use to soften corners of the house or in a large pot. Full to partial sun. Up to 8′ tall, 6′ wide.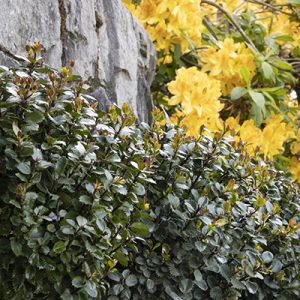 Compact holly that's a problem solver for small gardens needing a solid evergreen structural shrub. Perfect for pots, too. Oh, and foliage takes on purple-burgundy hue in winter! Full sun. Up to 4′ tall, 3′ wide.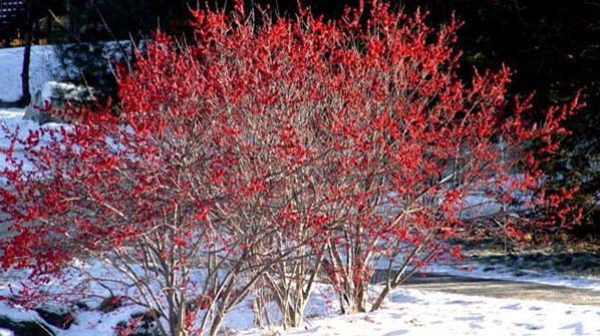 Ring the dinner bell for the birds! North American native winterberries (Ilex verticillata) are deciduous hollies (only 30 species compared to more than 750 evergreen species) which, after they drop their leaves in late fall, provide a dramatic display of brightly colored berries clinging to every stem. Give them plenty of room to do their thing. Cold tolerant and tolerant of wet soils, too. Most require a pollinizer such as Jim Dandy for best berry set.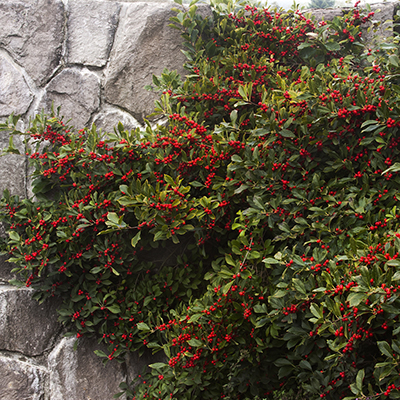 Profuse bright-red berries brighten the winter landscape and provide food for birds. Use at corners of fences, in woodland gardens or all-native landscapes. Partial to full sun. Up to 5′ tall and wide.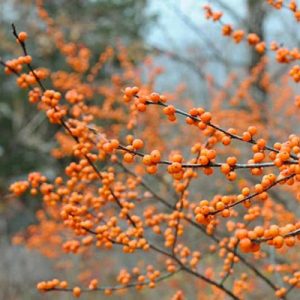 Both male and female plants grown in same container so berries are a sure thing. Use to soften corners of the house or in a large pot. Full to partial sun. Up to 8′ tall, 6′ wide.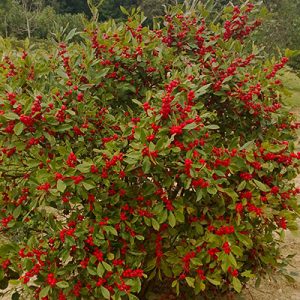 Extra big and abundant rich-red berries on a dwarf plant making it ideal for smaller backyards or tight spaces. Partial to full sun. Up to 5′ tall and wide.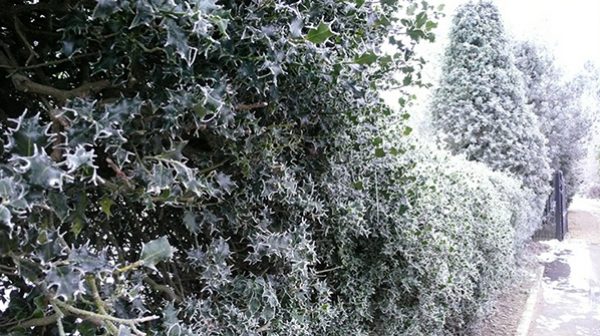 Where you might use a conifer as a thrilling, stand-alone specimen, consider planting a holly instead. Many varieties are so tall and impressive all year round, that they make a real statement especially in winter when not much else is happening in the landscape. And, they look amazing under a blanket of fresh snow!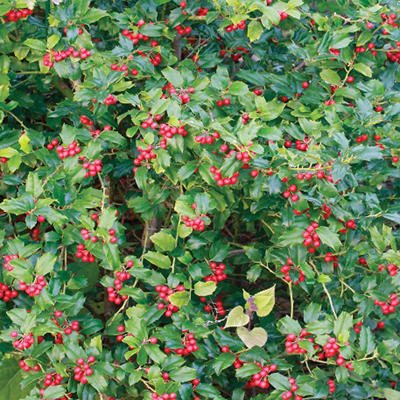 Tall and wide boasts profusion of bright red berries each fall. Partners well with China Boy to ensure berry set. Excellent heat tolerance. Partial to full sun. Up to 10′ tall, 8′ wide.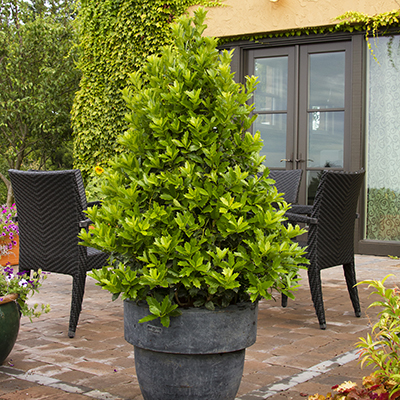 Tall, elegant and pyramidal, new foliage emerges bronze to burgundy maturing to emerald green; sets small orange-red berries without a male pollenizer. Partial to full sun. Up to 14′ tall, 8′ wide.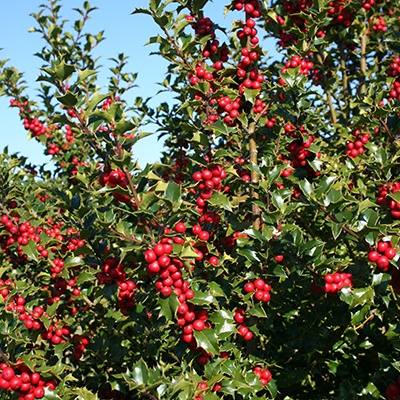 Dense, upright, conical form with little or no pruning. Abundant berries; add a male pollenizer nearby, such as Ilex 'Blue Prince' for best berry set. Partial to full sun. Up to 10′ tall, 5′ wide.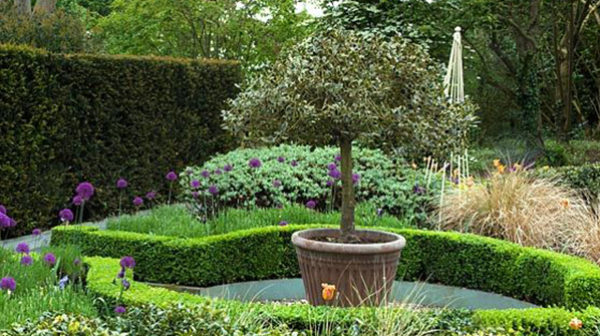 Sheared into orbs, transformed into topiary, limbed-up into standards, or, as in the case of naturally tall, narrow types, clipped into cones, many hollies make effective container plants. Flying solo in a large pot or charmingly underplanted with seasonal color, they're just the thing to use in pairs at the front door, as the centerpiece of a garden bed, flanking the edges of a patio, or wherever you need a bit of green sculpture.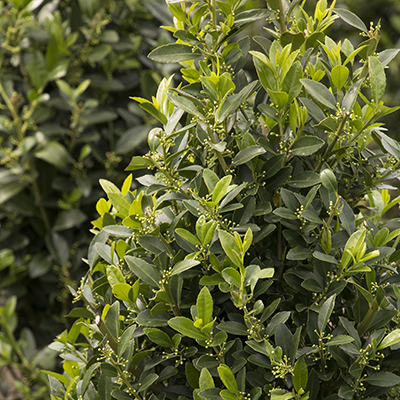 Handsome new male evergreen holly that's tolerant of shearing, making it an ideal topiary specimen or formal accent to entryways or gardens. Full sun. Up to 12′ tall, 8′ wide.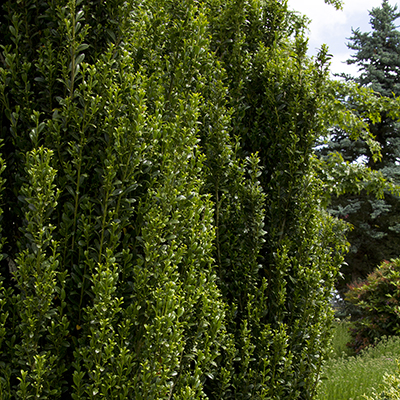 Narrow, columnar form with an elegant, formal feel that's just right for small areas or large pots. Add a male nearby for small purple berries in fall. Full sun. Up to 8′ tall, 3′ wide.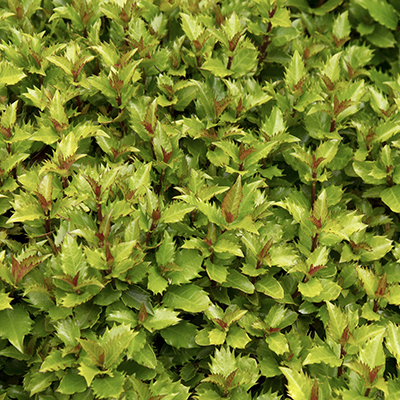 Outstanding low-growing bright green foliage with excellent, dense branching and deep purple winter color. Requires practically no maintenance! Partial to full sun. Up to 2′ tall, 3′ wide.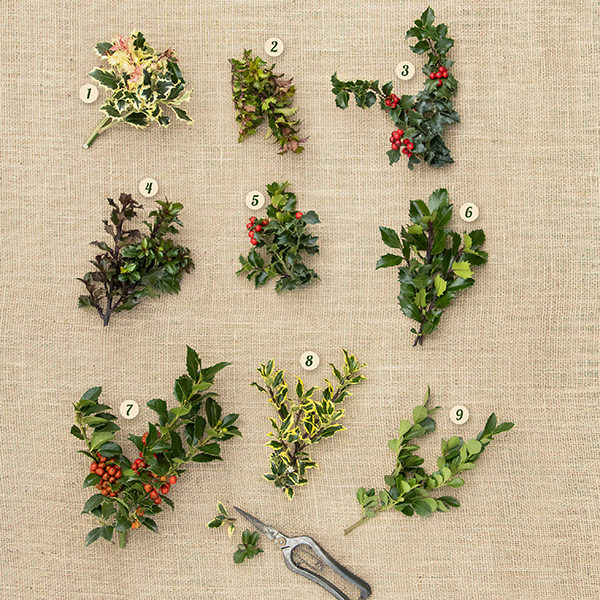 Ripe for Clipping
Transform Us Into Brilliant Holiday Decor

1. Variegated English Holly
2. Little Rascal® Holly (Male)
3. Red Beauty® Holly
4. Scallywag™ Holly
5. Berri-Magic® Kids' Holly Combination
6. Blue Prince Holly
7. Castle Spire® Blue Holly
8. Gold Coast® English Holly
9. Emerald Colonnade® Holly
(Note: Holly leaves and berries can be mildly toxic to humans and pets.)

Keeping Holly Happy
Part to full sun; not a good choice for shade or as an understory shrub.
Prefers well-drained, moist, and fertile soil.
Winterberry and blue hollies don't respond well to shearing – hand prune once a year to keep long branches under control; other hollies require little pruning but tolerate severe pruning required for formal hedges and topiaries.
If necessary to control size or remove older branches, prune in spring to optimize berry production.
Feed in spring and early fall with Holly Tone or other fertilizer for acid-loving plants.
Apply a layer of compost each spring to help retain moisture and control weeds; keep mulch a few inches away from the trunk.
Did you find this story useful and interesting? Please share it with others who also love to garden (use the icons at the top of this page). And, consider subscribing to our monthly newsletter (Plant Savvy, sent the first Thursday of each month direct to your inbox) to be in the know!
If you need specific advice for a tricky spot, please leave a comment below. For even more choices, please consult with your local garden center (find one here).