Whether adding color to a serene woodland setting, slipped into a vertical wall, or trussed-up in a Japanese mud ball. Ferns are fun fodder for shady spaces. They're a fascinating, diverse group (more than 250 genera and 12,000 species out there) of ancient plants. These belong in every landscape where there's a bit of shade. From towering tree forms to turf-hugging groundcovers, ferns are textural, often colorful, super useful, and typically easygoing and fuss-free. Yes, of course, you can line a walkway with them or fill in bare spots. Or plant them in containers where their fronds add a leafy, elegant touch. But we also like to use ferns in creative ways. Here are a few ideas.
Kokedama or String Garden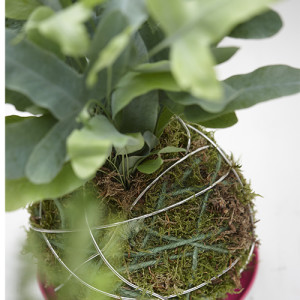 Kokedama (translation "moss ball") is a style of Japanese bonsai. This is where a plant's root system is surrounded by a mud cake. Then it's wrapped in sphagnum moss and bound with string, transforming it into a sculptural art form. Traditionally displayed sitting on driftwood or handmade pottery, they also look magical bound up in string and suspended. Hang or place them indoors or out. Here are three ferns well suited for this project.
Creat a Living Wall of Ferns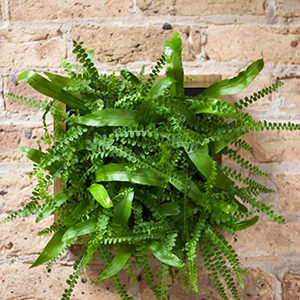 With their show-stopping theatricality and the chance they offer to grow more plants in small spaces. Living walls are no longer a fad—they're here to stay. Ferns are excellent candidates because there's one for most situations you might encounter. Drought, wet feet, part sun, or full shade. Make your own base or, even easier, buy a pre-made kid. Vertical gardens are heavy so make sure your wall can support the load. Weave these three ferns for a sumptuous display:
Hanging a potted up fern on the porch is nothing new. (That said, it always works, right?) Take it one step further by utilizing a slatted round metal planter to create one huge orb. Fill it all the way around with ferns and suspend it from a large, sturdy tree branch. Or, make a series of different sized orbs and suspend them at staggered heights. (One designer uses this idea to create a wall of privacy). Look for ferns that have a naturally cascading habit such as these:
Ferns come in shades of green from lime to forest. This makes them excellent for backdrops or massed, naturalistic plantings. Although when nature paints one with other hues such as red, blue, orange or silver? Wow. Adding color to deep shade using flowering plants is challenging (though not impossible). Use stands of ferns such as these three to get a similar effect.
(Surprisingly Tough) Groundcover
Groundcover ferns are especially useful in the woodland for creating repetition of texture, pattern, and form. Their rambling nature allows them to find the most suitable location in which to thrive. Full coverage of an area will generally occur in two to three years, depending on the fern. And, many are deer-resistant, too.
Please Your Pteridophyta
• Most ferns thrive in part shade or dappled sunlight, but many will do well in sun provided they get enough water.
• Ferns appreciate an organic, evenly moist, well-drained soil.
• Once planted in good soil, ferns generally do not require additional fertilizer; feed container-planted ferns throughout the growing season.
• Deciduous ferns can be trimmed as the fronds yellow in late fall and early winter. Evergreen ferns do best if the older fronds are trimmed off in late winter or early spring.
• The best time to plant is during the spring and fall when rain is plentiful.
• Indoors, ferns prefer the indirect light of a north or east facing window; keep soil evenly moist, but not wet.