Invented by the English in the 1400s (or so the story goes). True English cottage gardens are a mad mix of flowering plants and edibles. These gardens were originally intended to feed a family—still a good thing. However, the dense mix-and-match jumble makes them just so charming, too. The best of these gardens sort of look like they planted themselves. With edible and ornamental plants mingling and tumbling over paths, against structures, and in deep beds and borders.
The key to achieving this look of controlled chaos is to plant flowers at the edge of garden beds. Then allow them to spill over onto paths and then add shrubs and trees for structure. Unlike classic English garden borders where you would plant a few things in mass, here it's the opposite. Plant a little of a lot. This helps to achieve the look. Also with many smaller clumps of many kinds of plants, you might limit loss to pests and diseases.
This is a fun kind of garden that while practical, is not to be taken too seriously. Here are some plants we recommend to get this look.
(For zones 3 – 7, click here)
This enchanting English cottage garden located in Southern California is a mix of perennials, vines, and shrubs. Roses climbs over a pergola with beds below filled with flowering perennials. This includes catmint, California poppy, boxwood, lady's mantle, hardy geranium, Blue Note™ Blue-Eyed Grass and lavender. Herbs such as rosemary and thyme snuggle up to shrub roses.
The perfect antidote to spare spots as perennials and shrubs fill in. To add all-season color during the times when the garden seems a bit quiet. Our best tip? Buy more than you think you'll need and pack them in.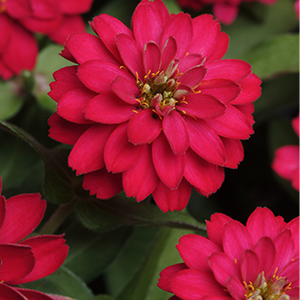 Big, fully double flowers on this carefree summer-long bloomer in high impact colors.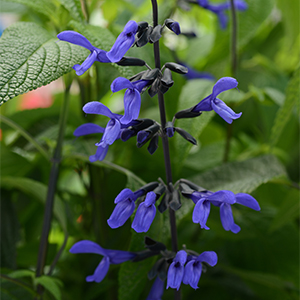 Dark blue flowers emerge from striking black stems amidst green foliage.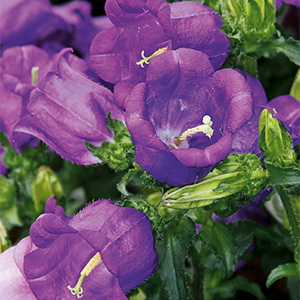 Heavy bloomer is an excellent and long lasting cut flower. Attracts hummingbirds.
Make sure to include varieties of perennials that bloom at different times. This will ensure a sequence of interest throughout the season. This grouping includes something that comes on early, mid-season, and late.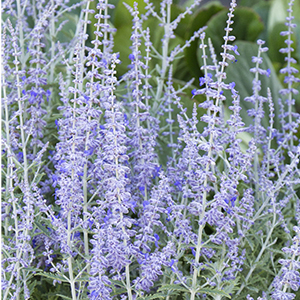 Improved form that does not flop over in the landscape! Water-wise.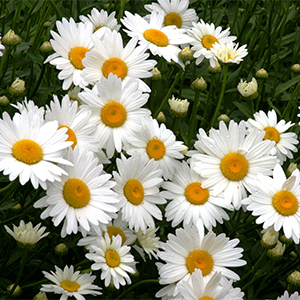 No cottage garden is complete with daisies. Plant this mid-border for height and color.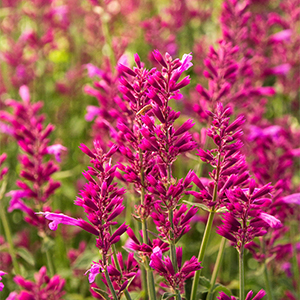 Scented foliage and vibrant flowers attracts hummingbirds and butterflies.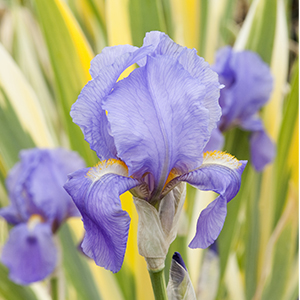 Flashy foliage and light lavender-blue blooms to brighten the front of borders.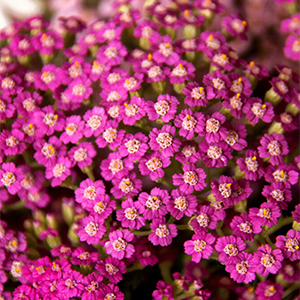 No cottage garden would be complete with a mass of this heat-loving beauty.
Vivid golden yellow flowers above the scalloped bright green leaves.
Edibles are essential to a true English cottage garden which originally were backyard plots intended to feed a family. In fact, edibles came first– flowers were planted in part to lure pollinators. Mix in food crops and herbs.
Compact plants provide abundant berries over a long season–no staking required.
Harvest your own tender artichokes! Distinctive foliage adds interest, too.
Improved variety with less pulp and higher juice content. Fruits late summer to fall.
Of course there will be roses. Plant with a grape to get more from the space.
Fragrant white blooms that are large than any other gardenia and the first to bloom.
Big, rich-blue mophead flowers on black stems make for the best cut flowers!
Fine, feathery foliage adds contrasting color and texture to borders and beds.
Just so English garden! Define corners of beds or use to edge a border.
Dress-up the edges of a border with a dense groundcover of thick, soft, velvety rosettes.
A FEW MORE EXAMPLES SO YOU CAN GET YOUR DREAMY ON
Here's a great example for how to fit herbals and edibles into a cottage garden. Artichokes, hyssop, iris, and other perennials are tamed by the addition of the large ceramic pot.
Does a garden have to front a cottage to be a "cottage garden?" Is it maybe more about a sensibility than location? This cottage border flanking a gravel path is simply waves of plants left to do their thing. Grow tall, wild, and untamed.  Merlot coneflower, veronica, catmint, Rozanne geranium, bee balm, and dill that's gone to flower. Tell me you couldn't do this?
If you like your cottage with a side of formal include a few sheared boxwood balls to the mixed plantings. This helps to break up the deliciously chaotic by adding some structure. And, really, what's more English than some sheared boxwoods!