Happy in both shade and full sun, coral bells are low-maintenance perennials. Their colorful foliage provides a perfect playmate for other shade lovers. The ones who look great, but could use a bit of an infusion of drama.
Now, with foliage in full view so you can easily see the color, is time to buy coral bells. Each of these is happy in zones 4 – 9.
Like the combination above? It's Berry Smoothie Coral Bells with Gold Heart Bleeding Heart. Add some blue-tinged ferns and you have a painterly still life!
Airy deep-pink flower clusters stand above a compact mound of silvery-green foliage.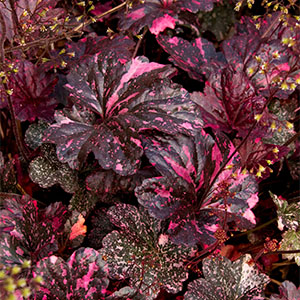 Black leaves are spotted hot pink in spring fading to cream and pink in summer. Wow.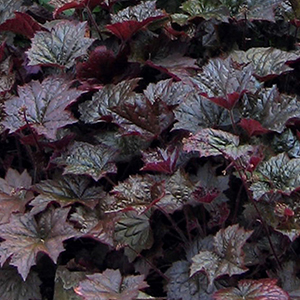 Dramatic, distinct pointed leaves that look purple or burgundy depending on light.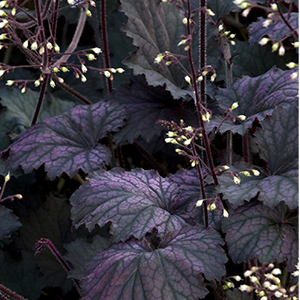 Shimmery violet-purple foliage with deep burgundy veins that deepen as temps cool.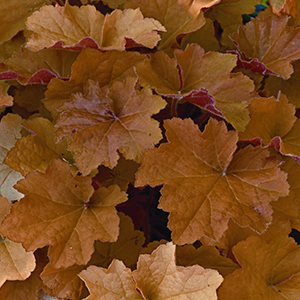 New leaves emerge bright gold, maturing to a warm peachy orange. Tolerates humidity.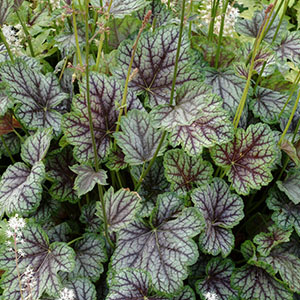 Bright-green foliage painted with deep-purple veins; mix with darker coral bells.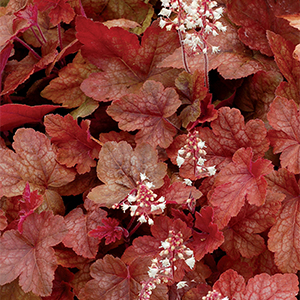 Spilling habit and ruby-splashed, ruffled foliage make this ideal for a tall container.
Cultivating Coral Bells
Typically unfussy and easy to grow given afternoon shade in the hottest regions. Herbaceous perennial, in colder zones they'll die back in the late fall and come back in spring. Evergreen in warmer zones.
Partial to full sun.
Provide a rich, well-drained soil and water.
Fertilize regularly throughout the growing season.
Provide partial shade in hottest summer regions.
For a neat appearance, remove old flower stalks.
Divide clumps every 2 to 3 years in early spring.
Pruning time: early spring.
What to grow with coral bells?