There's a reason why barberries are among the most popular shrubs around. In fact there are five reasons. They're super-hardy, deer don't love them, and their small thorns make them an excellent barrier or hedge. Also, they do just fine in sun or partial shade. Lastly, they come in all kinds of hot and cool colors that add plenty of interest to the landscape. They do lose their leaves during the winter in colder zones. Therefore, plant them with other shrubs that are evergreen (they're really lovely with conifers).
Convinced? Here are 4 easy ways to use them, plus our picks for what to put where.
Compact branches make a wonderful low hedge, barrier planting or single shrub accent. Bright red berries enhance its look in fall and winter. Zone: 4 – 8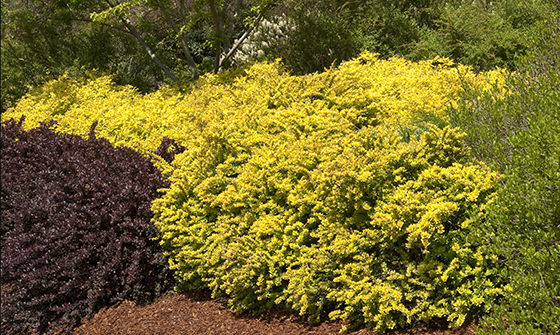 Color Control
Thorny by nature and dense by habit, barberries make excellent hedges. Especially in spots where you would like to restrict foot traffic, discourage wild animals from entering (or pets from exiting!) This is also great for where you just want something with loads of color that's not dependent on flowers. Look for varieties that grow tall or have a naturally upright habit. We promise you, it'll be a brilliant display.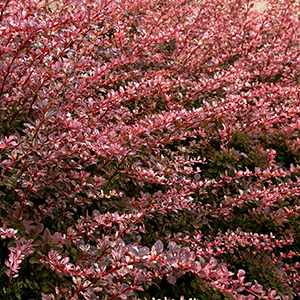 Deep rose-red foliage is mottled with white and green in spring; bight red berries in fall and winter. Full sun.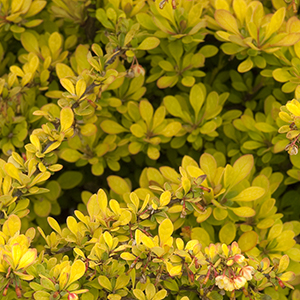 New and compact; sports attractive golden foliage with an orange cast most of the season. Full sun.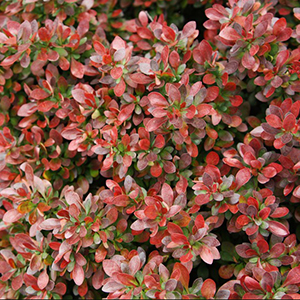 Dense branching habit and showy purple red foliage all season long, turns deep amber in fall. Full sun.
In a tough, deer-deterrent border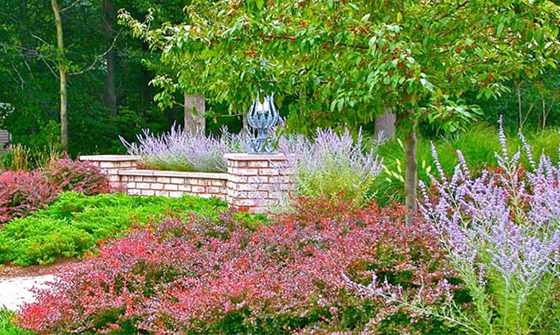 Nothing Bothers Me
Foot traffic, marauding deer, drought, hot sun and overly aggressive pruning. Barberry comes back swinging from just about anything you can throw at it. It's especially happy with other similarly tough plants. For instance, the spreading juniper and Russian sage in this very elegant little border.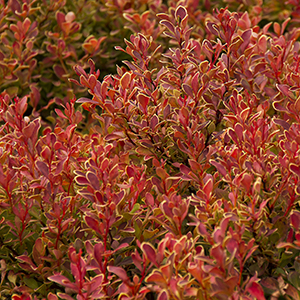 Striking coral-orange foliage, accented with gold margins late in the season. Rarely produces viable seed. Full sun.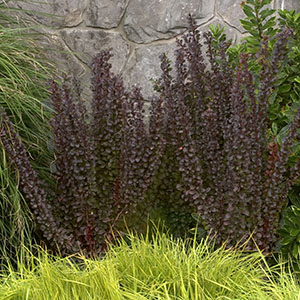 Unique upright columnar shrub makes an striking architectural feature in the landscape or against pillars. Full sun.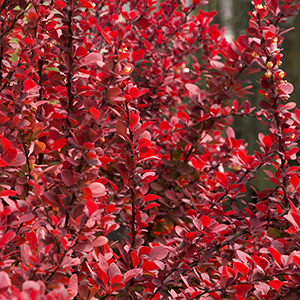 Vibrant new foliage ages to mid-green, then turns ruby red in autumn. Vigorous with improved resistance to rust. Full sun.
Low (Clipped or Not) Hedge
Move Over Boxwood
We love boxwood and use it constantly. However, sometimes you'd like something different, with a bit of color to jazz up flowering (or non-flowering) borders. What makes compact barberries so good for this application is their naturally dense habit and imperviousness to shearing. Imagine this red border filled to brimming with white hydrangeas?
This dense, small shrub displays outstanding burgundy-red foliage throughout the warm seasons. Full sun.
Clothed in attractive, non-burning foliage with a golden-orange cast most of the season. Full sun.
Deep maroon-purple foliage that becomes even more intense during fall. Produces little to no viable seed. Full sun.
Perfect Playmate
Mix a red, yellow, golden, orange, or variegated barberry with greens, limes, silvers, or golds. Then you'll create the kind of color story that ends up on magazine covers. This one undulates through a thick stand of summer grasses, the leaves and branches contrasting with the fine foliage. Stunning and so doable.
Bright, burn-resistant golden foliage and red new growth that turns bright orange-red in fall. Full sun.
Narrow and upright-growing showy, bright yellow leaves; produces little to no viable seed. Full sun.
Small velvety change from burgundy to reddish-black in the fall; produces little to no viable seed. Full sun.
Is Barberry Invasive?
Much has been written about the invasive nature of Japanese barberries (Berberis thunbergii). It's important to be aware of what's appropriate for your particular area. A barberry that can be invasive in one climate, can be perfectly acceptable in another climate or region. Consult your local independent garden center for more information. You can also look up which plants the USDA considers invasive by state via this link.