Don't hate him because he has the best job in the world, okay?
From the forests of China and Vietnam to the mountains of Sikkim and Northern India. To the recent expeditions to New Zealand, South Africa, and Australia, Dan Hinkley travels to varied climates and environments. These are reflected in his extraordinary plant collection available exclusively at Monrovia.
Vibrant foliage, drought-tolerance, and an easy-care nature are hallmarks of the plants in this collection. This is comprised of unique shrubs, grasses, and herbaceous perennials that offer months of beauty with minimal effort.
This collection is brimming with all sorts of problem-solving plants and has it all. Whether a highly-scented hydrangea, a blue-black agapanthus, or brilliant red stems of a mountain pepper. Or the sweet, fresh-melon scented blooms of a twining vine, every plant is rare, diverse, and just cool.
If you're hankering for an "all-that" plant no one else is likely to have, check out the full collection here. Want to more about Dan? Read all about his fascinating background.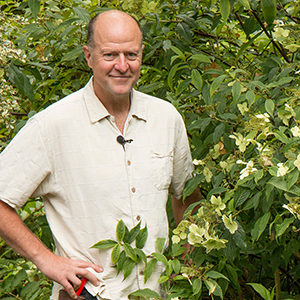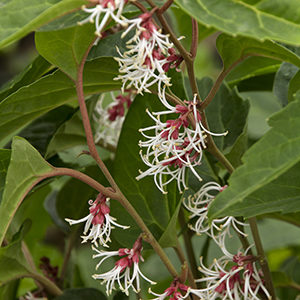 Yes, it's a FRAGRANT GROUNDCOVER!  Uniquely fragrant white flowers appear in early spring, repeating in autumn. Forms a dense, glossy evergreen carpet for shade or dappled sun. Up to 6 in. tall. Zone: 6 – 9.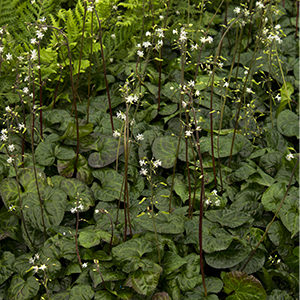 Fuss-free filler that thrives in a tough spot–dappled to deep shade. Shiny heart-shaped leaves and pretty star-shaped flowers in mid-to-late spring. Perfect for narrow beds, tree understory, or woodland garden. Up to 2 ft. tall and wide. Evergreen. Zone: 6 – 8.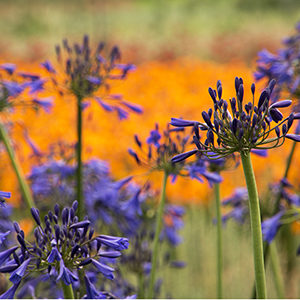 Numerous, extra-large heads of rich blue flowers held on very sturdy stems. A vigorous grower, it performs well in perennial borders or as a cut flower. Excellent in containers in colder climates. Flower stalks to 3 ft. tall. Evergreen. Zone: 7 – 10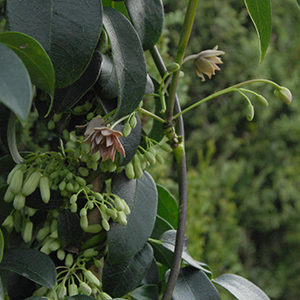 Flowers, fragrance, fruit. Clusters of white buds open to pendulous blossoms of cream to dusky mauve in late winter. Then followed by edible fruits in summer. Semi-evergreen in colder zones. Up to 25 ft. long. Zone: 7 – 10.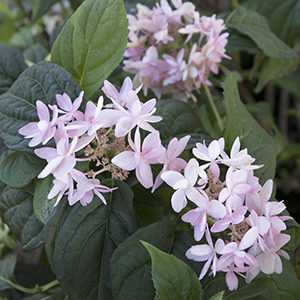 Highly textured foliage covers the mounded form. Fertile flower clusters are encircled by ray florets, blue in acidic soils and pink in more alkaline conditions. Up to 4 ft. tall. Deciduous. Zone: 7 – 9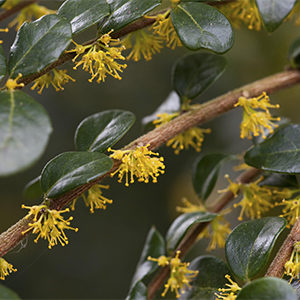 Where you need a fast growing and dynamite shrub, this one's white-chocolate fragrance fills the late winter garden. From the tiny yellow flower clusters on this graceful, shade tolerant rarity. Fast to 25 ft.tall. Evergreen. Zone: 7 – 10.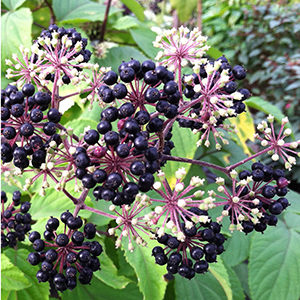 Check out the berries! In late summer, sprays of white flowers climax in fireworks of shiny purplish black berries. Add to a semi-shaded woodland garden or mixed border. Reaches up to 5 ft. tall. Herbaceous. Zone: 4 – 10.
Add some color to that shady spot or pots with late bloomer that comes on late fall to early winter. Stunning sprays of pink flowers are held on dense short stems above low mounds of colorful foliage. Herbaceous. Reaches up to 10 in. tall. Zone: 6 – 9.
A large, refined evergreen shrub for a mild climate garden. Deep green leaves are held along beautiful red young stems. Creamy, yellow-green, perfumed blossoms come on late winter to early spring. Reaches up to 15 ft. tall. Evergreen. Zone: 7 – 10.
Ever had a SCENTED hydrangea in your garden? It's a rare trait, but this early bloomer has large lacecap blooms that perfume the garden with a jasmine-like scent. Reaches up to 5 ft. tall. Deciduous. Zone 6 – 10.