Angela of Mid Modern Mama knows how important it is to get the right plant in the right place having gardened in five different zones across multiple states. She started Mid Modern Mama as a place to chronicle her family's home improvement projects on their 1958 Atomic Ranch—inside and out. With 300+ sunny days per year, living in Colorado means outdoor living and creating a beautiful, productive garden to be enjoyed all year round.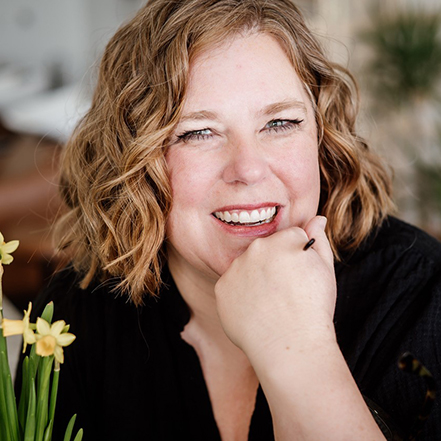 A Colorado Master Gardener, Angela is working to transform what was a barren and lifeless backyard into an ecosystem of abundance, color, and joy. She has divided her average standard suburban plot into multiple gardening areas, each with a purpose and a specific vocabulary of plants including a backyard orchard, a vegetable garden, a cutting garden, and a wildlife pond. With a focus on native plants and cultivars, Angela plants with wildlife in mind while also creating beautiful spaces for every season. 
To create shade in her sunny backyard, Angela and her family built the Shade House – a seating area surrounded by lush plants from Monrovia. Architecturally, based on the shade houses of Victorian plant collectors, Angela's Shade House is filled with her favorite plants – sheltered from the sometimes harsh sun more than a mile above sea level.
This long-lived perennial adds a pop of color to a shady garden. New leaves emerge green, then transform in summer to burnt orange with yellow edges. Bright pink flowers and stems dance above the compact foliage in spring. 13" tall, 21" wide. Zones 4-9.
Sprays of hot pink blooms in late spring lure hummingbirds to the garden. The ruffled purple-red leaves are some of the darkest foliage to be found and add stunning depth to designs. Reaches 18" tall, 15" wide. Zones 4-9.
Upright fronds ranging from dark to light green form a strikingly vertical clump in a shaded garden. Especially handsome framing a garden or architectural element. A Dan Hinkley Monrovia exclusive. 24-36" tall and wide. Zones 5-8.
A fruit-producing variety and a male pollenizer together in the same container, providing a higher yield of small, delicious smooth-skinned fruit. This vigorous vine offers glossy foliage and fragrant white blooms in early summer, making it a showy landscape specimen.Climbs 20-25' tall, spreading 12-20' with support. Zones 4-8.
This small fig is perfect for urban gardens, or growing in containers inside or out. Medium-sized, deep brown fruit is deliciously sweet. Fruits heavily throughout the year. 28" tall and wide. Zones 7-10.
A thornless dwarf blackberry that presents a fireworks-like display of large, juicy berries in the summer! Fruiting twice a season in most regions, its compact habit makes it perfect for patio pots. 3-4' tall and wide. Zones 4-9.