Yearning for more opportunities to connect with nature and spend time enjoying the great outdoors?  Bring your cooking and dining al fresco! Creating cozy outdoor rooms like fireside lounges and serene living spaces is a great way to spend more time outside. But to take your outdoor living a step further, incorporate an outdoor kitchen and dining room into your garden design. You'll create a novel and functional space for cooking and entertaining, plus another reason to enjoy the stress-relieving, joy-inducing benefits of more time spent outside.
(Above) This outdoor dining room landscape plan is featured alongside 9 other free landscape plans in Monrovia's Ultimate Planning Guide. Get the plant list for this plan below. 
Join us as we explore some of the best plants and key design elements you can use to create an outdoor kitchen and dining room that seamlessly integrates with the rest of your outdoor space. Use these design ideas (plus even more backyard dining room ideas here), plant lists, and a free landscape plan to inspire your own outdoor cooking and dining area that will open you up to more time outside.
Ready to indulge in the fresh breeze and natural surroundings while savoring your favorite meals? Let's go!
Outdoor Pizza Kitchen with Herb Garden
This outdoor pizza kitchen, herb garden, and dining room prove that you don't need an expansive garden space to create a functional and beautiful outdoor cooking and dining experience.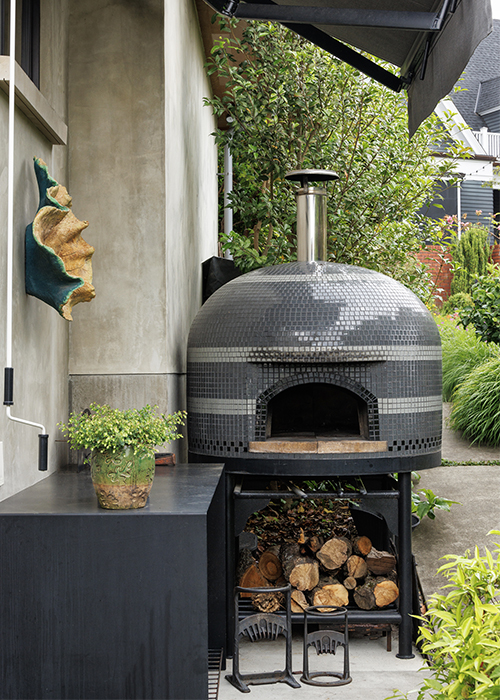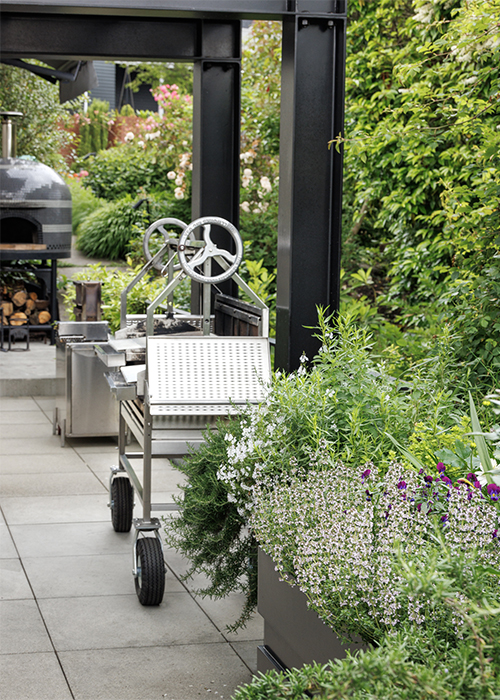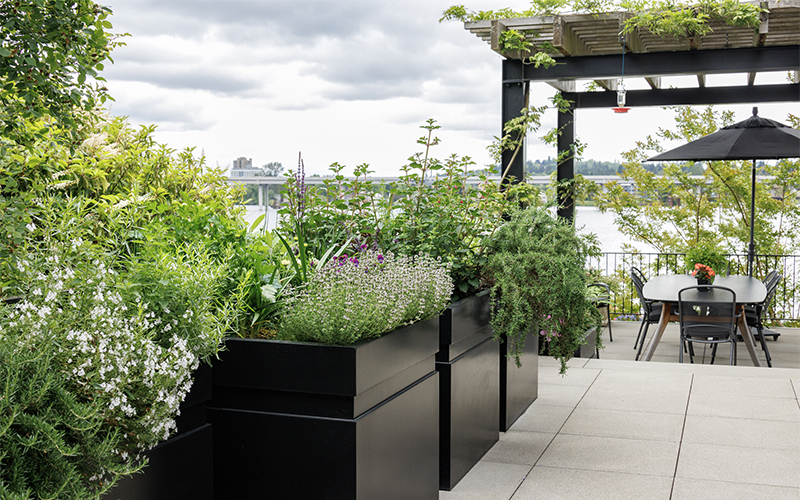 If you have a small or narrow outdoor space, consider using the layout of this outdoor kitchen as inspiration. This elevated deck was transformed into a gourmet haven by the homeowners with an outdoor pizza kitchen, complete with a nearby herb garden and a dining area that overlooks Lake Washington.
The wood-fired pizza oven and prep space are nestled against the house to make efficient use of the narrow outdoor patio. With a compact oven and prep station, the homeowners can cook homemade pizzas and other culinary delights right in their own backyard. 
Long, narrow planter boxes house the herb and kitchen garden between the cooking space and lakeside dining area. The container herb garden includes carpet rosemary, culinary thyme, and chives, a savory combo for a narrow space.
And of course, everything has a function. The herb garden allows the cook to add an extra touch of freshness and flavor to pizzas and other dishes, while the dining area provides an inviting and relaxed atmosphere for enjoying meals with family and friends.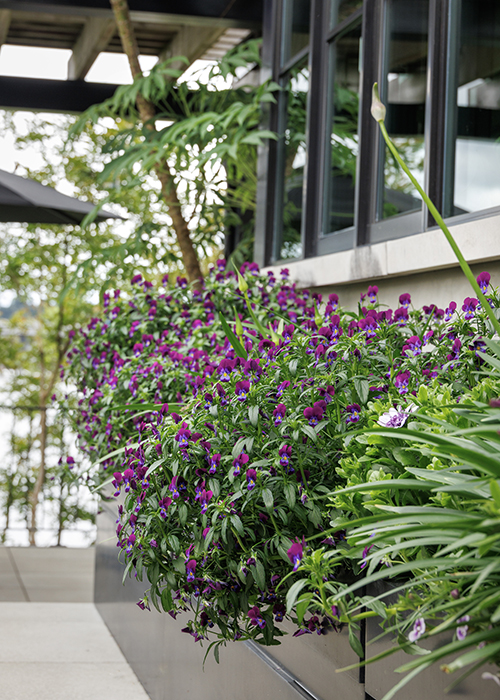 The same long planter boxes are used against the house to make the most of the narrow space. We've seen narrow containers and planter boxes used in our favorite small garden spaces, proving time and time again that this design concept is a fantastic way to add some greenery to small outdoor space. With their slim design, long, narrow containers can be placed under windows or on the edges of the patio, adding a touch of nature to an otherwise bare area.
Planters, borders, and other plantings that are near your house are the perfect place to choose a simple color palette that complements the interior and exterior design of your home. The planter pictured here was placed against the house and is densely planted with purple-blooming plants. 
On top of working as an extension of the home's design, these planters hold lush plants that help transition between outdoor cooking and outdoor dining areas. You can get a similar look by combining violas with pincushion flower, bellflower, and a compact agapanthus like Baby Pete™. If you look closely, you can see a grand Hardy Schefflera holding court behind this planting, no doubt looking regal near the dining area. 
Favorite Kitchen Garden Plants
A compact sweet bay with highly aromatic foliage that grows on distinctive red-tinged stems. Its dried leaves are ideal for giving soups and sauces a classic Mediterranean taste. The plant is low maintenance and thrives in containers. Partial to full sun. Up to 8' tall and wide in the landscape. Zones 8-11.
This evergreen shrub has deep-blue flowers that form an exquisite carpet backed by green, needle-like foliage. Perfect for planters thanks to its cascading habit. The plant's aromatic leaves are a popular culinary seasoning that adds flavor to dishes. Full sun. Up to 2' tall, 8' wide. Zones 8-10.
Deep green, oval-shaped leaves are held along stunning red young stems, and its distinctive foliage is enhanced by creamy yellow-green perfumed blossoms. Additionally, the leaves can add a spicy, peppery flavor to foods. This is a male selection of the plant that doesn't bear fruit. Partial shade to full sun.  Up to 12' tall, 8' wide. Zones 7-10.
Open-Concept Outdoor Kitchen and Dining Room
This multi-faceted outdoor living space designed by Courtney Olander offers a blueprint for how to turn your backyard into a beautiful gathering space with an open-concept kitchen and dining room on the main deck or patio.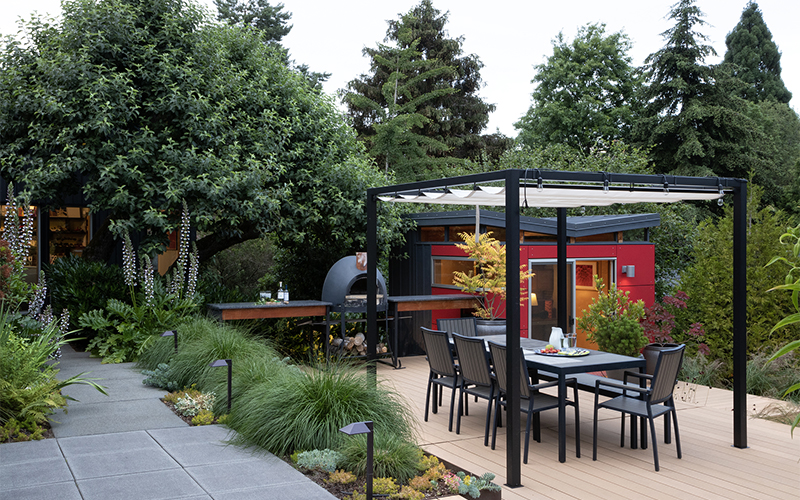 Here, you can see how a sloped backyard was turned into a multi-functional outdoor oasis with an open-concept kitchen and dining room on the main deck and a modern outdoor office shed on the lowest level. 
A shade structure like this one is the perfect solution for a sunny dining space. This shaded dining area offers enough room for an intimate dinner party and creates a relaxing atmosphere that invites guests to sit back and enjoy their meal. Use tall trees and hedges around your dining space to make it feel like a secluded getaway.
Remember your mid-layer and transition zones! Use short-to-medium plants like grasses, perennials, succulents, and groundcovers to add lush tranquility to your outdoor room, plus they offer a great way to separate rooms.
Here, a low-maintenance border of grasses and succulents like sedum forms a green wall or delineation between the pathway and the outdoor dining room. Compact trees are planted in large containers to soften the hard edges of the decking and modern aesthetic. Here, staghorn sumac, purple smoke tree, and mugo pine look striking in large containers.
Whether you're cooking or simply enjoying the fresh air, an outdoor kitchen and dining room like this one is a perfect place to unwind and connect with nature.
Get the Look with These Plants
This plant is a striking structural element for partially shaded borders or background plantings. It's grown for its large, lustrous oak leaf-shaped foliage, and spires of flowers. Once established, it's highly tolerant of dry shade conditions. Partial shade. Up to 4' tall and wide. Zones 6-11.
This grass boasts lush, green foliage that forms a fountain-like shape, topped by fluffy, buff-colored plumes that arch above it. In the fall, the foliage transforms into a lovely golden russet color. Full sun. Up to 3' tall, 2' wide. Zones 4-11.
Chartreuse-yellow, needle-like foliage adds a cheery pop of color to containers, dry slopes, and borders. An excellent choice for year-round coverage of beds with spring bulbs. In northern climates, the foliage turns orange during the winter months. Partial to full sun. Up to 6" tall, 36" wide. Zones 3-11.
Erect fronds ranging from dark to light green make a striking vertical clump, perfect for framing a garden element or niche in architecture. Add height and dimension to a low border or brighten up a woodland understory. Partial to full shade. Up to 36" tall and wide. Zones 5-8.
Prized small tree or large accent shrub that produces pinkish-purple seed clusters with a smoke-like, airy appearance. The clusters are backed by reddish-purple foliage that retains its color all summer long before transforming into a vibrant scarlet red in the fall. Full sun. Up to 15' tall, 12' wide. Zones 4-10.
This easy-care, dense and compact variety was carefully selected at our Oregon nursery for its remarkable ability to maintain its lush green color through the winter. It serves as an excellent evergreen contrast in perennial borders or large containers. Full sun. Up to 5' tall and wide. Zones 4-9.
Outdoor Dining Room Landscape Plan and Plant List
For an elegant outdoor dining room, consider enclosing the area with a tall evergreen hedge. To achieve a timeless look, incorporate symmetry into your planting plan and keep the color palette simple. This will help create a cohesive and sophisticated ambiance that enhances the al fresco cooking and dining experience.
8 Plants for this Dining Room Landscape Plan
Learn More About Designing Outdoor Living Spaces