If you have a small outdoor space, you might feel limited in your options for creating a beautiful and functional garden. However, with the right approach, you can transform even the smallest of spaces into a stunning oasis. In this interview, we speak with a landscape designer, Lisa Port of Banyon Tree Design Studio, who specializes in designing small outdoor spaces and urban gardens. From selecting the right plants to maximizing your layout, she shares her top tips for creating a stunning outdoor retreat.
We all fell in love with the little corner featured in our story about Curb Appeal and we've always known that we needed to revisit Lisa Port and see the rest of her small garden design. Now, we get to see it all and have another great conversation with Lisa, who has designed a plethora of beautiful small outdoor living spaces in the city of Seattle. 
Top 5 Tips for Small Garden Designs
Choose one or two senses to ground the focus back into the space. The sound of a wind chime, the soft texture of plants, or the subtle scent of fragrant plants function as a sensory focus that draws someone back into the space. Bird- and pollinator-friendly plants accomplish the same thing—watching bees, butterflies, and birds is another way to become more mindful of your immediate surroundings.
Add a water feature. The sound and movement of water offer a focusing sensory experience as well as mask city sounds and allow for a calming atmosphere in a small space. 
Use the vertical plane to draw the eye up. You can use a tall fence, a piece of art, a small sculptural tree, or tall plants like bamboo in containers to act as a vertical focal point. 
Simplify your plant palette and focus on contrast and foliage texture. Too many colors can feel too chaotic in a small space. A simple plant and color palette will make the space feel more unified.
Choose low-maintenance and well-behaved plants that won't outgrow their space. You can use large plants in small gardens, but be sure they have the space they need and won't overpower your space. 
 Entry Oasis on a Busy City Street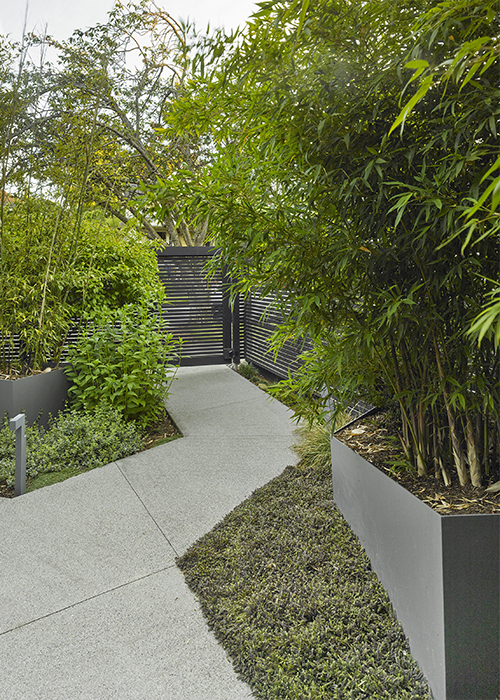 We love this urban garden and can learn a lot from your design process with this small yard. Can you tell us more about the area and goals for this space?
This garden is in Seattle in an area that is popular for outdoor recreation, with lots of people out walking up and down the streets and out in the neighborhood. There are cars, pedestrians, kids, dogs, and a whole gamut of outdoor activities happening right outside of this home. 
The house is what they call a "skinny house" on a lot that was about 30' wide. The front yard was no more than 25' deep. It was a tight space with a lot of pedestrian traffic out front. 
The clients really wanted to have a low-maintenance outdoor space in their south-facing front yard where they could be outside and enjoy the sun. They wanted privacy from the pedestrian traffic, but at the same time, didn't want to completely block or wall themselves off from the community.  
The fence is the perfect balance of providing that privacy without completely blocking out the vibrant community.
We wanted the fence to reflect the architecture of the new, contemporary house, and we wanted to be able to see through the fence while also having privacy. The pickets are horizontal, and the gap is the same size as the pickets, so they create a grid effect that offers that privacy and a contemporary style.
You can see that the gate blends in with the fence and is not a prominent entrance point, so you have to know where you are going in order to enter the property. When you walk past the fence you can barely tell there's an entrance gate there, which is ideal for that busy location. 
Even in this small area, you were able to design a clear entry walkway to the front door.
This is a narrow front space and the circulation from the gate to the front door is all on one side, which allows for the patio living room to be in its own space. 
When you walk into the gate, you're welcomed into a sanctuary in the city. How did you accomplish that immediate oasis feel?
We wanted it to feel like you were moving into a space that was different from the busy street and sidewalk that you are leaving behind. So, as soon as you walk in the gate, there's a change in the plant palette. The plants are tall and airy and lush. Bamboo in containers is perfect for that because it grows taller than the fence and draws your eye up.
The containers also offered another opportunity to experiment with the funky angular design that you see throughout this space. We played with the shapes of the containers as well as the heights. This creates a really dynamic environment in a small space where you can separate the plants. 
The plant color palette in this space is minimal, which creates a uniformity that is really important in a small space. We focused on the texture of the foliage. Here you can see the verticality and texture of the plant choices that surround you as soon as you walk in.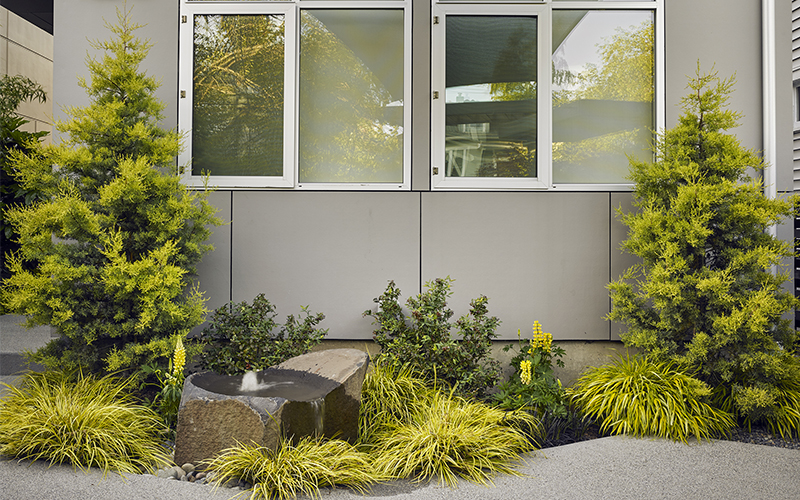 This bed under the windows is the planting focal point as you walk up to the entrance. Tell us more about your plant palette choices.
We went with a bright green, chartreuse, and yellow color palette for this space because the hardscape is so dark. The fence is black, and the house, concrete, and furniture are gray. The sky in Seattle is often cloudy and gray. As you go straight back to the entrance, it gets very dark so this planting functions as a bright point that invites you in. 
So we wanted the visual pop of bright foliage and a few colorful blooms in yellow and red. There's a yellow lupine against the house here, as well as a red bee balm at the entrance, plus the red leaves of an existing maple. The rest of the color comes from foliage plants like the sweet flag and gold hinoki cypress.
In a garden like this, there's no wasted space. Everything you do with the planting and hardscape needs to make sense and have a function and be aesthetically pleasing. 
From the height of the bamboo to the color of the plants and the shape of the hardscape, everything accomplishes something. 
Get the Look with These Plants
Golden grass-like leaves brighten pathways in shady spaces. Partial to full sun. Up to 10" tall by 6" wide Zones 5-11.
A non-invasive bamboo with a graceful form that looks great in a container. Partial to full sun. Up to 10' tall and wide. Zones 8-10.
Sprays of feathery bright golden-yellow foliage distinguish this superior cultivar. Partial to full sun. Up to 10' tall by 4' wide. Zones 4-8.
Restful Retreat in a Small City Garden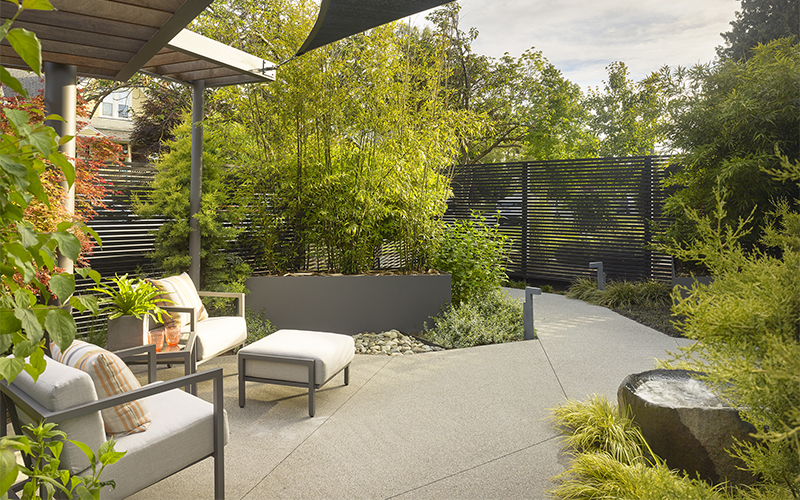 The angles of this design make this small space very special. Why did you use an angular design and what does it accomplish?
I started with a few different functional diagrams of the space, and just for fun, I tried an angular plan. When I showed the clients the angular plan, they saw that it created some interesting corners and edges and they took the risk of going with something a little different. 
The angular design creates a more dynamic setup where you can have a lot of different shapes in a small space. The containers, planting beds, concrete, and even the arbor and shade sails are all dynamic in their shapes, making for a really visually interesting space. When the plants and angles are combined, there's a kind of movement, or undulation, to the whole space. 
Even looking down at the garden space from the roof deck is a more special experience thanks to the angular design. 
Get the Look with These Plants
A hardier selection than the typical species, ideal for a container on a shaded patio or even in the home near a bright but not sunny window. Up to 18" tall and wide. Zones 7-9.
Deep, emerald green leaves edged in sparkling white are tinged with pink in winter. Partial to full sun. Up to 3' tall, 3' wide. Zones 5-9.
A mounding fountain of ribbon-like white-striped green foliage adds wonderful texture and color to the edges of narrow pathways. Fill shade to partial sun. Up to 15" tall, 24" wide. Zones 5-9.
Lisa Port is the owner of Banyon Tree Design Studio , a landscape design and architecture firm operating in the PNW, Seattle-metro region. Over the span of her 20-year career, Lisa has worked with her fantastic clients to analyze, design and actualize custom landscape design solutions for their homes and gardens.
Banyon Tree Design Studio is a design-only company working in conjunction with seasoned builders to bring your outdoor vision to life. 
Having trained as a landscape designer and an architect, Lisa strives to harmonize the urban landscape with the built environment. This is achieved through careful site analysis and architectural cohesion, functional program development, utilization of varied styles and material applications, and planting plans that are aesthetically pleasing, adaptive to climate change, and earth friendly. 
Learn More About Problem-Solving with Design and Plants