Planning your backyard getaway? Take inspiration from landscape architect Scott Shrader. He transformed this property on a busy Los Angeles road into a "never going inside" oasis of distinct garden rooms. Here he shares his favorite plants and top takeaways for creating your ultimate outdoor paradise.  
Enveloped in the romance of early-flowering redbud trees. This central courtyard has everything Shrader loves in a landscape. This includes comfortable seating, soothing sound of water, warmth of a fire and a simple but elegant palette of plants. The symmetrical set-up of four beds is filled to the max with sheared shrubs including boxwoods. Although the real wow factor is the rustic seating area. This is made from cobblestones rescued from an old road. One that had been unearthed beneath an asphalt parking lot in downtown Los Angeles.
© Lisa Romerein/OTTO (designed by Scott Shrader)
"My job is to create outdoor spaces to keep people outside," says landscape architect Scott Shrader. He's of the richly detailed, somewhat mysterious, yet totally livable spaces he creates in Southern California and around the world. We met up with him to get the backstory on this modern garden with subtle Moroccan influences. He created this in the canyons of Los Angeles. It's filled with "rooms" made from elegant hedges and pillars clad in fragrant vines. Also some of the most magical plants-as-living-sculptures possible. The biggest question we had is why would anyone ever want to go back inside.
Set on a very busy street in Los Angeles. The house and gardens (which, because it is LA, was previously owned by Bruce Willis) were in disrepair. Shrader was brought in to bring the outdoor spaces back to life.
 "The feel of the space, the play of the light, the way people want to live are where I start to think about a landscape—even before I plan what plants will go where," he says. "When I work, I'm always thinking, 'Would I want to sit here?'"
The site was transformed into a spectacular yet functional landscape that solves problems while providing so much joy. Here's how this garden came to life. Plus Shrader's advice for how to start a new project in your own backyard.
CREATING A MOOD USING STRUCTURE AND PLANTS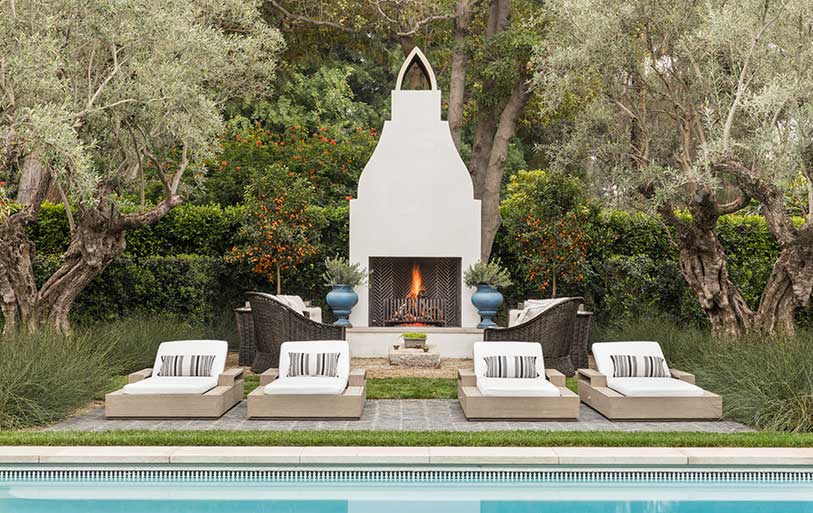 Flanked by old-growth mature olive trees, the centerpiece of the pool garden is a spectacular Moorish-inspired fireplace. It has herringbone firebrick that matches the pathways. Accented by a pair of super-happy kumquat trees in very large pots in the back. Because olive trees are sensitive to too much water, careful consideration was given to the choice of dwarf cape rush. Set away from the trunks at the outer edges of these gravel beds. "When you have a statement plant such as these olives, you need to fight the temptation to mute the effect by surrounding with other plants. Let the beauty of each plant shine," says Shrader. Photo © Lisa Romerein/OTTO (designed by Scott Shrader)
Walk us through the space. How many rooms are there in this garden?
Between the parking court, entry garden, hello and goodbye garden (by the front door), a couple of courtyards, the fireplace garden, and a pizza oven garden, there are at least 8 strong outdoor rooms. Each room in the house has a garden view.  Taking cues from the style and character of the house's architecture and interiors, we carried elements from inside into the landscape. 
What are some of the elements that connect the garden to the house?
The style of the house is Mediterranean and the interior designer, Erin Martin, kept to a disciplined palette of dark tones with pops of white, encaustic cement tiles and Moroccan details. Creating a seamless transition from the house to the garden started with the herringbone pattern walkways. 
I work with a company in Los Angeles that works with the oldest terracotta producing family business in Italy. My job gives me great opportunities to work with talented creatives and creative colleagues to explore things that are bigger than me and my work. This Italian-based company invented a process of mixing coal into terracotta clay in the kiln to make a material that has all the properties of terracotta but with a beautiful shade of grey. They cut that into the tiles that we set in a herringbone pattern. The effect is that stepping through threshold from the house into the garden, there are no abrupt changes--it feels effortless.
Even though the style is "Modern Moroccan", which suggests plenty of color, you hewed to a simple color palette in the garden. 
I wanted to bring some of the essential elements of an Islamic or Moroccan garden—water, strong lines, pathways, scented flowers and Moorish shapes—without the riot of color than can define the style. That carried over into the choice of plants which are mostly in soft gray, deep green, or with white flowers. The color comes from subtle pops such as the potted kumquats and the occasional pink or purple flower. 
In this garden you used lots of "traditional" landscaping plants such as boxwood, privet, redbud, and ornamental grasses. When choosing plants what do you take into consideration?
Structure is critical to creating a garden that stands the test of time and gets better with age. Sturdy woody shrubs like the classic ones in this garden provide a backdrop for more showy elements. You need to start with the best plants, carefully grown for your climate and conditions. When thinking about plants, choosing a limited color palette and repeating a limited variety of plants throughout the space keeps it simple and not too crazy. At the same time, you need to think about more than what the garden is going to look like, you have to think how it's going to function. Plants are part of that. Trees that create a "roof", hedges that make a space feel private, plants in pots that can be moved around as needed—all are important. 
We love the pop of color from the early spring blooming redbud trees in the courtyard. How do you design for spring beauty without falling into the trap of blowing out all your best bloomers early in the season? 
Creating a landscape that provides a sequence of bloom across seasons just takes some planning. Here in Southern California we are more limited for options than in other regions, but flowering cherries, flowering plums and flowering crabapples that start early followed by fruits such as apples and pears and later by dogwoods are a great combination. If you don't have a lot of space, put some early bloomers in containers and move them in and out when they are done. Those Forest Pansy redbud trees were chosen for a seasonal change  and a spot of color in very early spring. I love how they come with very dark burgundy leaves that slowly turn more green toward the end of summer before they turn yellow and then are bare during the winter—it's a nice way to experience seasonal change in warmer climates when most trees keep their leaves and are mostly green. These trees are uplit at night to add drama to the space. 
IT'S IN THE DETAILS:
(above) The "Hello and Goodbye" garden seen here is entered from the parking area and a small courtyard. Both of which help to mute traffic noise. "The first time someone gets to say hello to you and the last time they get to say goodbye," says Shrader of this spectacular space. You enter through a tunnel of green framed by 7' tall reclaimed vintage columns. These are set on 2' plinths that are enveloped in stephanotis vines (imagine the fragrance swirling in this space). They clamber over bowed trellises. The lotus-shaped fountain is from India. "Placing an object in the center of a path slows the footfall so you naturally look left and right." 
(left) A reclaimed stone well repurposed as a cozy firepit is the centerpiece of a courtyard garden. It's adjacent to the kitchen, dining room, family room and an office. Yes, that is an old bronze chain layered into the logs.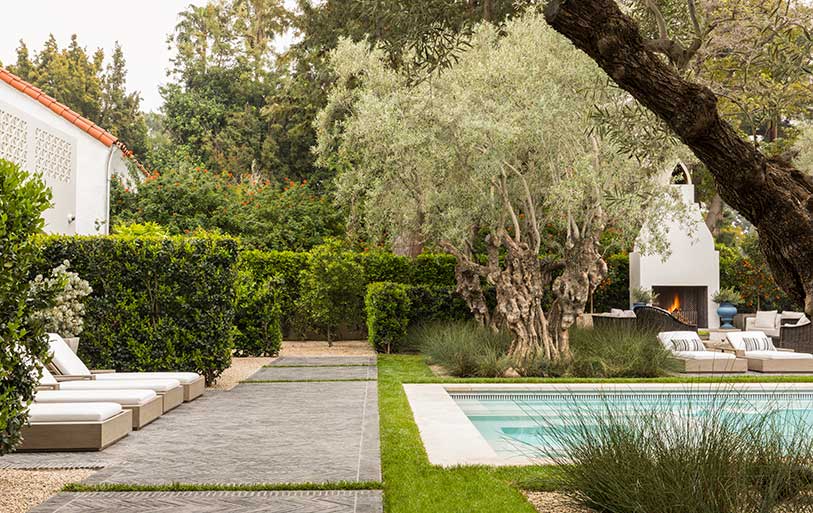 (Above) A citrus tree creates a focal point leading you down a coal-infused terracotta stone pathway. All the way to an organic citrus grove obscured by thick hedges.
All photos © Lisa Romerein/OTTO (designed by Scott Shrader)
What was the overall vibe you wanted to create in this garden?
I wanted to give the family who lives here a place that made outdoor living effortless. Keeping the textures and elements like pottery, furniture, and paving more natural in an outdoor setting makes things feel more homey and inviting. 
Olive trees are a go-to in many of your gorgeous landscapes. Why do they appeal to you and why did you use them here? 
Because trees are such an investment and so important to the bones of the garden, we wanted ones that would serve as a reference point for colors, textures, and scale of the rest of the garden. We chose olives because they work well in the Mediterranean conditions of Southern California, have a grey-green leaf that adds an easy elegance, and even when young, are like living pieces of art. Also, the homeowner is originally from Olivos in Argentina (literally "olives") so they had special meaning. My vision was to create the sense of an old existing olive grove into which the house was dropped.  
PLANTS THAT BRING THIS GARDEN TO LIFE
Before you pick up a shovel watch the play of light as it moves overhead. Take note of areas without protection from sun or wind. Be aware of how you naturally move throughout the space when planning paths. Some "slow landscaping" can save you time and trouble later. 

Let the interior palette inform the exterior hardscape colors to seamlessly connect indoors with the outdoors.

Don't shy away from "traditional" plants such as

boxwoods, privets, flowering trees

, and

hydrangeas.

These and other classic landscaping specimens are ideal for forming the bones of a garden space. Onto which you can layer statement making specimens.

Give people a reason to visit the furthermost corners. Angles and

hedges

that beckon while obscuring what is beyond. Inviting seating tucked into a bend and seductive sounds of water or chimes can pique our

natural curiosity to explore.

Grow what you love and what suits your lifestyle. This streamlined garden is ideal for this family and for the site. There are plenty of ideas to steal. However, in his own garden, Scott is a plant collector. He has a love for bonsai and rare orchids that he grows in antique containers. The "perfect" garden is what is perfect for you.
DISCOVER SCOTT'S LONGTIME FAVORITES & LATEST PASSIONS
Scott's landscape designs are borne out of an intuitive ability to connect with the interior 'heart' of the home. Producing gardens, outdoor entertainment spaces and relaxing atmospheres specifically designed for those using them. His breadth of knowledge about design and concept come from a master's degree in landscape architecture. Plus an undergraduate degree in urban planning. Scott is the author of The Art of Outdoor Living: Gardens for Entertaining Family and Friends.