5 Ways To Design With Roses
From bud to bloom to falling petals. No garden, from cottage to contemporary, is really complete without at least a few of these dreamy flowering shrubs. A variety of growth habits, sizes, colors, and textures means there's at least one that can fill any niche landscape. And, breeders have made improvements in disease resistance so they're less work, too. Here are five of our favorite ways to use them.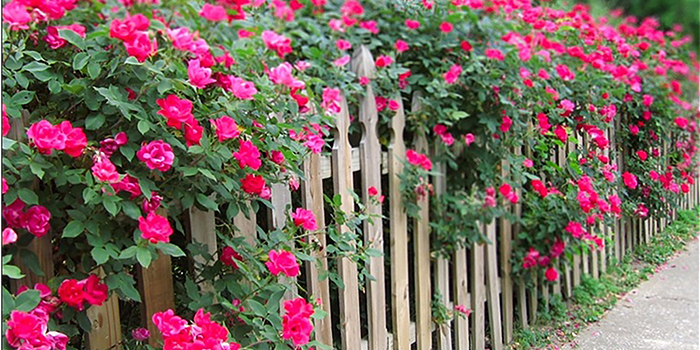 Sure you could plant an evergreen or conifer. But, taller shrub roses planted close together make a beautiful and effective hedge to create privacy or define property lines. Lower growers are spectacular used to outline a path or to divide one part of the garden from another.
The secret to a dense hedge is planting shrubs closely, about 2′ to 3′ apart on center.
Here are three to try: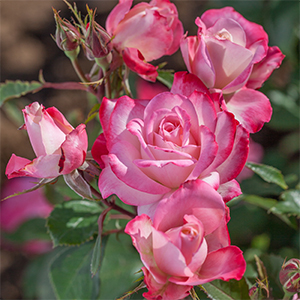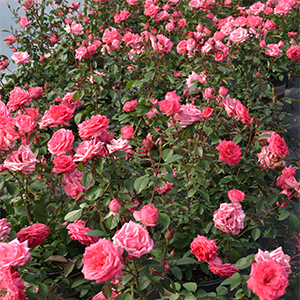 A parade of abundant flower clusters provide season-long color. (White petals that gradually intensify to a deep pink with red edges.) Full sun. Up to 4′ tall. Zone: 5 – 9
Outstanding disease resistance and proven to thrive coast to coast in heat and humidity as well as dry, hot summers. Full sun. Up to 5′ tall. Zone: 4 – 9
Deep-salmon blooms contrast beautifully against the dark green, semi-glossy foliage on an upright, bushy habit. Full Sun. Up to 6′ tall. Zone 5 – 9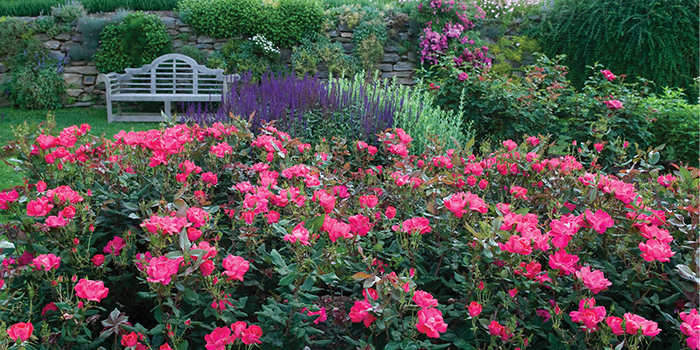 Roses can play a supporting role, too. Look for taller varieties to add height and scale to the back of a border. Also, free-flowering, mid-sized shrubs to amp-up the summer show of mixed evergreen foundation plantings.
Get a power-planted look by massing two or more groups of 3 roses in a long border or along the foundation. 
These are fat and sassy: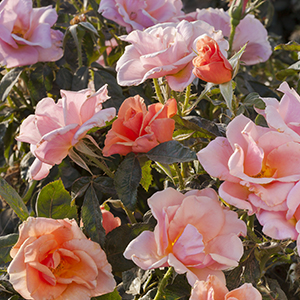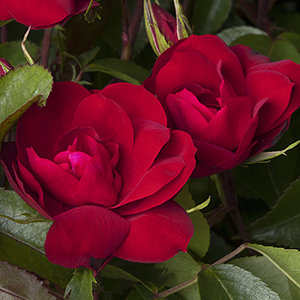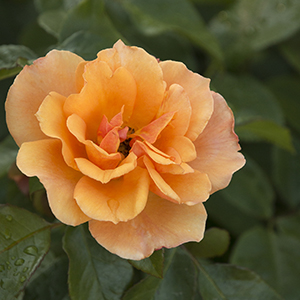 Continuous bloom with clean, glossy, dark green foliage that's more resistant to hot, humid temperatures. Great for the back of a border. Full sun. Up to 5′ tall. Zone 5 – 9
Upright bouquets of fully-double, red roses on fuss-free shrubs that endure long, hot summers with unwavering blooming zeal. Full sun. Up to 5′ tall. Zone 4 – 9
Splendid blooms are beautifully contrasted by dense foliage on a bushy, yet compact form with exceptional disease resistance. Full sun. Up to 6′ tall. Zone: 5 – 10
Climbers and ramblers add interest to otherwise plain walls and fences, and provide shady, flowery cover to arbors and pergolas. Use shorter varieties on smaller trellises, pillars, and obelisks.
The secret to getting the most from climbing roses is to plant a second kind of climber. One that blooms at a different time along with it at a ratio of 2-to-1. (two roses for every secondary vine). (Clematis, jasmine, even grapes, are good companions.)
These are long-legged beauties:
Tall, vigorous rose with small buds that open to fragrant, light pink, double blooms in large sprays. So romantic! Full sun. Up to 20′ long. Zone: 4 – 11
Blooms early & continues throughout the warm season with fire-engine red flowers retaining vibrant color without fading. Full sun. Up to 12′ long. Zone: 5 – 10
Blooms spring to early summer with clusters of fragrant blooms on thornless branches. Great for chain-link fences. Full sun. Up to 20′ long. Zone: 6 – 9
ADD ELEGANCE TO A CONTAINER
Whether one eye-popping large shrub in a large container. Or, one of the new compact roses alone or snuggled up with a mix of perennials or annuals. Potted- up roses provide solutions for places where it's difficult to plant such as hardscape or around swimming pools.
Roses set deep roots so be sure to provide a container that's at least 18″ deep. Repot with fresh soil every three years.
Perfect for pots:
Ideal for a large container–or a row of containers for a flowery privacy border. Full sun. Up to 5′ tall. Zone: 4 – 9
Perfect for containers, this hardy own-root rose has soft peach double blooms. Nearly carefree color for patio containers. Full sun. Up to 3 ft. tall. Zone: 4 – 9
Compact and bushy, this will easily fill a medium-sized container for a nearly continuous display of bright orange-red color. Full sun. Up to 2 ft. tall. Zone: 5 – 9
THE MOST ROMANTIC GROUNDCOVER
Mass these surprisingly tough shrubs in that sunny space where other plants might struggle. Edge a driveway, surround a swimming pool, or cover a slope with groundcover roses that grow dense. This will help keep down weeds.
When using roses as groundcovers, remember to line the bed with weed-barrier fabric (available at garden centers). Do so before planting and top with mulch. 
These are problem solvers:
Easy-care, vigorous and cold-hardy; Low spreading habit is perfect for smaller garden borders, or along paths. Full sun. Up to 2′ tall. Zone: 4 – 11
Peachy-amber blossoms are fragrant with excellent heat and humidity tolerance.  Full sun. Up to 3′ tall. Zone: 4 – 10
Don't be fooled by delicate pastel-pink color! Exceptionally disease resistant, self-cleaning and simple to maintain. Full sun. Up to 2′ tall. Zone: 4 – 10
Keep Roses Happy


Start by choosing the right rose. A large shrub rose in a too-small container or a rambler on a less than sturdy pergola. This can be a battle not worth having.
Roses love to eat. Feed them about 3 weeks after the first flush of leaves. Then again just after the first flowers have faded.
While tolerant of drier conditions in subsequent years, water regularly during the first season. 1-inch per week per shrub depending on your soil.
Mulch like you mean it!  Apply 1-3 inches of well-aged organic mulch in spring and again in fall.
Major prune in winter or early spring (more here). but summer pruning can keep flowers coming on. Prune stems just above a set of five leaves.