Have you considered adding the graceful form and sensational blooms of roses to your patio, porch, or pathway via containers? It's time to get started! Many rose aficionados are a little unsure about growing roses in containers because they're not a common sight. We're here to tell you that yes, you can grow roses in containers. Now is a great time to plant.
The right roses can thrive in containers and make a big impact on your front entryway or outdoor entertaining space. Growing roses in containers allows you to move them around the garden. Plus, you can keep them close enough to smell, touch, and enjoy, and give them extra protection in cold climates. There are just a few things you need to know to grow healthy, happy roses in containers. We're going to make sure you know all of them.
The most important step is to choose the right rose. Many rose varieties can end up being too big and sprawling to look good and grow well in a container. However, there are many types of roses that look spectacular in containers. They will thrive with the proper care (see our tips for growing roses in containers below). So which roses grow best in containers? We outline our favorites below, offer a "rose-y" non-rose option, and suggest several companion plants to consider.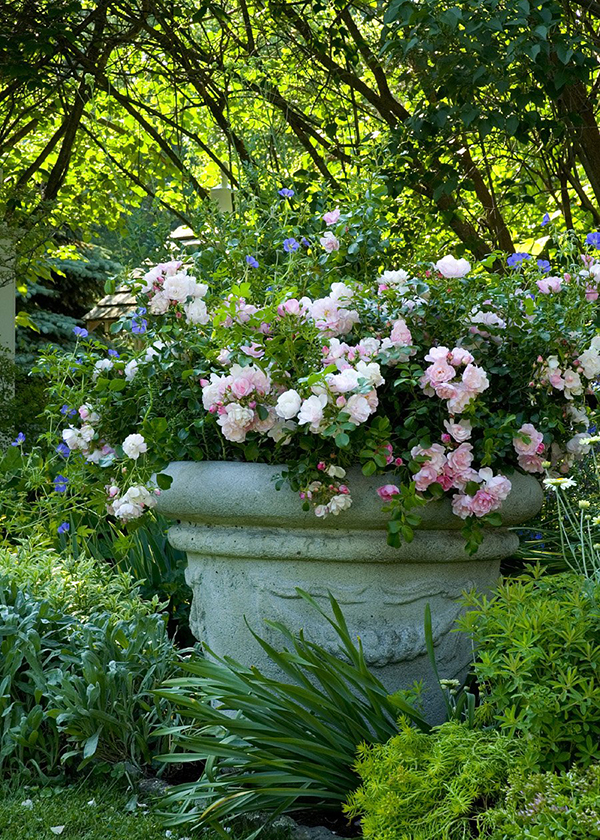 Groundcover (a.k.a. "carpet") roses are our top pick for the best rose to grow in a container. They have a lower and more compact growth habit than shrub roses. This makes them look tidier when planted in a pot. Plus, they play well with others. Groundcover roses will mingle beautifully with companion plants. For a spectacular display of color, bloom, and texture (scroll down for a list of rose companion plant ideas).
Groundcover rose varieties like Flower Carpet® and Nitty Gritty™ look gorgeous in a large container and perform well. Both varieties produce prolific amounts of flowers and offer excellent disease resistance. Nitty Gritty™ roses are own-root roses, lending durability and dependable health. 
Nitty Gritty and Flower Carpet roses look great in large hanging pots as well as containers. They are both self-cleaning, low-maintenance varieties that don't require deadheading, complicated pruning, or care. 
Pictured left: Flower Carpet Appleblossom Groundcover Rose mingles with Rozanne Cranesbill in a large container. Photo by Anthony Tesselaar
Three Favorite Groundcover Roses for Containers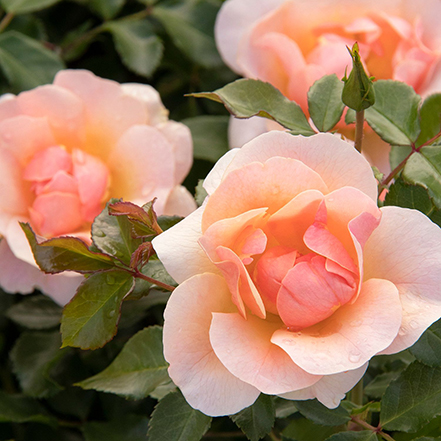 A low-maintenance groundcover rose with peach double blooms and a nicely rounded growth habit that looks great in a container. Up to 3' tall by 4' wide. Zones 4-9.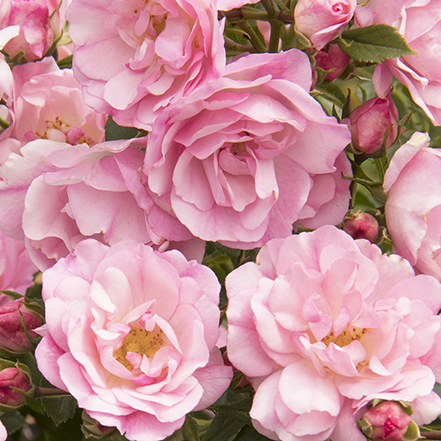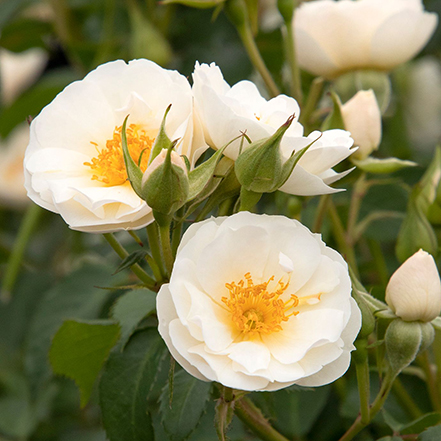 A durable and versatile rose with a compact habit and gorgeous white double blooms that continue all season long. Up to 3' tall by 4' wide. Zones 4-9.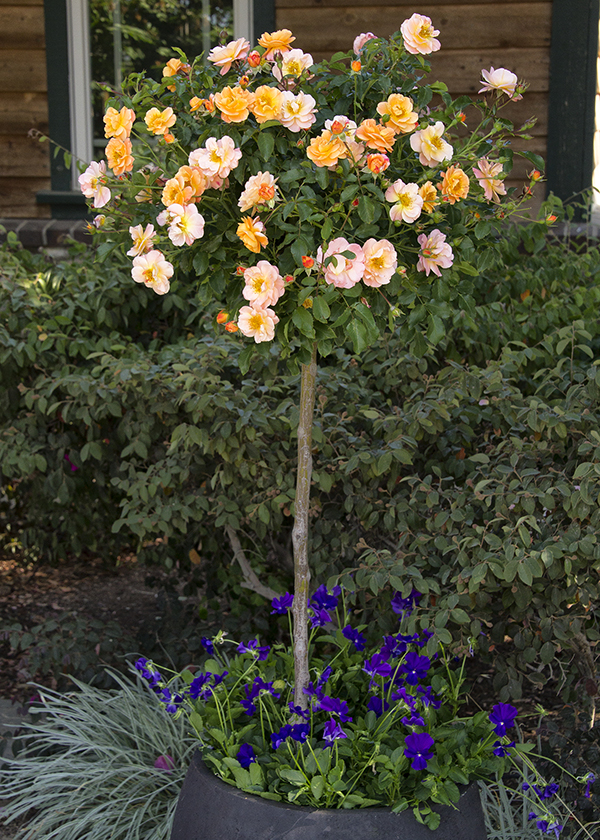 Patio tree roses are practically made for containers. They offer architectural interest and vertical appeal on front porches, back patios, and any outdoor gathering space. Our tree roses are carefully grown and expertly pruned by Monrovia Craftsmen. This is done for three years before they are ready to come home with you.
One reason to grow a tree rose in a container is that you can easily protect it through cold winters. As well as through inclement weather and still enjoy its elegant flowers and stately form year after year.
You'll notice that Flower Carpet Roses make an appearance yet again in this category. This is because their compact growth makes them perfect candidates for pruning into trees. Grace N' Grit™ Roses are also a great choice here, with their abundant blooms and adaptable performance.
Pictured left: Flower Carpet Amber Groundcover Rose pruned into a patio tree.
Three Favorite Roses for Patio Trees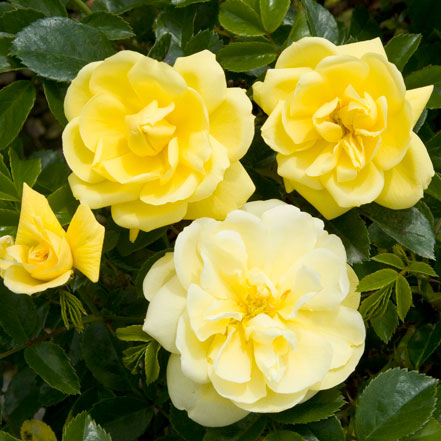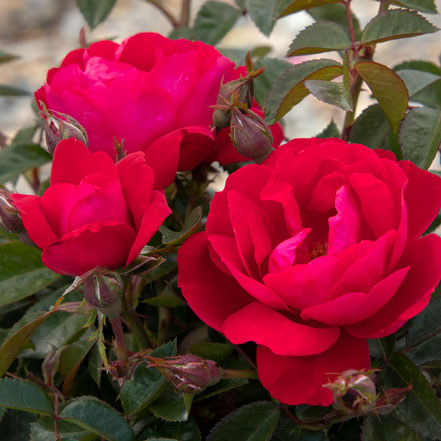 A self-cleaning and incredibly versatile shrub rose that looks spectacular when pruned into tree form. Trees up to 6' tall by 3' wide. Zones 4-9.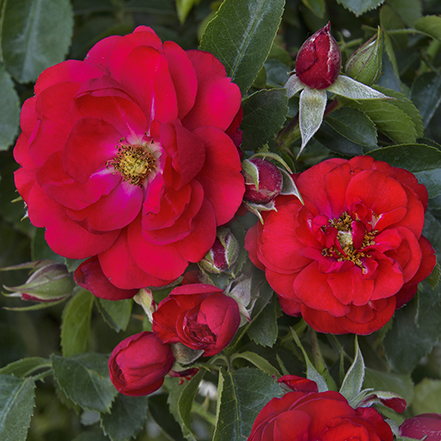 Ok, so Rose of Sharon isn't actually a rose. Although this member of the Hibiscus family has attractive foliage and bold blooms that look similarly stunning in containers. The Chateau™ Rose of Sharon series is particularly well suited to containers. This is thanks to its upright habit and tidy vase-shaped form. These Rose of Sharon shrubs are covered in large, colorful, and long-lasting blooms that feature deep-colored centers. They have distinctive prominent stamen, which gives the flower that unforgettable tropical allure.
Rose of Sharon is also perfect for containers when pruned into tree form. Such as the Diana Rose of Sharon pictured here.
Pictured left: A white Diana Rose of Sharon tree with a Golden Jackpot Bougainvillea in a container. Photo by David Fenton.
Companion Plants for Roses in Containers
Ornamental onions like 'Millenium' are perfect for growing in containers with roses. They add a structural element and deter pests. 14-22" tall and wide. Zones 4-8.
Brunnera is lovely when planted with a rose in a partially shaded location. The wisps of blue flowers nod above the silvery foliage, and both are a beautiful counterpart to roses. Up to 12" tall by 24" wide. Zones 3-9.
Catmint is another excellent pest-deterring companion for roses. This is a fabulous compact variety that looks great under a patio tree or beside a groundcover rose. Up to 16" tall, can spread up to 36" wide. Zones 5-9.
The dense, deeply-colored foliage and flower spikes of Ajuga make it a fabulous companion for roses in containers. Up to 10" tall (in bloom) by 18" wide. Zones 4-9.
The grassy foliage, upright stems, and bright flowers of Armeria varieties like this one look great in containers. Especially with the shrubby habit of roses. Up to 8" tall by 12" wide. Zones 3-9.
Stonecrop (Sedum) varieties are perfect "spillers" and/or "fillers" in containers with roses. This variety has small, rounded, and bronze-tinged foliage. Up to 4" tall by 12" wide. Zones 3-9.
Tips For Growing Roses in Containers
Choose roses with a compact habit. Groundcover roses, miniature roses, and smaller shrub roses are excellent choices for containers thanks to their smaller growth habit.
Use a large, deep container of at least 18" in diameter to support the growth of your roses.
Find companions that won't upstage the star. When planting roses in mixed containers, pair them with plants with smaller blooms and thinner foliage. This will complement the lush flowers and leaves of the rose. 
Feed occasionally per label instructions. You can try liquid rose fertilizer or a well-balanced granular option. Stop feeding your roses about a month before your last frost to prevent new growth before winter weather sets in.  
Water consistently. Make watering easy with drip irrigation lines, self-watering tools, or by placing containers where they're accessible.
Top dress with compost and mulch. Compost will offer a well-balanced source of healthy nutrients, microorganisms, and minerals. While the mulch will protect the roots and maintain moisture. 
No complicated or fancy pruning required for the roses recommended in this post! Prune the plant back to about one-third its size in late winter or early spring. Dead branches can be pruned down to the top of the soil at any time. 
Protect in winter in cold climates (Zones 5 and lower). Add another layer of mulch as temperatures drop. Put your containers in a shed or garage if you live in an area with harsh, cold winters. You can also place your containers next to an exterior wall of the house. This will protect them from wind and create some added protection from winter weather.
Learn More About Growing and Designing With Roses
More of Our Favorite Roses