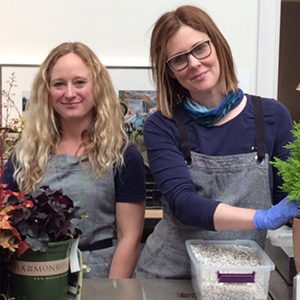 By Megan Nichols and Jessie Jacobson of Tonkadale Greenhouse, Minnetonka, MN.
Ah...the sweet sounds of summer. Birds chirping, water lapping against the boat (after the ice is out), the whiz of bike tires, err...The incessant drone of lawn mowers and weed whips (well, they're still summer sounds). And, a sizzling grill are all music to the ears. Summers are short in MN. We savor every minute and do everything we can outdoors including preparing, cooking, and eating meals. There is no shortage of grilling going on around here! Edible gardening is where it's at; take that to the next level and you have Grill Gardening.
When you think about grilling, you think about burgers and chops – anything you can sear or skewer. But what about the veg? And even more importantly, what about the herbs? Though delicious when grilled on their own, veggies, fish, and chicken sing a sweeter tune when paired with herbs. (As does the humble martini!). These are some of the most scrumptious herb combos you'll consume this season. Thanks to herbs from your own grill garden.
Be sure to check out the linked recipes. As well as all of our favorite plants for your very own grill garden.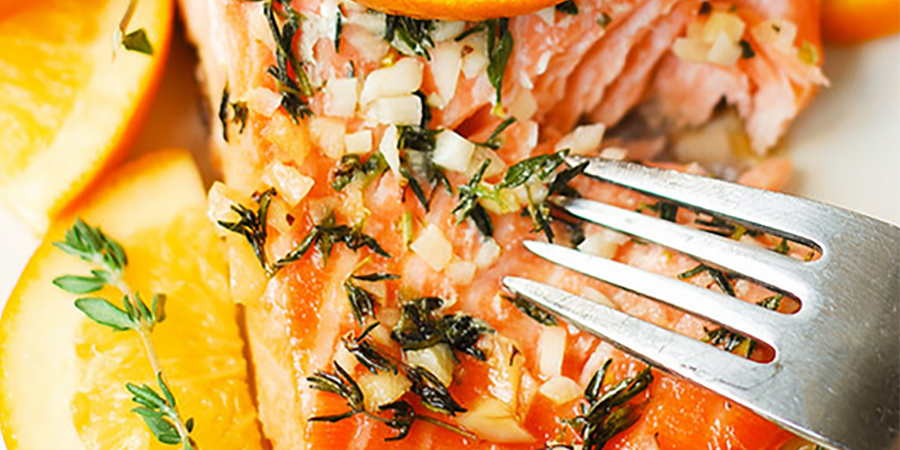 Thyme is a versatile, delicious herb that can be used in a multitude of dishes. It pairs particularly well with salmon, whether grilled or baked (cod works too). Just wrap fillets in foil and top with whatever you like. Try lemon or orange slices, onion slices, or a drizzle of olive oil. Sour mash whisky (optional) and sprinkle with chopped thyme leaves. Close tin foil and grill.  Recipe here.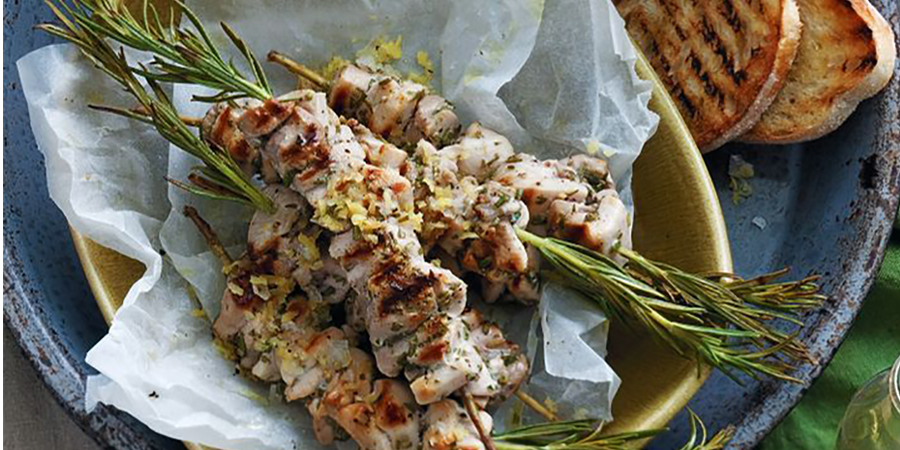 Chicken and rosemary are a love match. Rosemary has woody stalks that are ideal for using as flavorful skewers. Just strip the needle-like leaves from about 1/3 of the stalk and skewer chicken pieces onto it. Toss on the grill for a few minutes on each side, and enjoy! Remember to remove stalks before eating, unless you like chewing on sticks – but hey, no judgment. Recipe here.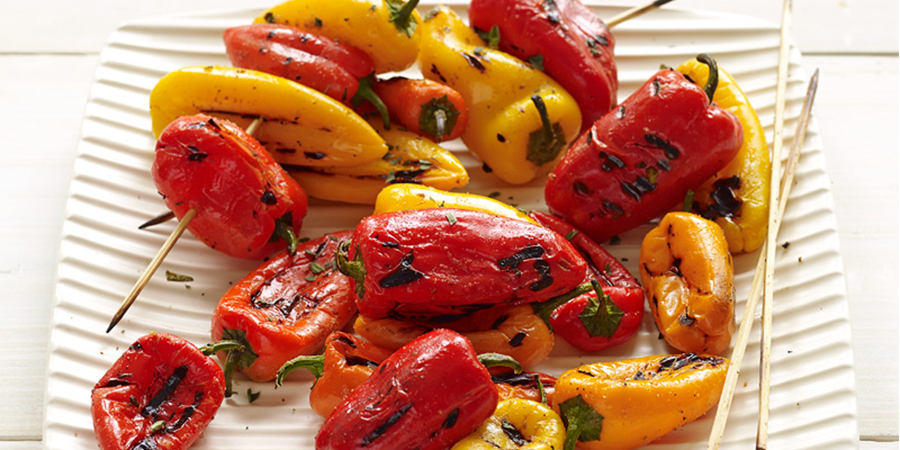 The Italians know a thing or two when it comes to delicious food. Thank goodness someone long ago thought 'hey, I'm going to eat this leaf and see what happens.' The result? Culinary perfection! Paired with tomatoes or baby bell peppers, it's perfecto! Skewer vegetables, brush with a mix of olive oil, chopped oregano, and sea salt. Then grill for just a couple of minutes to get a nice char. Recipe here.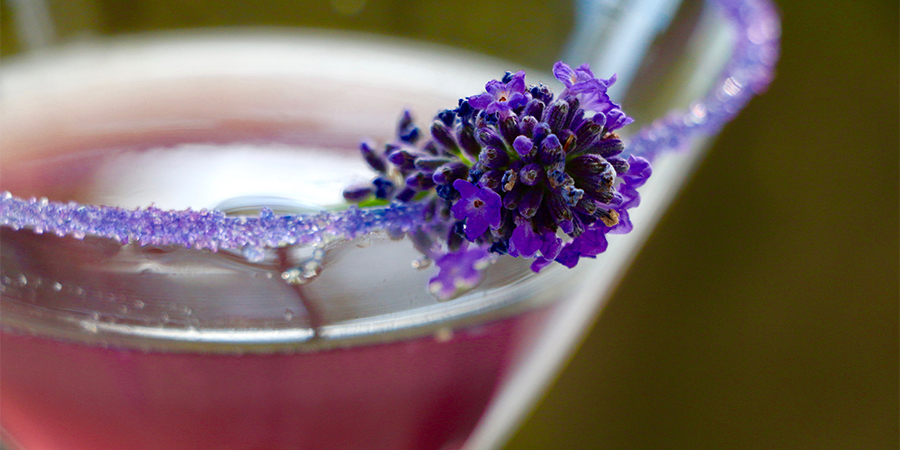 Everyone needs a refreshing drink and lavender has a fresh, flowery flavor that's pretty seductive. Use flowers to make a syrup for martinis, lemonade, soda water…whatever you fancy. Boil 2 cups of water, add sweetener to taste, and a handful of organic lavender blossoms. Simmer for two minutes, remove from heat, and let steep for 20 minutes. Strain, cool, and add to summer drinks. Martini recipe here.
Our Favorite Plants for Grill Gardens
A durable and aromatic herb that's perfect for filling in between pavers or as a groundcover. It also looks great spilling over the sides of containers or walls. 3" tall by 12" wide.  Zones 5–8
Easy-care variety with especially remarkable flavor and aroma for cooking. Strong, straight stems make perfect barbecue skewers. Up to 6' tall by 3' wide. Zones 8–10 
Photo by Richard Shiell
A cold-hardy and compact variety with aromatic foliage and flower spikes. A favorite for its aroma, beauty, and adaptability. Up to 18" tall and wide. Zones 5–9
The dense, low, spreading habit of this herb makes it perfect to grow in containers. Or, along the edge of a garden as a lovely border plant. Up to 36" tall by 24" wide. Zones 6-10
Photo by Deposit Photos
A refined and distinctive evergreen shrub perfect for mild climates. Leaves and berries may be used to add a spicy, peppery flavor to foods. Up to 12' tall by 8' wide. Zones 7-10
A compact variety with very aromatic, deep green foliage on red-tinged stems. The dried leaves add a classic Mediterranean flavor to soups and sauces. Up to 8' tall and wide. Zones 8-11.
Plant herbs in close proximity to the kitchen and the grill. This way it's easy to pop over, snip off a delicious addition, and make the most of the herb garden.
Most herbs prefer full sun, and it makes the flavors more intense. However, many will tolerate light shade, so if that's all you have give it a try!
Herbs grown in containers are easy to maintain and make a beautiful hostess gift.
Many herbs are perennial, depending on your zone, and these can be planted directly in the ground and overwintered. Containers are also a great way to grow herbs that can become somewhat invasive, like mint. (That is one athletic herb, it just keeps running and running…)
Mix it up. Create new recipes. Have fun. Happy Grill Gardening!
Learn More About Gardening with Edibles
About Tonkadale Greenhouse:
Tonkadale is a design driven garden center located in Minnetonka, Minnesota. Pollinator friendly. Kid friendly. Dog friendly. Always original. Always approachable. Your greenhouse home.