You gotta love a showy, flowering beauty that's hardy to zone 3 (unlike its mophead, blue-flowered cousin H. macrophylla). It looks its best in autumn when the rest of the garden starts to burn up. It works in schemes from cottage to formal and adapts to full sun or part shade. Some can be trained into a small tree or left as a big, blowsy shrub, is a romantic cut flower. Plus it attracts butterflies.
Panicle hydrangeas (Hydrangea paniculata) can be tall and wide or compact depending on the variety. This means there's probably one for most situations. Most have large clusters of white flowers in summer. These fade to shades of pink or red before drying to beige. If left to dry on the plant in fall, they'll stay looking good all winter.
If the only hydrangeas you plant are blue, you're missing out on one of the late summer garden's true pleasures.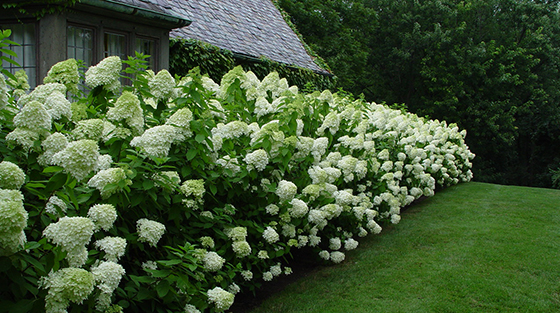 Glam, Awesome Hedge
Whether to separate a property, cover a fence, or line the back of the house. Some panicle hydrangeas fill in quickly forming a dense, flowery hedge. Use tall, wide varieties such as Angel's Blush® Hydrangea and Limelight Hardy Hydrangea. Plant a bit closer (about 5 feet on center) to get a tight hedge. As these go dormant in winter, back with an evergreen if privacy is a priority.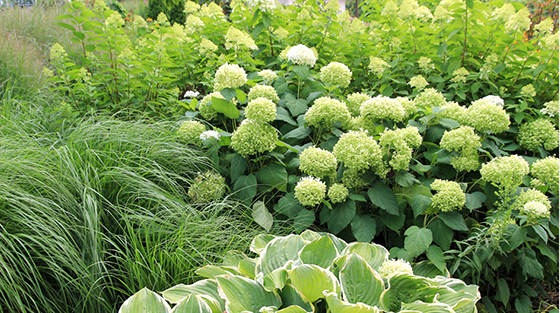 Team Player
They have unique chartreuse blooms varieties such as Limelight Hardy Hydrangea and Fire and Ice Panicle Hydrangea. These are ideal companions in all-green planting schemes. This combination of fine-leafed grasses, variegated hostas, Annabelle hydrangeas and Limelight hardy hydrangeas is cool and elegant in early summer. These hydrangeas will turn to white then pink as the season progresses.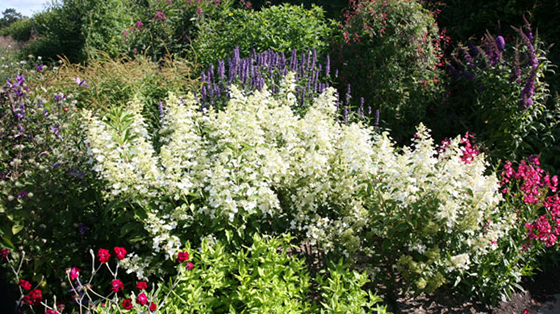 Anchor a Bed
It's true that many hardy hydrangea including paniculatas can get very large but no worries. Breeders have developed dwarf and more compact varieties that provide a strong vertical shape to mixed borders. Baby Lace® Hydrangea and Bobo® Hardy Hydrangea are just two that won't overwhelm a border. When all else fades in winter, the dried blossoms keep it interesting.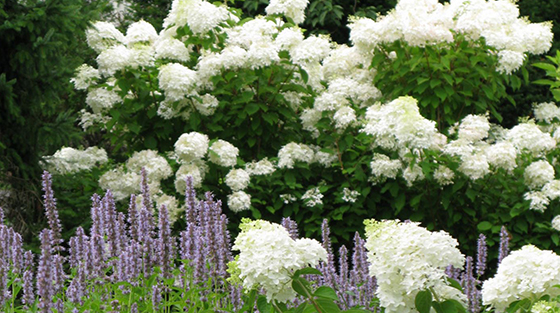 Provide Spectacular Scale
Many borders need height. As the season progresses, some flowering stalwarts such as Knock Out roses, mophead hydrangeas, and viburnums begin to fizzle out. At just that somber moment, panicle hydrangeas burst into bloom, adding drama and scale. This gardener used Limelight in the back, and Little Lime™ Hardy Hydrangea  in the front for continuity of design.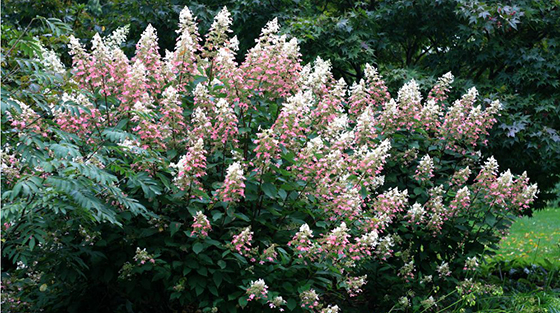 Three Season Wonder
Here's where it really gets good. In early fall, blooms change from snowy-white to shades of pink and red, gradually fading to a soft creamy-hue. When the rest of the garden is kaput, panicle hydrangea adds a touch of late-summer color. Great choices include Quick Fire® Hardy Hydrangea and Pinky Winky™ Hardy Hydrangea.
6 Panicle Hydrangeas We Love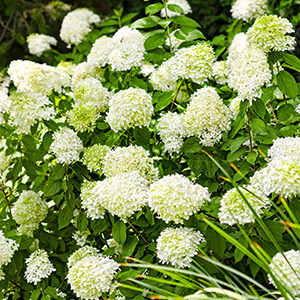 An exciting hardy hydrangea from Holland with unique chartreuse blooms in mid-summer that change to pink in fall. Good massed, as a hedge, in containers, or as a cut flower. Reaches up to 8 ft. tall and wide. Zones 3 – 9.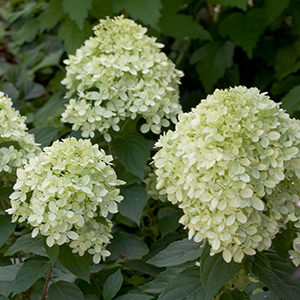 A dwarf form of the popular Limelight Hydrangea, Little Lime sports the same great flower power. However, in a smaller package. Attractive green summer flowers turn pink in fall. Reaches up to 5 ft. tall and wide. Zones 3 – 9.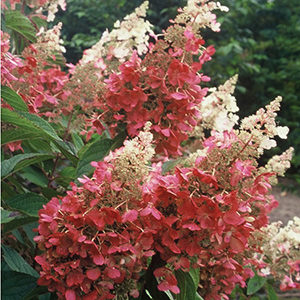 Large panicles open white in mid-to-late summer, turning to pink as the season progresses, for a two-toned effect. An outstanding specimen plant or massed in the landscape. Reaches up to 8 ft. tall and wide. Zones 3 – 9.
This dwarf hydrangea is easy care and mildew resistant. Petite, lacy, white blooms stand out against dark green foliage. Wonderful cut or dried flower. Great for borders, accents, or mass planting. Reaches up to 4 ft. tall and wide. Zones 4 – 8.
Conical flower heads up to 15″ long are the largest of all panicle hydrangeas. Blooms mid-summer, creamy-white blushing to soft pink as the summer progresses. Heavy bloomer. Reaches up to 8 ft. tall and wide. Zones 4 – 8.
Blooms about a month before other hardy hydrangea varieties and flowers every year! Flowers open white then turn pink. Use as a specimen, mass plantings and hedges. Reaches up to 8 ft. tall and wide. Zones 3 – 9.
Keeping Panicle Hydrangeas Happy
Light: Grow best in sun to partial shade. The ideal spot would be one that receives direct morning sun and afternoon shade.
Soil: Not as fussy about soil pH as some hydrangeas. Although it must be fertile, well-fed, and slow to dry out. Amend with organic planting mix as needed when installing and add several inches of organic compost each spring.
Mulch: Add a 2-3 inch layer in spring to preserve precious moisture in summer.
Pruning: Blooms on new wood each year, so in late winter or early spring prune to encourage new growth. Larger varieties can be kept compact by pruning; this produces larger, if fewer, flowers.
Leave papery, faded flowers on stems in the garden for winter interest.
Pair with other early fall bloomers