From grilling to cocktails, rosemary is perfect for entertaining in the height of summer or winter. It remains a favorite aromatic herb for ornamental, edible gardens. thanks to its refreshing fragrance, Mediterranean beauty, drought tolerance, and easy-care nature. While rosemary is typically a warm-zone perennial, it is often grown in containers in cooler zones. Here it can be brought indoors over winter.
Ready to add some fresh flavor to your next garden happy hour? Here are four of our favorite rosemary cocktail recipes that require fresh rosemary from your garden.  
4 Tasty Rosemary Cocktail Recipes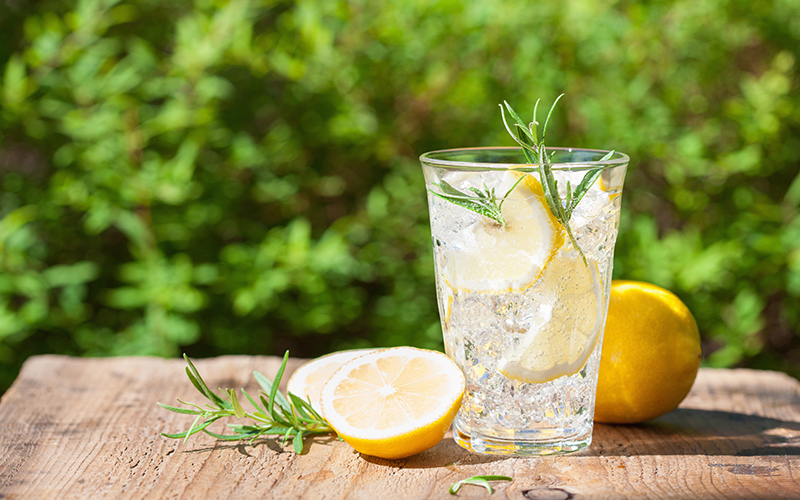 1. Rosemary Lemonade
Need something cool and refreshing that the whole family can enjoy? Add rosemary-infused syrup to homemade lemonade to create a grown-up non-alcoholic cocktail.
Instructions
Combine lemon juice, water and rosemary-infused syrup stirring until syrup is dissolved. Add additional syrup as needed for sweeter flavor. Pour over ice.
2. Raspberry and Rosemary Vodka Fizz
Created by one of our craftsmen, this vodka fizz has become an instant favorite for the summer.
Ingredients
4-6  ripe raspberries
2T. rosemary leaves stripped from stem
1 ½ oz. of vodka
½ cup of lemonade (bottled is fine; homemade is better)
Ginger ale
Ice
Instructions
Muddle rosemary leaves and raspberries together in a small bowl
In a shaker, combine vodka, lemonade, and ice and shake well
Pour into a chilled glass, add muddled rosemary and raspberries
Top with ginger ale.
3. Bourbon Sour with Lemon & Rosemary
For those with sophisticated taste, we found this timeless drink with a contemporary edge from Foxes Love Lemons.
Ingredients
¾ oz. of rosemary-infused syrup (recipe here)
1 ½ oz. of bourbon
1 oz. lemon juice
Ice
Sprig of rosemary for garnish
Instructions
In a shaker combine rosemary syrup, bourbon, lemon juice and ice; shake well.
Serve over additional ice and garnish with rosemary sprig.
4. Ruby Red and Rosemary Syrup Cocktail
This particular cocktail was an overall knockout. Cookie and Kate has an amazing recipe that will awaken your taste buds. Instead of honey syrup, we prefer to use rosemary syrup.
Ingredients
2 oz. ruby red grapefruit juice
1 ½ oz. of vodka
½ of a large lemon, juiced
½ oz. of rosemary-infused syrup (recipe here)
2 4-in sprigs of rosemary
A dash of salt
Ice
Instructions
In a shaker combine grapefruit juice, vodka, lemon juice, rosemary-infused syrup, sprig of rosemary, salt, and ice
Shake until chilled (about 30 seconds) and strain into a martini glass
Garnish with a sprig of rosemary.
Best Rosemary for Cocktails and Cooking
Perfect for forming an aromatic hedge in warm zones or grown in a pot to move indoors in cooler zones. Profuse clear blue flowers add a color pop to this easy-care herb. Up to 6' tall, 4' wide. Zones 8-11.
Easy-care variety with especially remarkable flavor and aroma for cooking. Strong, straight stems make perfect barbecue skewers. Up to 6' tall by 3' wide. Zones 8–10. 
Photo by Richard Shiell
Perfect for containers in all zones and planted near rock walls or anywhere that displays its arching stems. /delightful lavender-blue flowers bloom in spring. Up to 3' tall, 2' wide. Zones 8-10.