Stir It Up: 4 Delicious Rosemary Cocktail Recipes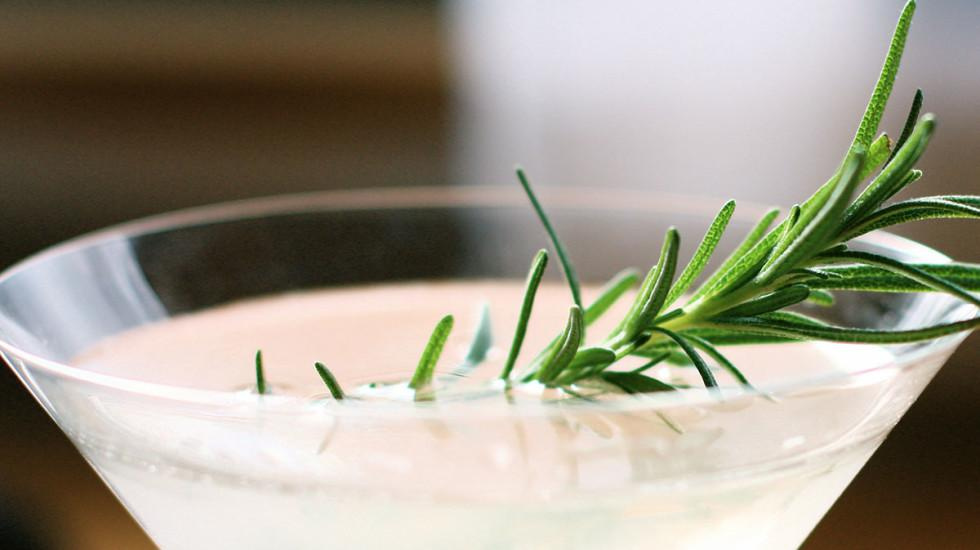 Who said to only use rosemary during the wintertime? We recommend four tasty rosemary drinks to enjoy during all seasons.
Raspberry and Rosemary Vodka Fizz
Created by one of our craftsmen, this vodka fizz has become an instant favorite for the summer.
Ingredients
4-6  ripe raspberries
2T. rosemary leaves stripped from stem
1 ½ oz. of vodka
½ cup of lemonade (bottled is fine; homemade is better)
Ginger ale
Ice
Instructions:
Muddle rosemary leaves and raspberries together in a small bowl
In a shaker, combine vodka, lemonade and ice and shake well
Pour into a chilled glass, add muddled rosemary and raspberries
Top with ginger ale.
Bourbon Sour with Lemon & Rosemary
For those with sophisticated taste, we found this timeless drink with a contemporary edge from Foxes Love Lemons.
Ingredients
¾ oz. of rosemary-infused syrup (recipe here)
1 ½ oz. of bourbon
1 oz. lemon juice
Ice
Sprig of rosemary for garnish
Instructions
In a shaker combine rosemary syrup, bourbon, lemon juice and ice; shake well.
Serve over additional ice and garnish with rosemary sprig.
Ruby Red and Rosemary Syrup Cocktail
This particular cocktail was an overall knockout. Cookie and Kate has an amazing recipe that will awaken your taste buds. Instead of honey syrup, we prefer to use rosemary syrup.
Ingredients
2 oz. ruby red grapefruit juice
1 ½ oz. of vodka
½ of a large lemon, juiced
½ oz. of rosemary-infused syrup (recipe here)
2 4-in sprigs of rosemary
A dash of salt
Ice
Instructions
In a shaker combine grapefruit juice, vodka, lemon juice, rosemary-infused syrup, sprig of rosemary, salt, and ice
Shake until chilled (about 30 seconds) and strain into a martini glass
Garnish with a sprig of rosemary.
Rosemary Lemonade
Not drinking tonight or just need something cool and refreshing? Add rosemary-infused syrup to homemade lemonade to create a grown-up non-alcoholic cocktail.
Ingredients
1 cup of freshly squeezed lemon juice
6 cups of water
½ cup of rosemary-infused syrup
Ice
Instructions
Combine lemon juice, water and rosemary-infused syrup stirring until syrup is dissolved. Add additional syrup as needed for sweeter flavor. Pour over ice.