Cottage style gardens, with their happy riot of color and wonderful sense of abandon, are enjoying a resurgence of popularity. "It's a style of gardening that can feel very personal, where you can always tuck in a new plant easily here or there," says garden designer Rebecca Sweet. "It's actually my favorite style, and more clients are asking for it." When it's well done, a cottage garden seamlessly blends color, texture, and form. But balancing a feeling of lush nature without tipping into chaos is an art. We asked Sweet to share the secrets she used in her own garden. She created this around the heartbeat of an old orchard shed. "It's a magical space that feels more to me like a diary filled with memories." Her lessons can apply to a cottage garden in every zone and any-size space.
Create a similar look with these plants: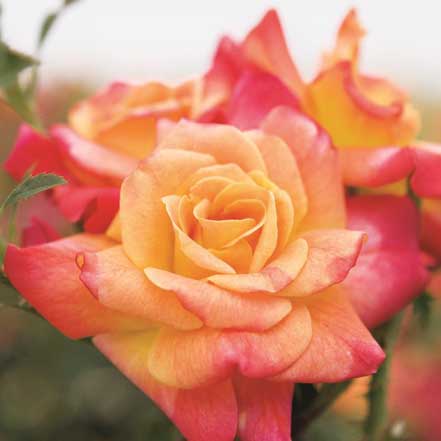 For an explosion of color, this 12' climbing rose offers blooms that change from orange to red to yellow. A repeat bloomer throughout the season, this climbing rose has excellent disease resistance, too. Zones 6 - 10
PHOTO: Conard Pyle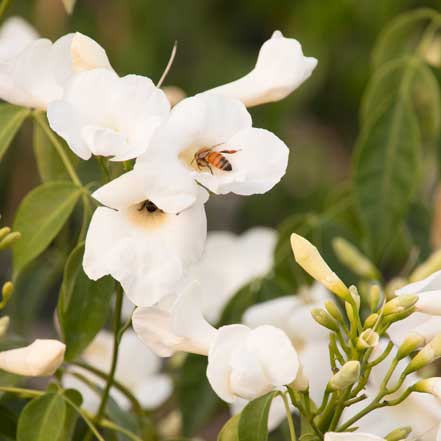 Perfect for those wanting an evergreen vine. 'Lady Di' has profuse white blooms that glow in the early evening (perfect for a moon garden!) This vine grows in part-shade, as well as full sun, making it ideal for gardens with uneven lighting. Zones 9  - 11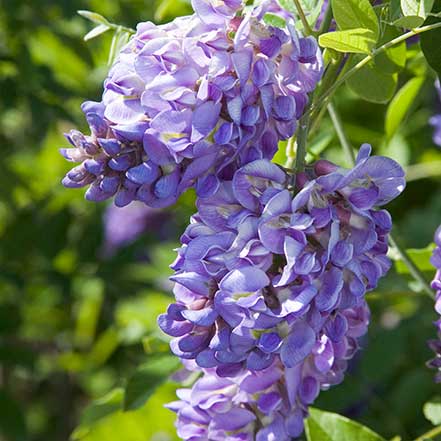 'Amethyst Falls' grows about 1/3 the rate of Chinese Wisteria, making it a much better wisteria selection for smaller spaces. With smaller, more delicate flowers and foliage, it provides an air of elegance to a cottage garden. Zones 5 - 9
Elements of New Cottage Style
1.
Plan easy curves. In Sweet's garden, a brick pathway beckons the visitor with a bit of mystery. "Any pathway material will do, but the key is that the path curves a bit so you can't quite see what's beyond." Planting beds that have gentle curves also look more ample and lush than ones with straight lines.
2.
Use more flowering shrubs. Roses and hydrangeas are typical of cottage gardens. Although Sweet also relies on bougainvillea, weigela, camellia, and other plants that provide rotating seasonal color. "Annuals are very typical of cottage gardens, but I use color from shrubs and perennials to make it more low-maintenance."
3.
Keep it informal and low-maintenance. Plants should get a bit out of bounds in a cottage style garden. Lapping a bit over pathways and grassy areas. Close plantings help diverse types of plants belong together and minimize weeding. "I tell my clients that plants should kiss but not tackle each other," laughs Sweet. The coziness of succulents planted with grasses and even groundcover roses can give even low-water gardens a lush feel.
4.
Choose evergreens wisely. "Don't snub the shrub," says Sweet. "So-called boring evergreen shrubs are really the secret to keeping the cottage garden looking good all year." Sweet recommends evergreen shrubs of various heights and leaf color to draw the eye up and all around. Then pairing them with grasses and flowering shrubs to make the garden feel less formal.
5.
Play up decorative touches with dramatic plants. Urns, arbors, barrels—choose objects with meaning and that suit the style of your home architecture. Pair them with unusual plant choices. In her own garden, Sweet pops succulents instead of flowering annuals into stone urns throughout the space. "It's nice to have a bit of surprise here and there."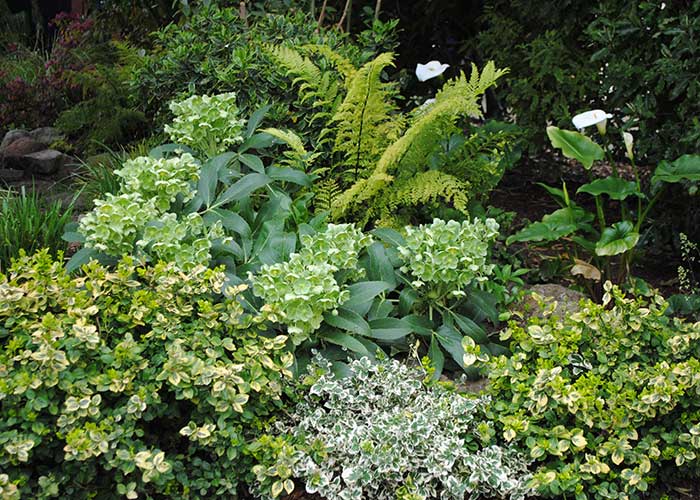 Get the Look with these plants:
A perfect shrub for foundation or background planting, with seasonal color and a gentle climbing ability. Zones 5 - 9 
Bright-green, feather-like fronds make the perfect contrasting texture in the landscape. Zones 9 - 11
Creamy flowers and lush foliage add a tropical flair to a cottage design. Zones 9 - 11
Combine plants with various foliage texture and color. However, choose one bloom color in flowering shrubs to bring a section together. Here, Sweet combines Spring Song Rose, French Lace Weigela, Beyond Blue Fescue, Sunny Delight Boxleaf Euonymus, and campanula groundcover.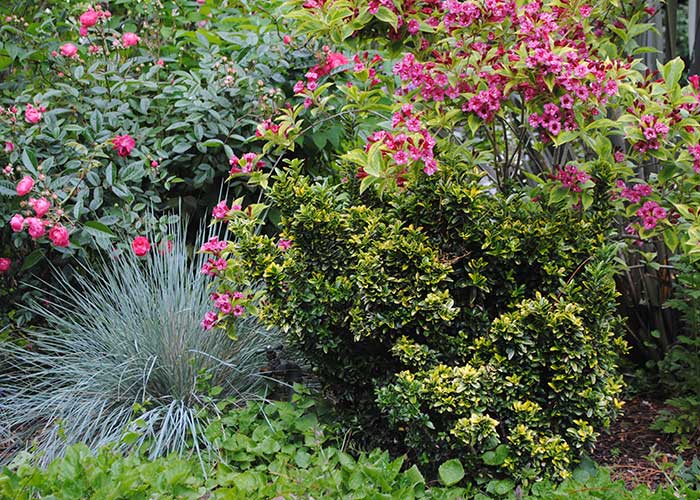 Try combining these plants for a similar look:
A compact and reblooming variety with a rounded shape and bright-red flowers. Zones 4 - 9
Icy blue grass that's heat- and drought-tolerant and perfect for using as a low-growing border plant or foreground layer. Zones 4 - 11
Provides a fantastic contrast to larger green-leaved shrubs with a compact habit and leaves edged in yellow. Zones 6 - 9
Use these plants to recreate the look:
A dense grass with slender shimmering blades that feature creamy white margins and midveins. Zones 5 - 9
Golden, semi-evergreen, and grassy foliage brightens a space and provides a nice contrast with darker shades. Zones 5 - 11
Delicate white flowers are blushed with pink on this dwarf low-maintenance variety. Zones 4 - 8
Get the look with these plants:
A hybrid that offers the structure of an Agave, and the fast growth and color of a Manfreda. Zone 9 - 11
Another golden foliage option to light up your cottage garden, with golden-yellow foliage that looks graceful in the garden. Zones 4 - 9
The deep plum-purple foliage of this Coral Bells variety contrasts perfectly with variegated and golden plants. Zones 4 - 9
Monrovia plants that Rebecca Sweet recommends for new cottage gardens
This variety is more chartreuse (ie: lush) and upright growing than the straight 'Breeze' variety. That one was used for years and years. I adore this grass. Zones 8 - 11
Not only does this shrub have raspberry pink blooms but the foliage is a unique dark burgundy color. This helps break up the common 'sea of green' in a planting bed, creating the illusion of depth and shadows. Zones 4 - 8
The soft plum accents of this succulent are a perfect opportunity to pair with neighboring pink flowers. (Like the 'Coco Krunch' above!) Plus they provide year-round interest in a warmer climate. Zone 9 - 11
A sprawling groundcover, this 1 ½' tall bougainvillea spreads to 4-5'. This would look stunning draping over a wall, or allowing it to scramble up a trellis. Not only is its diminutive size unique, but the variegated foliage provides visual interest long after the blooms have faded. Evergreen in frost-free climates; a superb colorful annual in cooler northern zones. Up to 5 ft. wide; climbs 8 to 10 ft. with support. Zones 10 - 11
This podocarpus provides stunning, year-round blue foliage which is ideal when designing with colorful foliage. Loves full or partial sun, and is slow-growing and nearly litter-free. Zones 9-11 
Rebecca Sweet is a garden designer and owner of Harmony In The Garden in Northern California. Her gardens have been featured in Sunset Magazine, Fine Gardening, Horticulture, Woman's Day and Country Living magazines. Plus, many regional publications. Rebecca and her gardens have also been featured on the critically acclaimed PBS series Growing a Greener World. She has also been a radio guest on numerous programs, including Martha Stewart Living.
In addition to designing gardens, she is the author of Refresh Your Garden Design with Color, Texture and Form. She is the co-author of the national best-selling Garden Up! Smart Vertical Gardening for Small and Large Spaces. (Both Amazon Top 10 Garden Book selections.) In her blog, Harmony in the Garden, Rebecca shares inside information. She talks about garden design, gardening tips, and amusing observations. Plus, how-to videos for both the novice and experienced gardener.