When House That Lars Built designer Brittany Jepsen asked us for help choosing plants for the exterior makeover of her Provo, Utah home, we knew the color would need to feature large. Her craft room design for the Living By Design virtual showhouse, our first collaboration, was full of bright hues and boundless energy.
We were even more excited to work with her again when she told us, "Flowers are playing an important part in the renovations throughout the home, especially roses."
That inspiration helped us pick a mix of colorful flowers and foliage to fit Brittany's vision. She had planned a series of "moments" for her landscape, starting with pots filled with flowers on either side of her entryway to bring the focus to the front door. She then wanted this color to spill down a long central walkway. Finally, shade-tolerant shrubs were needed to fill in under an existing tree.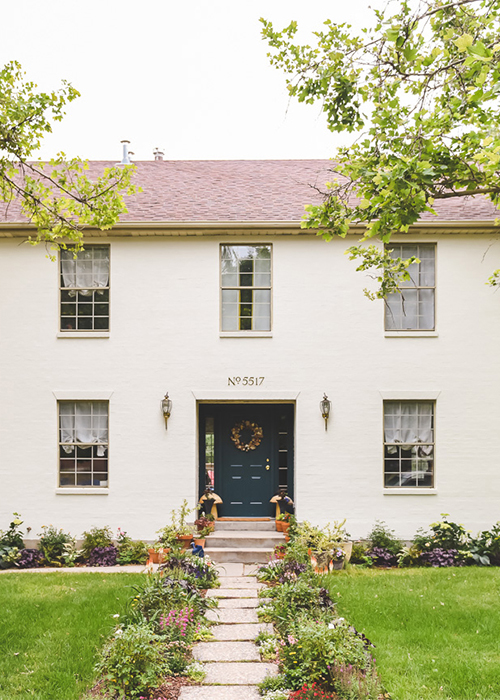 Despite the shade of this large tree, the location and elevation of her site, along with her plans to limewash her brick home, meant that light and heat would be more intense than her growing zone might indicate.
Knowing your USDA Hardiness Zone is an important first step in finding the right plants for your garden, but it's important to remember other factors like these, along with like soil pH and typical rainfall, that can affect your plants. A local garden expert, including the staff at a nearby garden center, can be a huge help in pinpointing plants that will thrive in your climate. Luckily, we had both a Monrovia craftsman familiar with the area and pros at nearby Glover Nursery, experienced in creating "localscapes" to help.
Brittany's Favorite Colorful, Low-Water Plants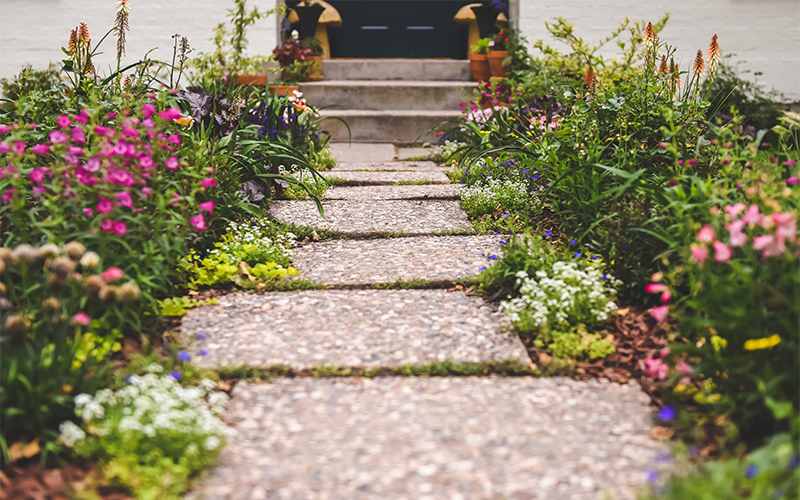 These are just a few of the colorful perennials, annuals, edibles, and shrubs that now welcome visitors to Brittany's colorful, flower-filled home:
A dwarf form of the beloved "Royal Purple' cultivar, perfectly proportioned for smaller gardens. Forms a small, rounded, deciduous shrub with all of the color and interest of its larger cousin. 4' tall and wide. Zones 4-10.
Lemon-yellow, nectar-filled blooms will delight people and hummingbirds alike all summer and into fall. Grass-like foliage remains neat all summer. 21" tall; 16" wide. Zones 6-9.
Vibrant scarlet-red blooms on upright burgundy-red stems top this sturdy, compact plant. Drought tolerant and hardy, with prolific flowering over an exceptionally long season. 18-20" tall; 22-24" wide. Zones 4-9.
Upright flower spikes blanketed with dark rose-pink flowers provide vibrant seasonal color from late spring through early fall. Excellent heat and drought tolerance. 18-24" tall and wide. Zones 5-9. 
Large, wavy, dark burgundy to black leaves stand up to heat and humidity, showcasing airy tufts of tiny pink flowers in summer. Evergreen in milder winter regions. 22" tall; 18" wide. Zones 4-9.
Sunny yellow cup-shaped flowers produce clusters of showy rose-colored berries for a wonderful accent in cut flower arrangements. A fuss-free deciduous shrub ideal for borders and containers. 3' tall and wide. Zones 5-9.
A bold stand-out for a border or pollinator garden, this cottage garden essential produces a profusion of tall, upright spikes of bright pink flowers that bloom from early summer to fall. Thrives in poor, dry soils and loves full sun. 22" tall; 16" wide. Zones 5-9.
This very durable, own-root, fuss-free groundcover rose produces an abundance of lovely blooms while offering excellent disease resistance and a self-cleaning, easy-to-care-for habit. 3' tall; 4' wide. Zones 4-9.
A stunning addition to any border with showy spikes of flowers available in blue, pink, and white that top dense, shrub-like clumps of fragrant, green foliage. 18" tall and wide. Zones 4-9.
Explore More Drought-Tolerant Resources and Plants