5 Perfect Plants for Dry Shade
Dry shade. You know it when you see it.
That dark, dry, often barren space in the shade of large trees, under eaves, or on the lee (sheltered-from-the-wind) side of houses. Not only are the plants that grow there already stressed from not having much light, but they also have to compete with other large plants for soil moisture. It's one of the most difficult conditions in which to garden.
But, take heart! There are plenty of plants that thrive there. Here are five to start with and more at the bottom of the page. Question about your space? Leave a message!
So much to love about this old-fashioned shrub from spicy-scented blooms in spring and berries and colorful foliage in fall. Once established, thrives with little supplemental water. Useful, compact size that's ideal for foundations or along a shady wall. Zone: 4 – 8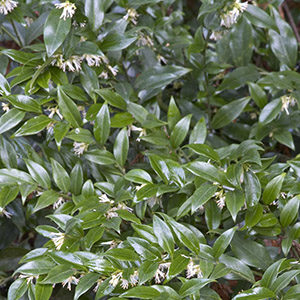 Yes, it's a pretty, tidy little shrub with shiny leaves, but this one's all about the powerful and exotic fragrance. We promise you will smell it before you even see it. Small, almost invisible blooms, but WOW! Nice for containers in shady spots. Zone: 7 – 9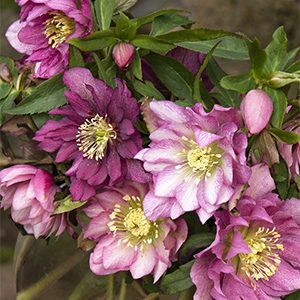 Look for late winter blooms that cover this highly adaptable perennial for dappled shade. Rarely bothered by pests or disease, and completely deer-proof. Oh, great cut flower, too. Sweet! Zone: 4 – 9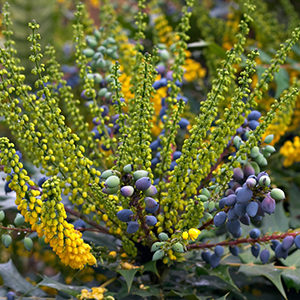 So underused in the landscape and that's a shame because these make dramatic, but totally fuss-free, focal points. Whorls of frond-like leaves, sprays of soft-yellow flowers in winter, and summer-into-fall berries. Evergreen, too. Zone. 7- 9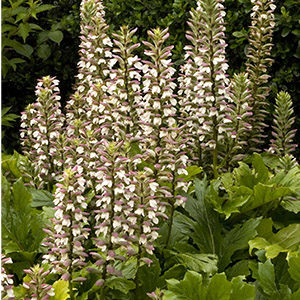 This one makes a statement just with the foliage. Large, lustrous, oak leaf-shaped leaves have a modern elegance all their own. When the tall spires of blooms come on in spring, look out! Site where you can appreciate it's volume. Zone: 6-11
Tips for Gardening in Dry Shade
Keep in mind that just because a perennial plant is tolerant of dry shade doesn't mean that it will grow forever without adequate moisture. A good rule of thumb is that plants with smaller, thicker foliage can survive the longest in dry shade conditions.
Provide supplemental water the first year to establish plants. After that, provide water to the plants' root zones as needed especially if rains are not present. If your plants are very intolerant of wet feet (such as California oak trees, for example), it's best not to plant under them. Consult with a

 

local independent garden center

 

for advice.
When planting under an established tree, avoid planting closer than one to two feet from the trunk. Digging individual holes rather than prepping the entire site at once can help minimize damage to surface roots. Introduce plants to established trees' root zones over several growing seasons.
Avoid adding additional soil over the tree's roots. Even an inch or two can have an adverse effect on long-term tree health. Adding mulch is good, but remember to pull it back from the trunk of trees by at least 6 inches.
Pick evergreen plants that can tolerate winter sun after the leaves drop, and be aware that plants that have super- delicate leaves could be damaged by leaf blowers in the fall. These listed here are great candidates.
Love it? Buy it! (Plus a few more we love.)